Keto Brussel Sprouts Recipe with Bacon
Last Updated on November 6, 2019 by Rachel
This keto brussel sprouts recipe is made with heavy cream, cheese, garlic, and bacon. Perfect for a special holiday side dish.
Brussel sprouts get a bad rap. And I get it. Delicious is not necessarily the first word that comes to mind when thinking of brussel sprouts.
If I am being honest, I turned my nose at brussel sprouts for a really long time.
I did not even start eating them until the last couple years. Now they are one of my favorite veggies.
Let me tell you, when you cook brussel sprouts with some garlic and then add cream, bacon, and cheese something truly magical happens.
Are brussel sprouts ok for keto?
Brussel sprouts are a lower carb vegetable. Only about 7-8 net carbs per 1 cup so they are a great choice for keto.
Brussel sprouts are also high in nutrients. They are loaded with vitamin K, vitamin C, and have a high fiber count.
Related: 11 Keto Holiday Side Dishes
How do you cook brussel sprouts?
The secret to delicious brussel sprouts is all in the cooking method.
You are going to want them roast them in the oven at a high temperature.
Roasting brussel sprouts in the oven caramelizes them and releases the bitter taste that is normally associated with brussel sprouts.
For this keto brussel sprouts recipe, we roast the brussel sprouts with garlic first to get them nice and crispy.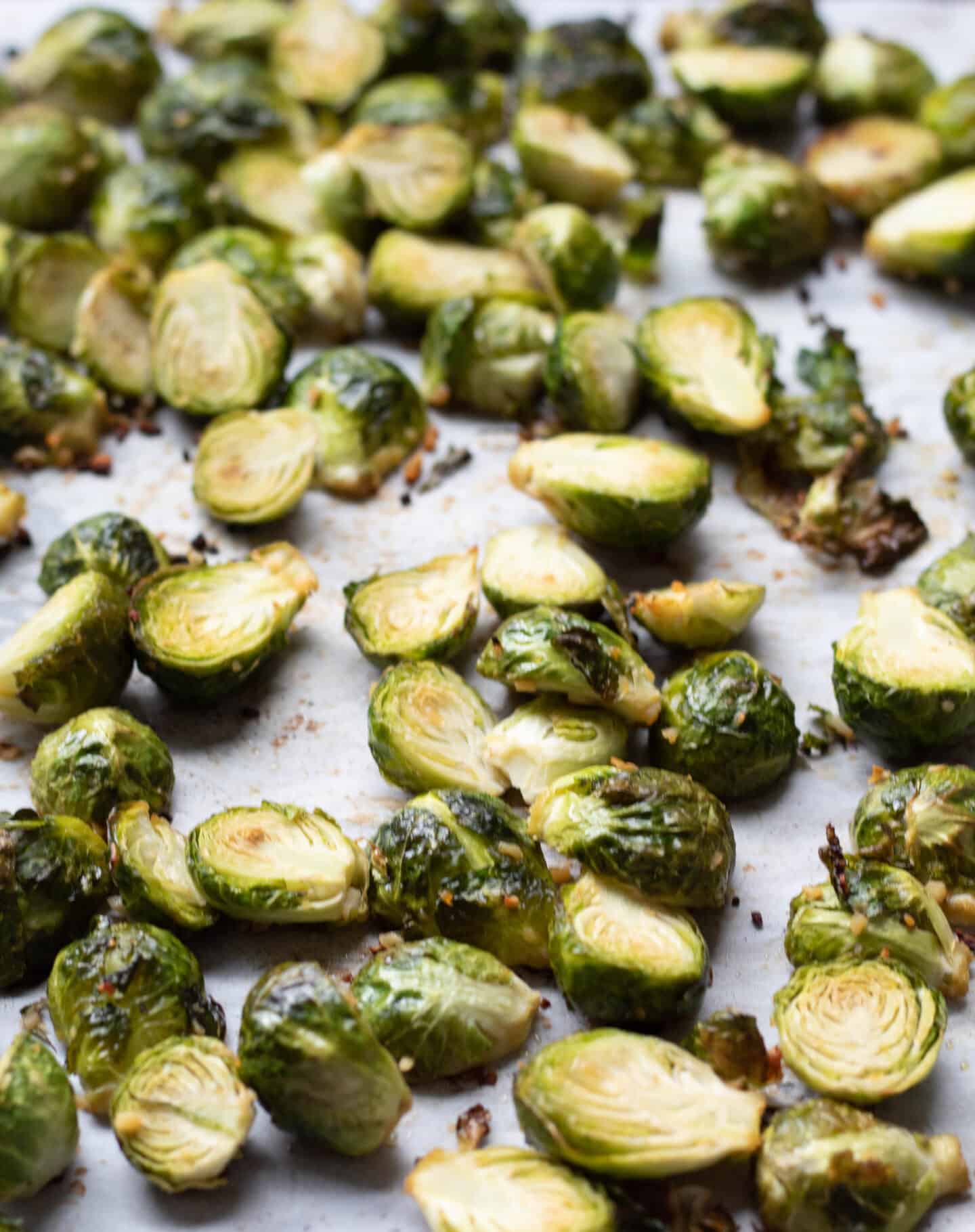 And then we add them cream, cheese, and bacon and bake for a little while longer. The result is AMAZING.
Keto Brussel Sprouts Recipe with Bacon
Ingredients
2 pounds of brussel sprouts 
1 cup of heavy cream
1/2 cup of shredded mozzarella cheese 
1/2 cup of shredded cheddar cheese
2 tablespoons butter 
2 tablespoons of olive oil
1/2 teaspoon salt
1/4 teaspoon pepper
pinch of nutmeg 
4 slices of cooked bacon - chopped 
Instructions
Preheat oven to 400 degrees.
Slice brussel sprouts in half and coat with olive oil and salt and pepper.
Roast on a baking sheet in the oven for about 15 to 20 minutes or until browned and crispy. Flip them over about halfway through so they cook evenly.
While brussel sprouts are roasting, add the heavy cream, shredded cheese, and nutmeg to to a small sauce pan and heat through on low until cheese is melted.
Add the roasted brussel sprouts to a 9x13 dish and pour cheese sauce over them. Top with the bacon.
Reduce oven temperature to 375 and cook brussel sprouts for an additional 15 minutes or until bubbly.
What pairs well with brussel sprouts?
Roasted Chicken
Ham
Turkey
Steak
Salmon
Meatloaf
This keto brussel sprouts recipe can actually be eaten on its own as well. It is very filling. I like having having the left overs for lunch.
Regardless of what you choose to pair with these brussel sprouts, you will be sure to add them to your list of favorite veggies!