This is the best little snack tray to celebrate Halloween. It's the perfect combination of sweet and salty, and even sneaks in a few healthy, but fun snacks.
Forget the tricks this Halloween, and focus on the treats with this quick, simple and tasty Halloween snack tray. The kids can get involved with the preparation rather than simply the eating of the goodies.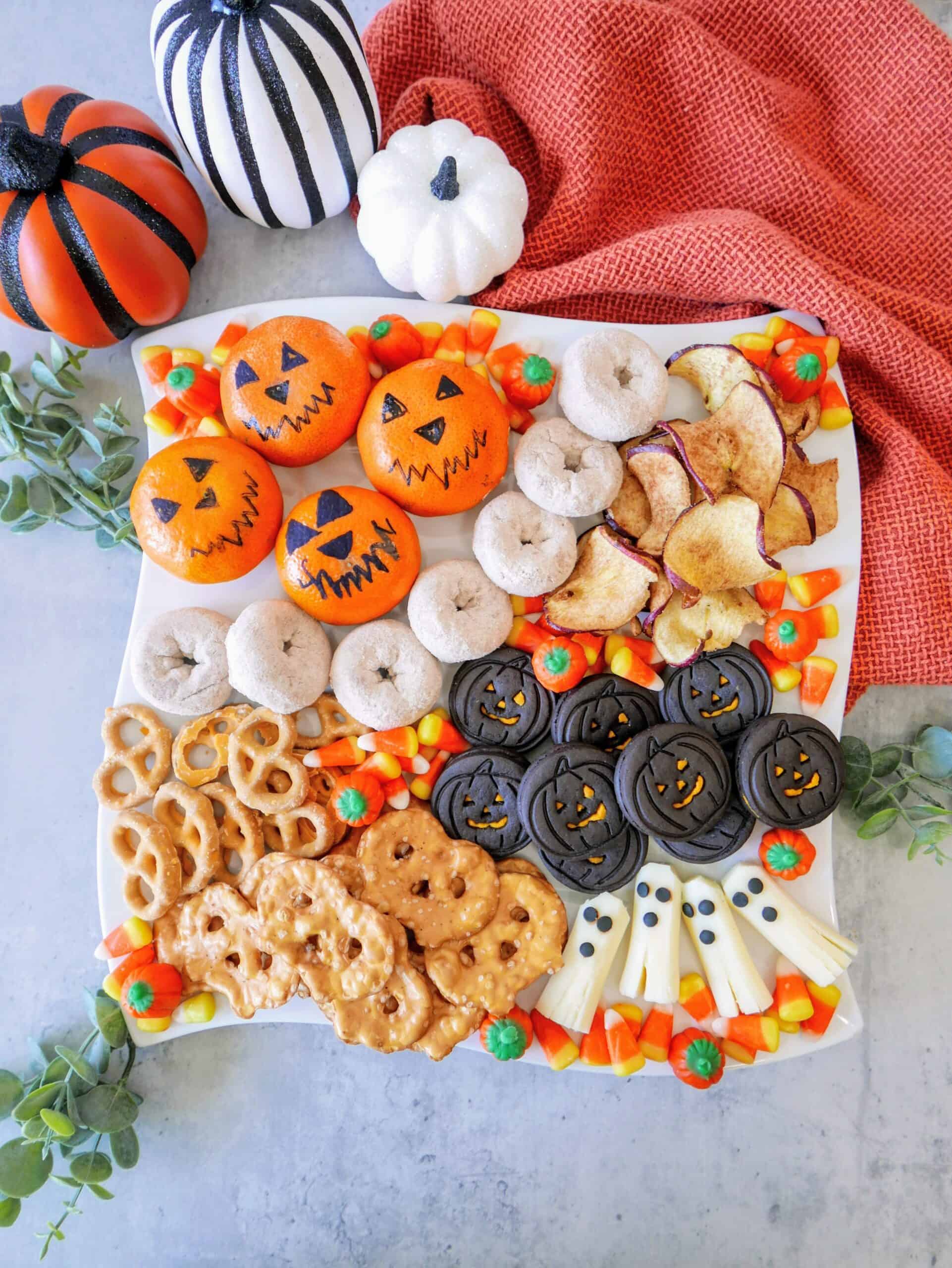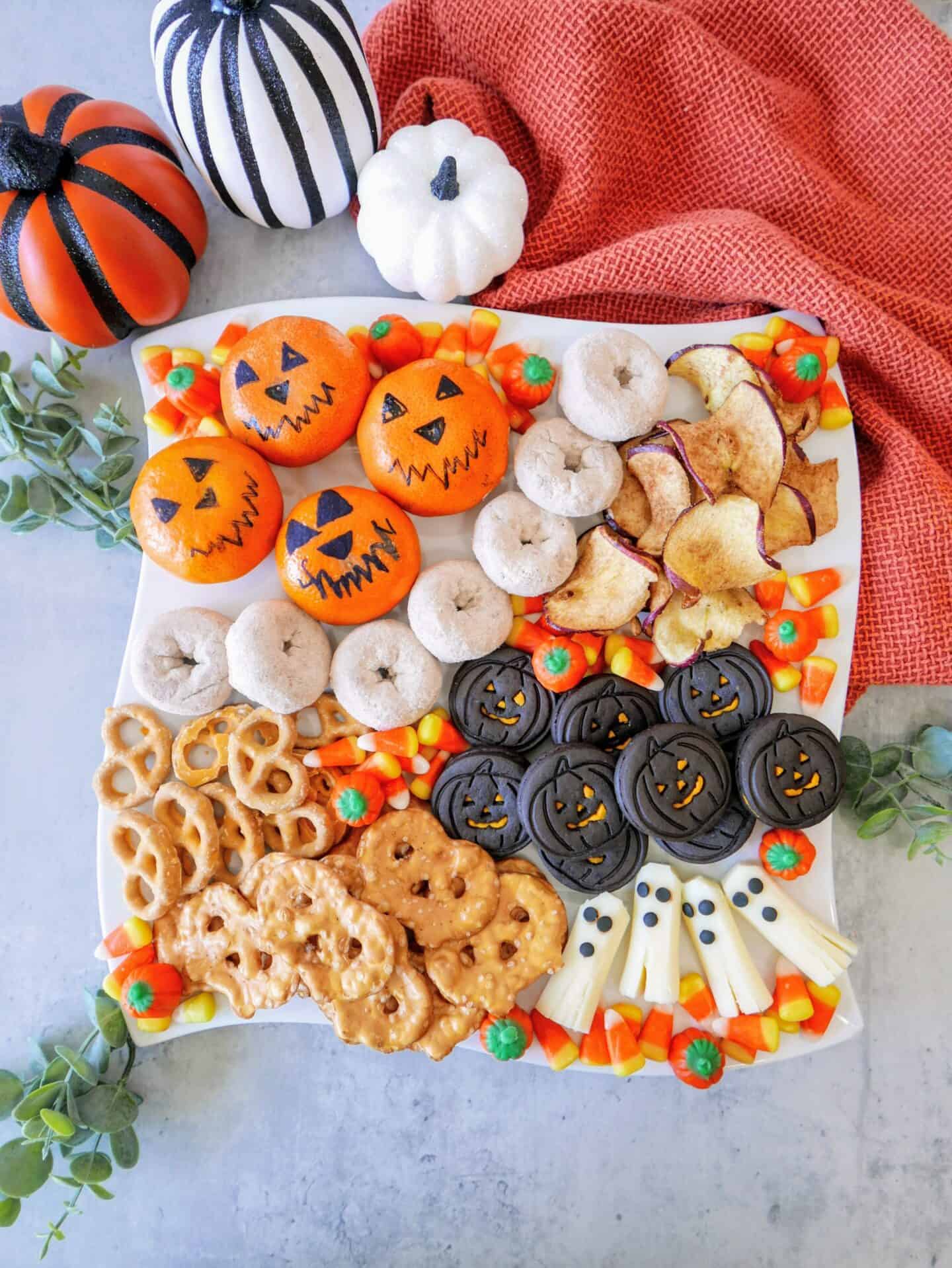 Friends and family often look at the trays I make and ask how much they cost, assuming they are expensive. Actually, I sourced all of the ingredients except for the donuts at Aldi, meaning I paid a lot less than people think. Is everyone else as Aldi obsessed as me?
Why Should I Make A Halloween Snack Tray?
Head to any restaurant worth visiting these days, and you are bound to find a charcuterie board on the menu. They are currently trendy, allowing guests to snack in a classier way. This Halloween snack tray is a seasonal variation of that, which appeals to all.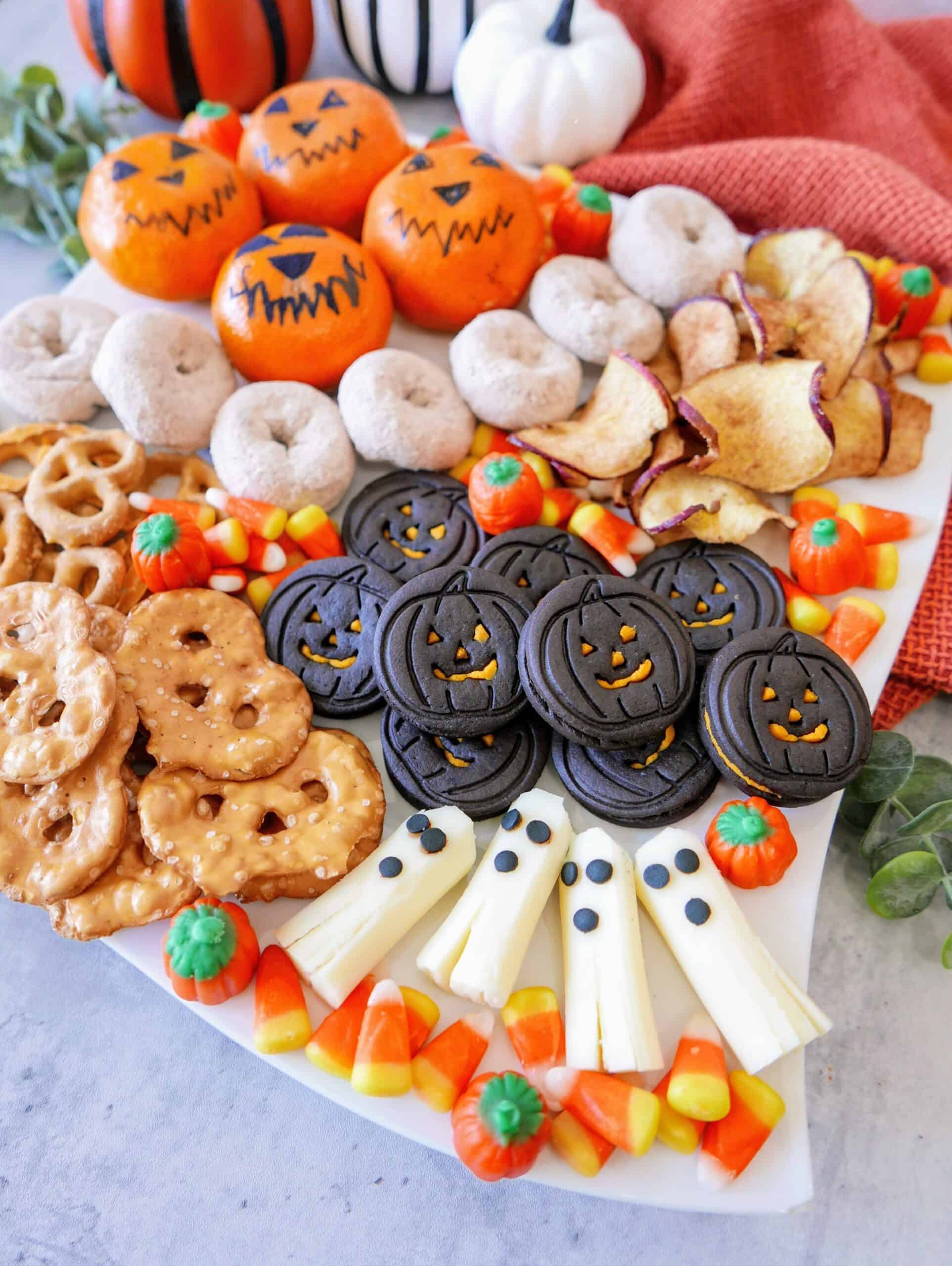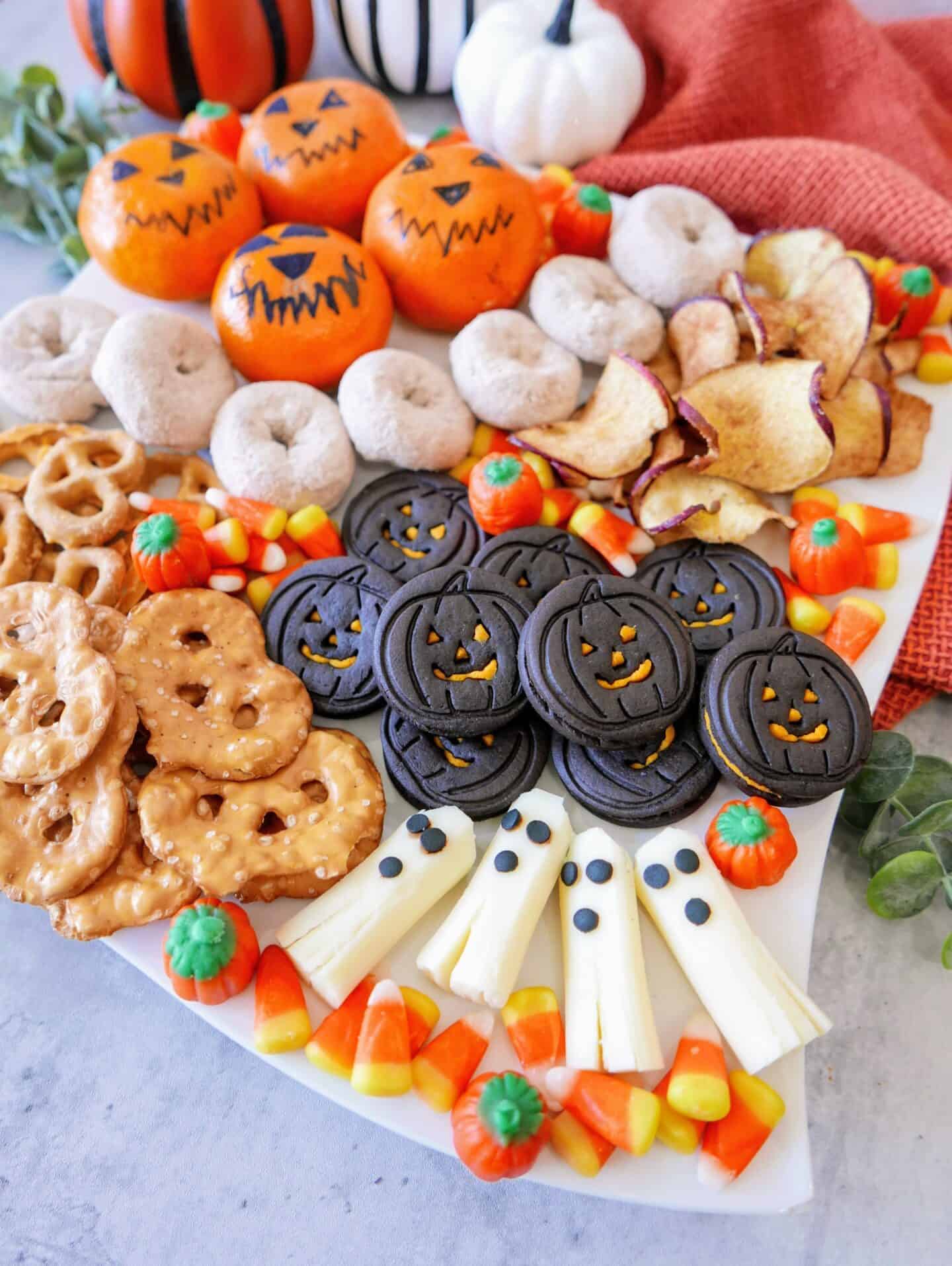 However you are celebrating this year, you are bound to need to stop and eat a little something. This Halloween snack tray is suitable for two to four people and features the perfect variety of sweet and savory. For kids' parties, make a few of these trays to satisfy the little monsters.
What Do I Need To Put Onto My Halloween Snack Tray?
There are so many things that you could add to your snack tray, but I like the following as they offer a good balance.
Mandarin Jack-O-Lanterns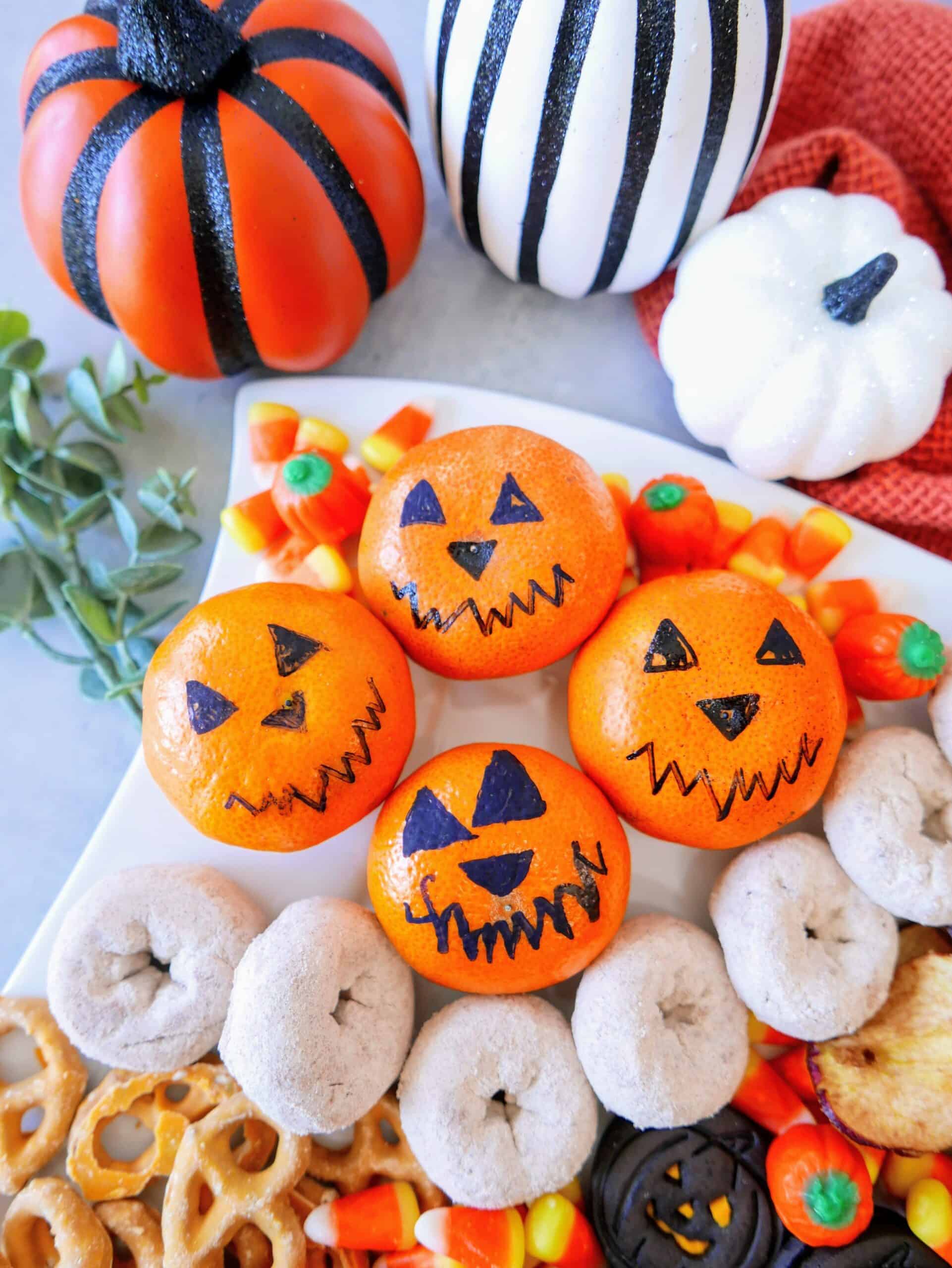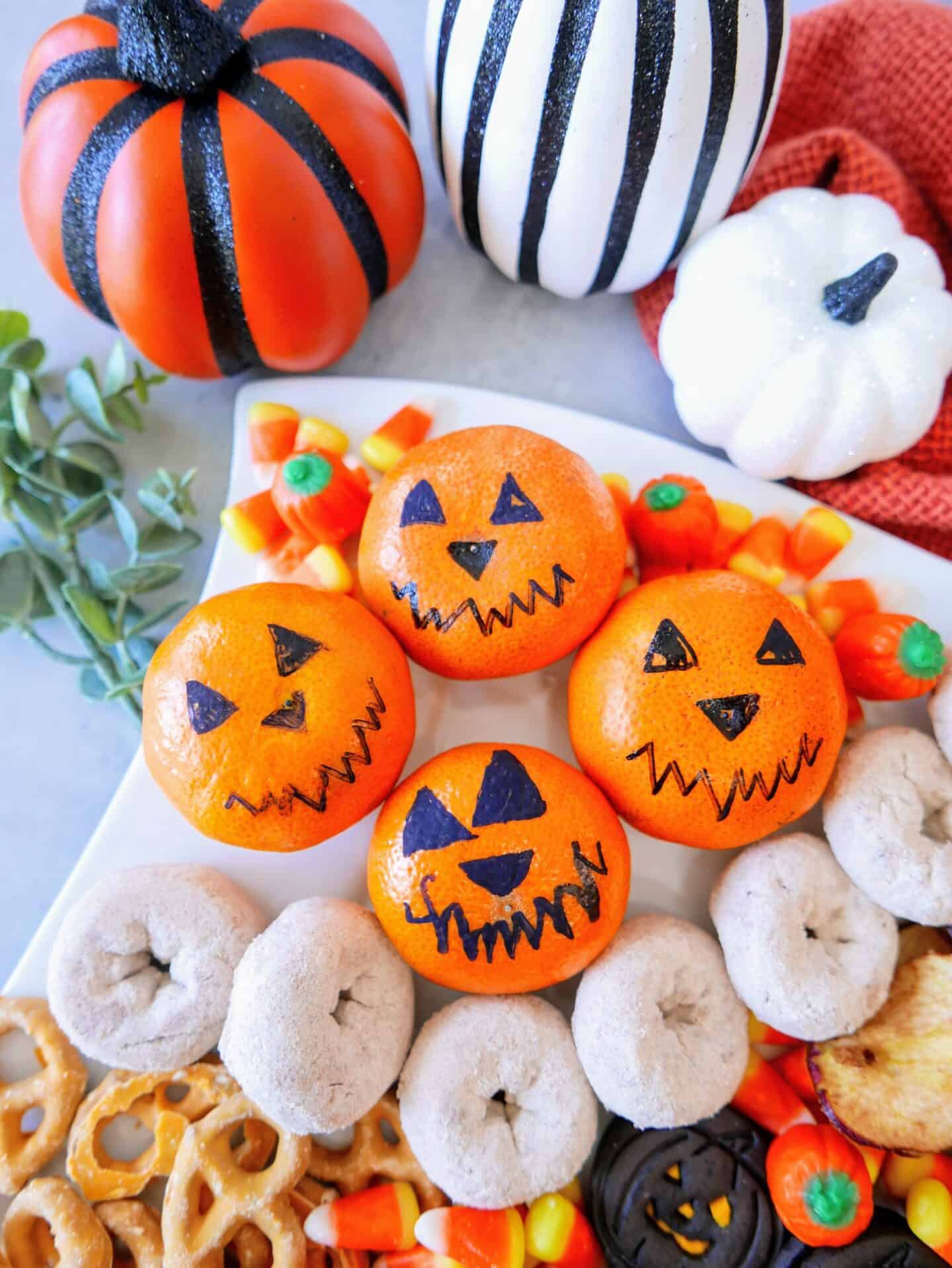 These spooky mandarin orange Jack-O-Lanterns are the first addition to our Halloween snack tray. All you need is four mandarins and a black sharpie. It takes just a minute or two to draw a scary design onto the oranges with your permanent marker pen. Then, place the oranges in one corner of the tray.
These were a big hit with my orange-disliker daughter. Because she helped to create the monstrous design, she was keen to slaughter it, too.
Pro tip: If your mandarins have been stored in the fridge, wipe them with a paper towel first; otherwise, the pen will rub off easily.
Mozzarella Ghosts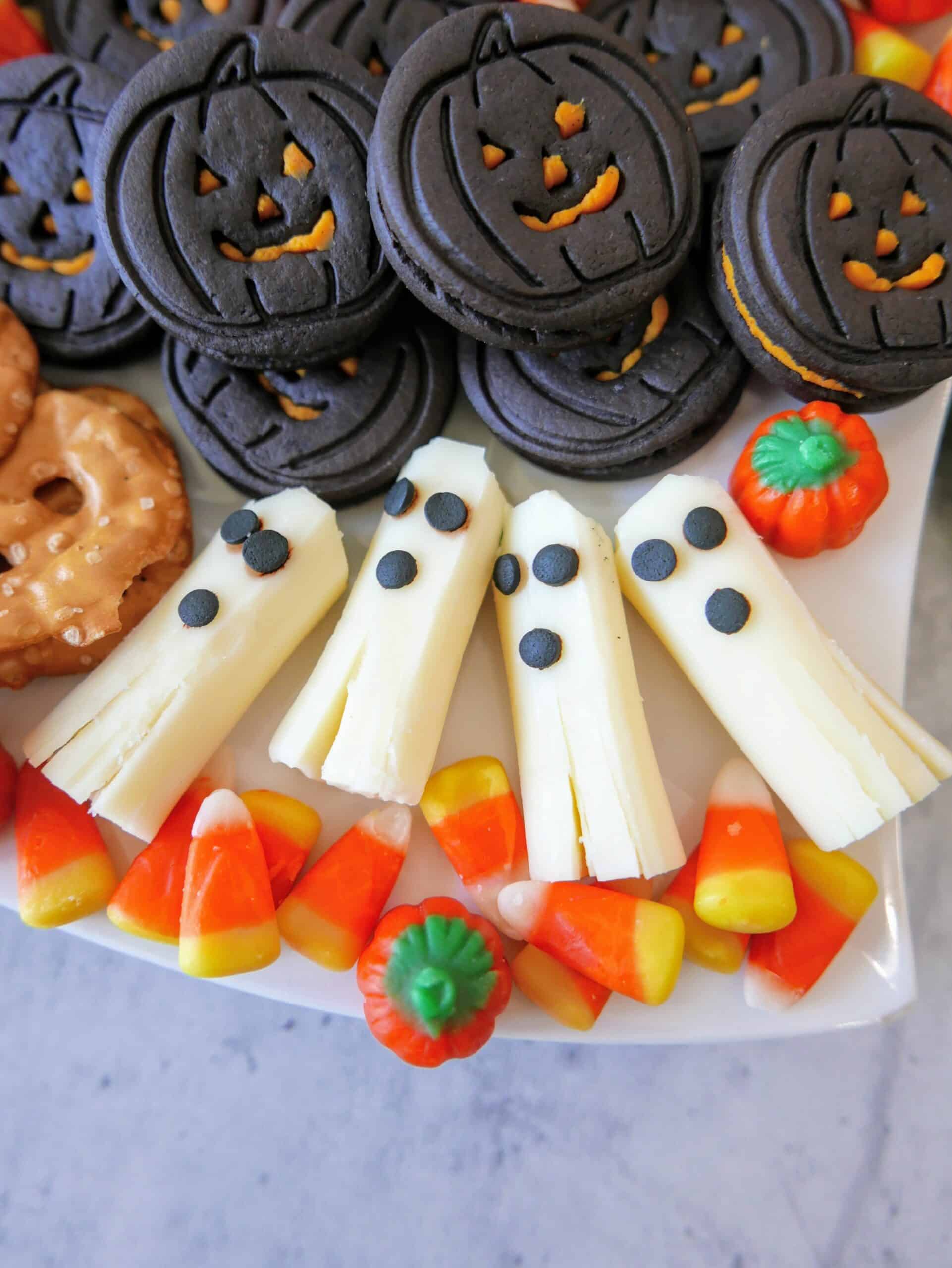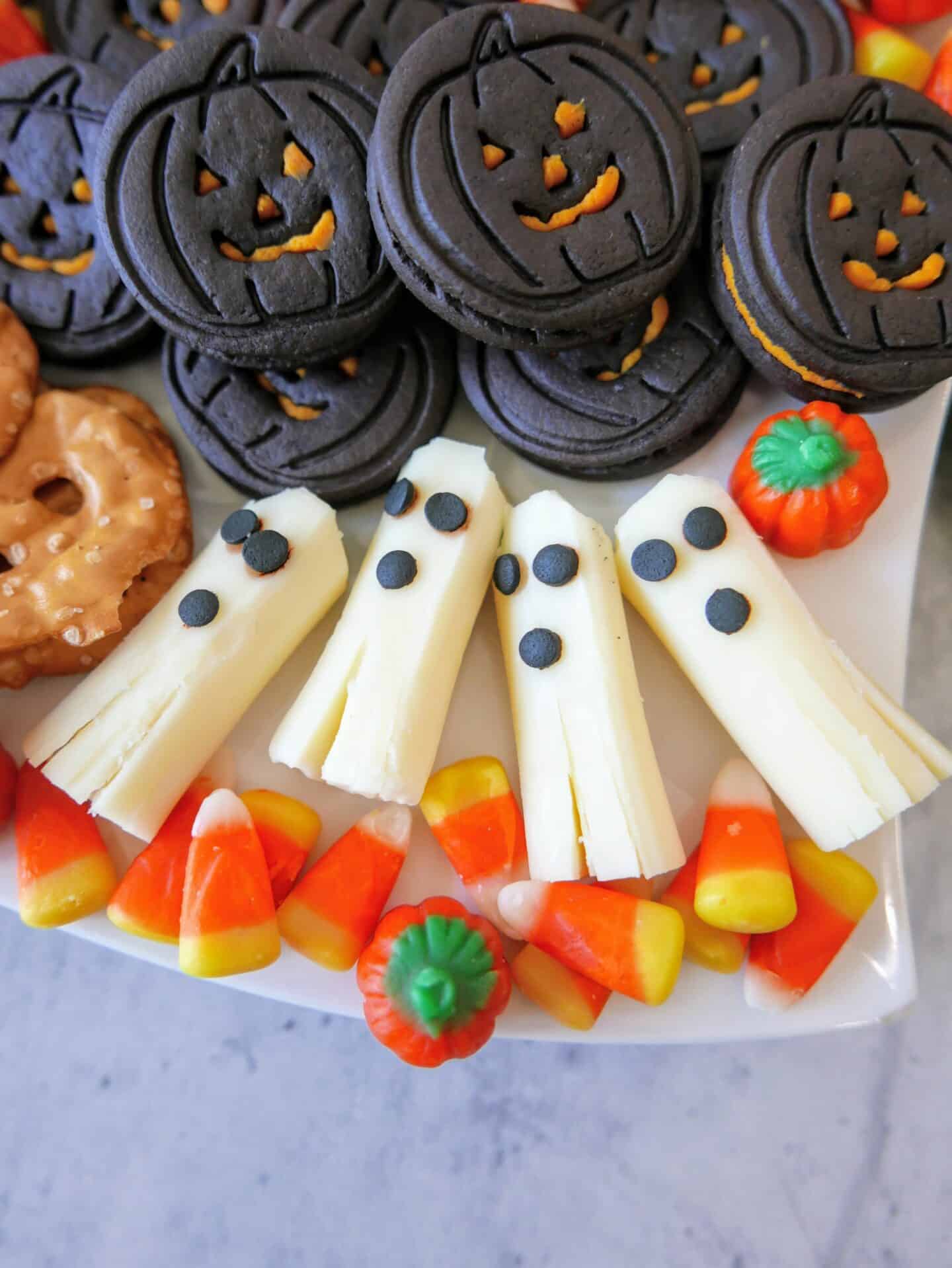 Grab a couple of sticks of mozzarella, chop each in half, and make several slits halfway up each one. Fan them out, creating a ghost-like shape and add eyes and a mouth using flat black sprinkles. Put the ghosts in the corner opposite the oranges.
Pro tip: Use a sharp knife or the mozzarella will not cut precisely.
Other Ingredients for your Spooky Snack Tray
As well as the above, you'll need to fill the gaps on the tray with some of the following ready-to-serve items: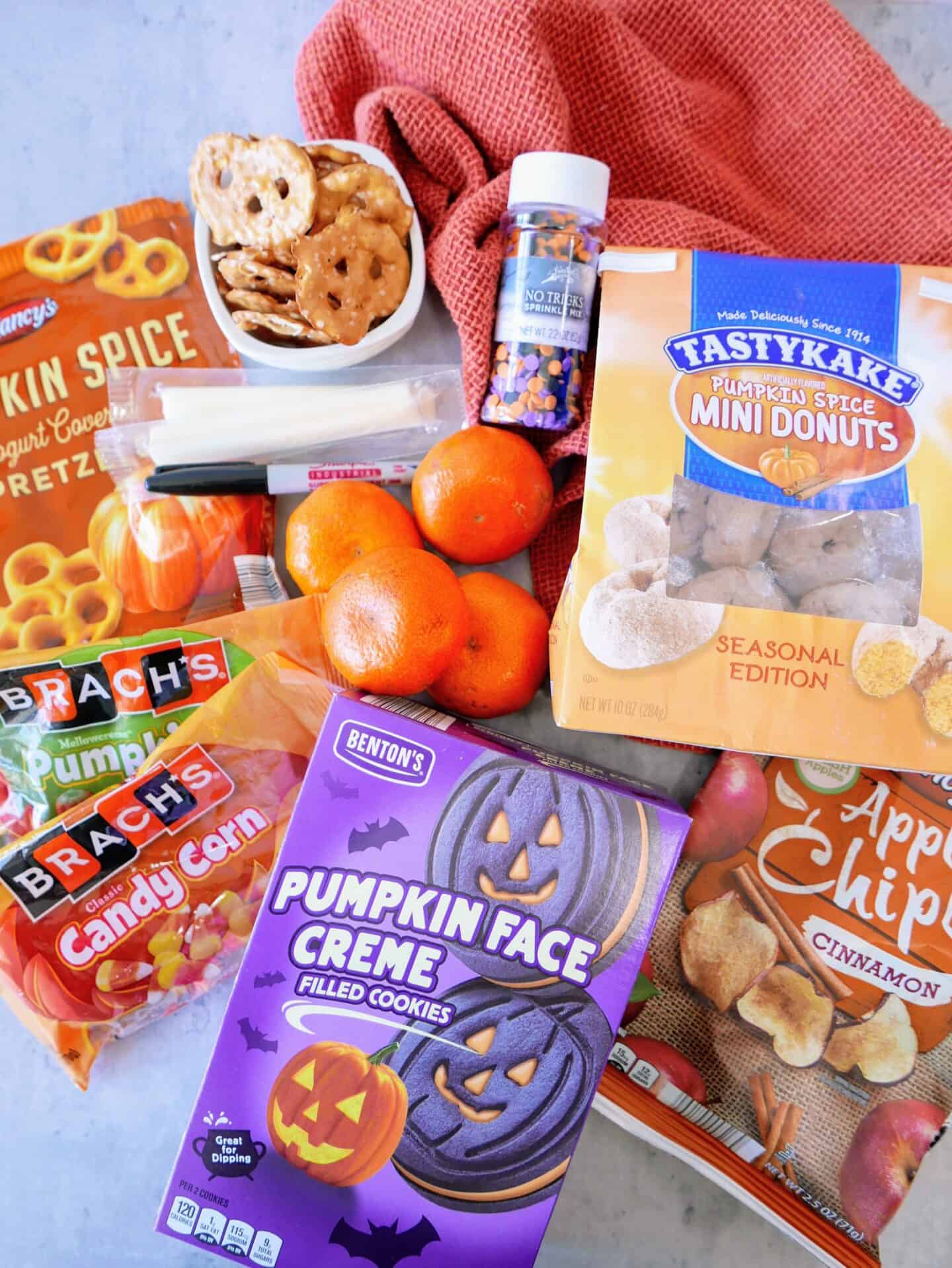 As an Amazon Associate I earn from qualifying purchases. You can read my full disclosure HERE. 
8 Pumpkin Spice Mini Donuts – these are delicious, and the spices take the sweet edge off, which is perfect for my tastes.
12 Pumpkin Spice Yogurt Covered Pretzels – I found these yummy treats in Aldi, but you can source them in plenty of grocery stores or even online via Amazon.
20 Cinnamon Apple Chips – again, these can be purchased in most retail and grocery stores. Add them to your Halloween snack tray for some natural sweetness.
20 Pretzel Crisps – my preferred brand is Snack Factory, as their pretzels provide the perfect added crunch to this platter.
8 Pumpkin Face Creme Filled Cookies – Found these at Aldi! If you find it difficult to track these down, try Oreos with the orange cream filling. Alternatively, you could try Little Debbie Pumpkin Brownies.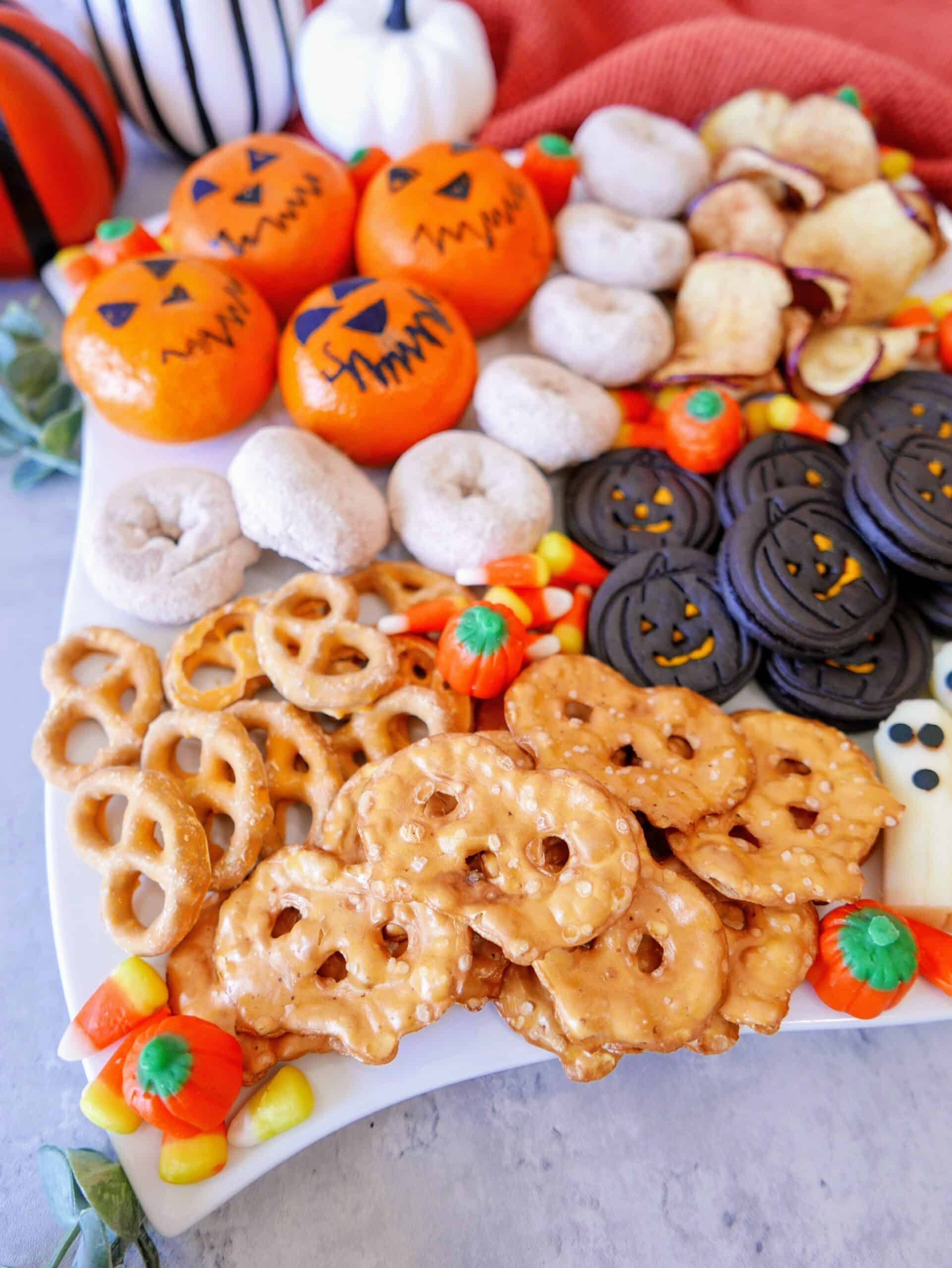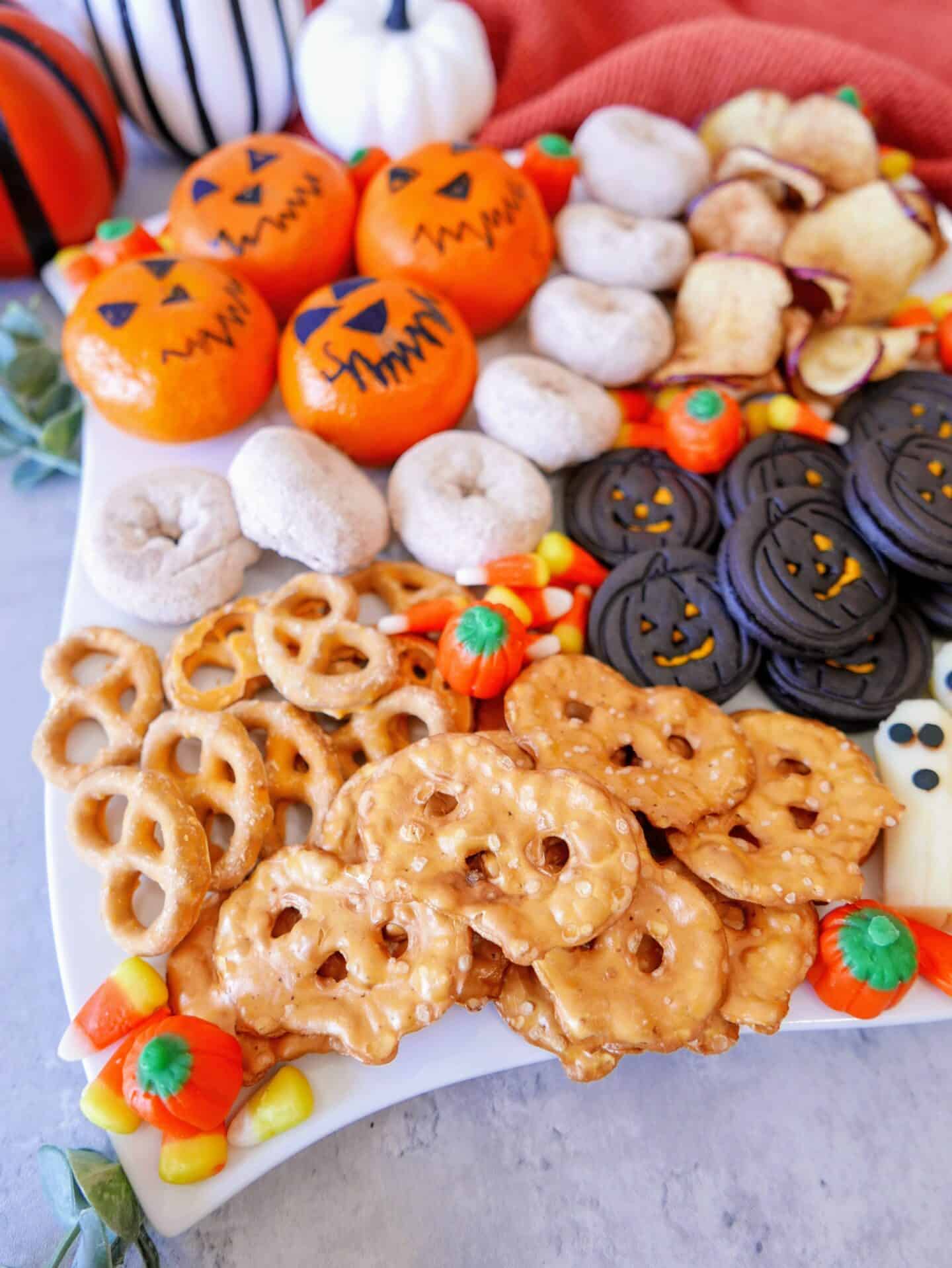 After adding all of the above to your Halloween snack tray, fill the remaining gaps with Brach's Mellowcreme Pumpkins and Brach's Candy Corn (or your favorite Halloween candy) as the finishing touches to your spooky masterpiece. Finally, serve and enjoy!
Happy Halloween!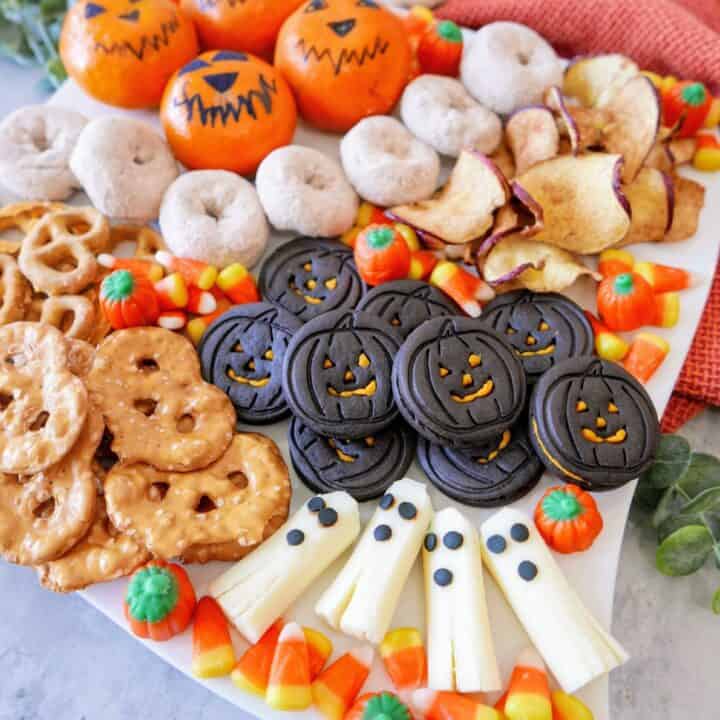 Halloween Snack Tray
This is the best little snack tray to celebrate Halloween. It's the perfect combination of sweet and salty, and even sneaks in a few healthy, but fun snacks.
Ingredients
4 mandarin oranges
2 mozzarella cheese sticks
Flat black sprinkles
Approximately 20 pretzel crisps
Approximately 12 Pumpkin Spice Yogurt Covered Pretzels
8 or more Pumpkin Spice Mini Donuts
Approximately 20 cinnamon apple chips
8 or more Pumpkin Face Creme Filled Cookies
Brach's Mellowcreme Pumpkins
Brach's Candy Corn
Instructions
Start by drawing some spooky faces on each mandarin orange with an orange sharpie.
Next, cut the mozzarella cheese sticks in half. Using a sharp knife, make several slits about halfway up the cheese stick, and fan them out. Add black sprinkles to be the eyes and mouth of the cheese stick "ghosts", and place at the opposite corner of the tray from the oranges.
Begin filling in around the oranges and cheese sticks with the donuts, pumpkin spice yogurt pretzels, apple chips, pretzel crisps, and pumpkin face cookies. Then in any of the small empty spots, fill in with the candy pumpkins, and candy corn.