What To Serve With Lettuce Wraps: 29 Tasty Sides
This post may contain affiliate links. As an Amazon Associate I earn from qualifying purchases.
Looking for what to serve with Lettuce Wraps? Look no further my friend!  I have created a list of the best side dishes to serve with Asian Chicken Lettuce Wraps. From soups, to rice to noodles, you'll find 29 delicious and EASY side ideas right here!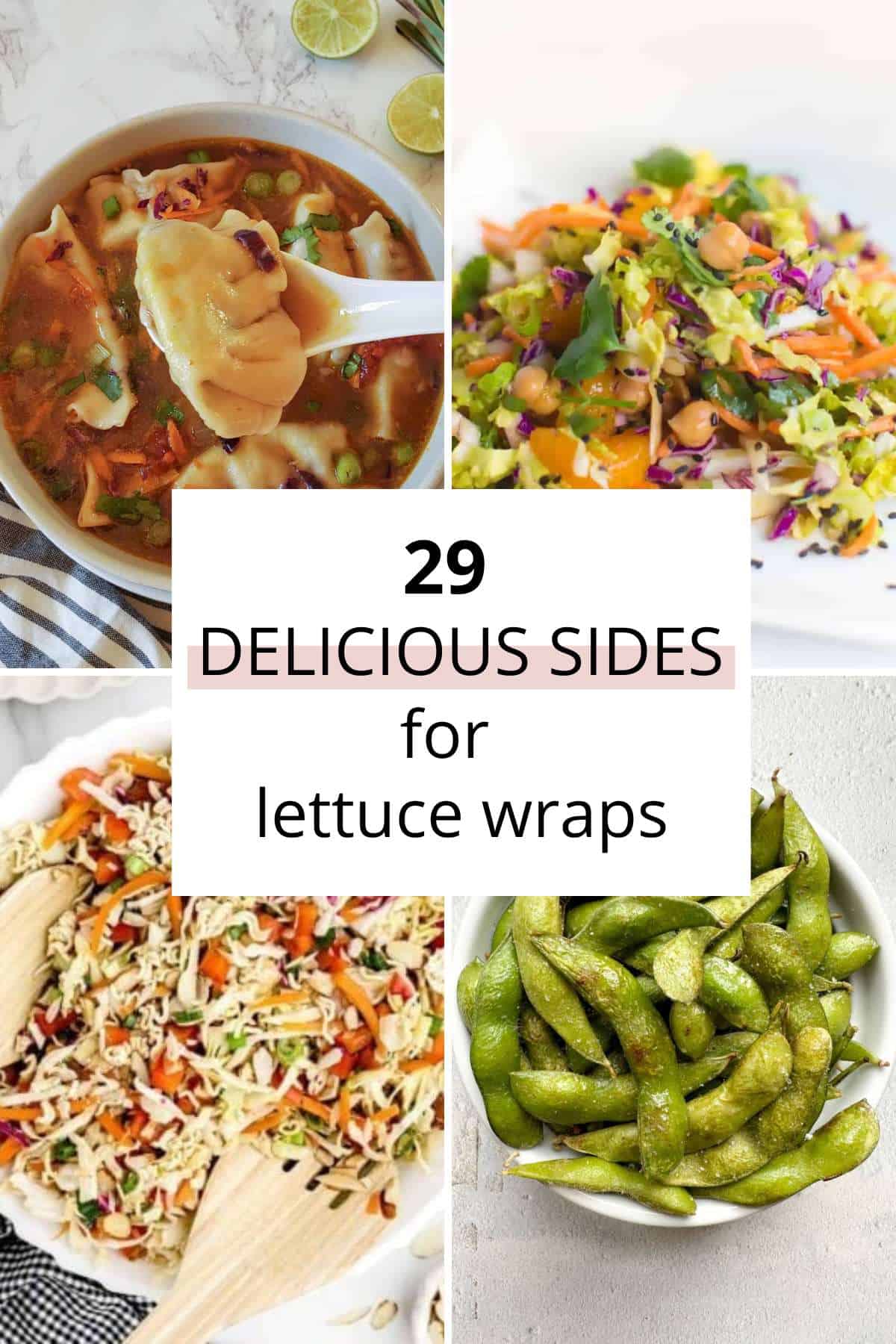 When I'm looking for a fun and healthy weeknight dinner, I often turn to lettuce wraps. My version is made with ground chicken, garlic, onion, soy sauce, rice vinegar, and ginger. Asian lettuce wraps are perfect for a low-carb, high-protein dinner that the whole family will enjoy.
If you are looking for something a little different you can try….these ground beef lettuce wraps as well.
Serve any of these 29 delicious sides with your lettuce wraps, you can create a well-rounded, nutritious, and delicious meal that will be ready in no time at all.
The Best Lettuce For Lettuce Wraps
Before we talk sides you may be wondering what the best lettuce is to use for your wraps. While you can use any type of lettuce you like, some varieties work better than others.
The best lettuce for lettuce wraps is one that is crisp and sturdy enough to hold the fillings without tearing apart. Butter lettuce or bibb lettuce are both popular choices. Iceberg lettuce is also commonly used because of its crunchiness and the way its shape naturally forms a cup.
Toppings

First, let's talk toppings. You can really elevate the flavor and texture of your lettuce wraps by adding some fun toppings and garnishes. Here are some ideas:
Fresh Herbs – Add some freshness to your lettuce wraps with cilantro, basil, or mint. The vibrant flavors of these herbs will complement the savory taste of the chicken and also add a pop of color to your dish.
Crunchy Vegetables – Chop up some colorful vegetables like bell peppers peppers, green onions, carrots, bean sprouts, or jicama for a satisfying crunch. These vegetables are not only visually appealing but also add extra fiber and nutrients to your meal.
Nuts and Seeds – Toasted peanuts, cashews, or sesame seeds can add an extra layer of nuttiness and crunch to your lettuce wraps. They also provide a good source of healthy fats and protein, making your meal more satisfying.
Crispy Rice Noodles – These are a popular topping used in Asian cuisine, known for their satisfying crunch and versatility in adding texture and flavor to dishes like lettuce wraps.
Sauces
Switch up the taste of your lettuce wraps by experimenting with different sauces that can bring new and exciting flavors to your dish. From sweet and savory to tangy and spicy, the possibilities are endless. Here are a few delicious sauce ideas to inspire your next lettuce wrap creation:
Hot Sauce – Add a little heat to your lettuce wraps with some hot sauce. Sriracha, chili garlic sauce, gochujang, or sambal oelek are great options that will add a spicy kick to your dish.
Hoisin Sauce – This sweet and savory sauce is a staple in many Asian cuisines. It's made from fermented soybeans and other ingredients like garlic, vinegar, and sugar, giving it a complex flavor that pairs perfectly with lettuce wraps.
Sweet Chili Sauce – If you're looking for a little bit of heat with some sweetness, this sauce is the way to go. It's made with chili peppers, sugar, vinegar, and garlic, giving it a balance of flavors that will complement the fresh ingredients in your lettuce wraps.
Oyster Sauce – Made from oysters, soy sauce, sugar, and other seasonings, this sauce has a rich and savory flavor that pairs well with meats and vegetables. It's a great option for adding umami to your lettuce wraps.
Salad
I absolutely love the idea of serving your lettuce wraps with a salad. Since you are already having lettuce with the wraps – get creative with different types of non-lettuce salads. Here are some fun ideas:
Soup
Imagine dunking your fresh lettuce wraps into a piping hot bowl of soup, savoring the delicious flavors and textures that come with each bite. Yum!
Whether it's a classic wonton soup or an egg drop soup, soup is truly the perfect side dish to accompany your lettuce wraps and balance out your meal.
Rice
Rice, rice, baby! Adding a side of fluffy, steaming rice to your lettuce wraps is a match made in heaven. Not only does it soak up all the delicious flavors of your chicken and veggies, but it also adds a satisfying and filling carb source to your meal.
You could keep it simple with white rice, brown rice, or cauliflower rice OR get fancy and try some different flavors such as coconut lime rice for a sweet twist or spicy kimchi fried rice for a kick of heat.
Veggies
Serving veggies with lettuce wraps can be a great way to add more nutrients and fiber to your meal. Lettuce wraps themselves are generally low in calories and carbs, but adding more veggies such as green beans or brussel sprouts can increase the overall nutritional value and volume of the dish.
Plus, the crunchiness and freshness of the veggies can provide a nice contrast to the savory chicken filling and enhance the overall texture and flavor of the dish. Bring on the veggies!
Egg Rolls
Egg rolls can be a delicious addition to serve with lettuce wraps, as they add some crispy texture and an extra layer of flavor. The combination of the savory filling and the crispy shell of an egg roll can perfectly complement the fresh and light flavors of the lettuce wraps. And I mean, who doesn't love a good egg roll?
Edamame
Edamame can make a great side dish to serve with chicken lettuce wraps. Not only does it provide a plant-based protein option, but it's also packed with vitamins and minerals like fiber, iron, and calcium.
The slightly salty and nutty flavor of edamame is the perfect complement to the fresh and crunchy lettuce wraps, making for a well-rounded and satisfying meal. Plus, edamame is is basically the easiest thing ever to prepare.
Noodles
What's better than a plate of healthy chicken lettuce wraps? A plate of healthy chicken lettuce wraps paired with a side of mouthwatering noodles! Whether you prefer spicy peanut noodles or classic sesame noodles, adding this delicious carb to your meal will leave you feeling satisfied and energized.