Broccoli & Carrot Cheddar Soup
If you're looking for a healthy boost to power through your day, then Broccoli & Carrot Cheddar Soup is sure to win your heart.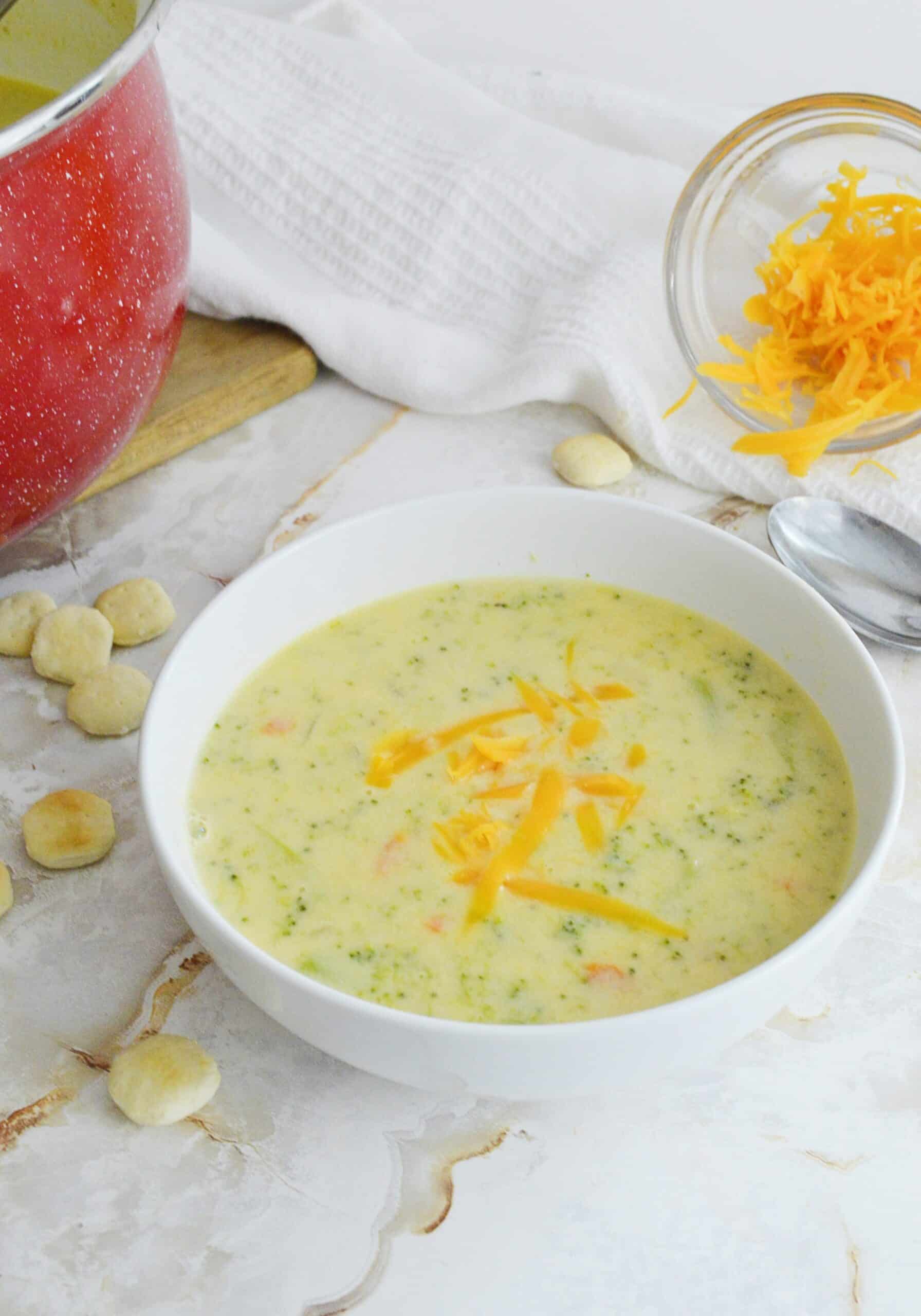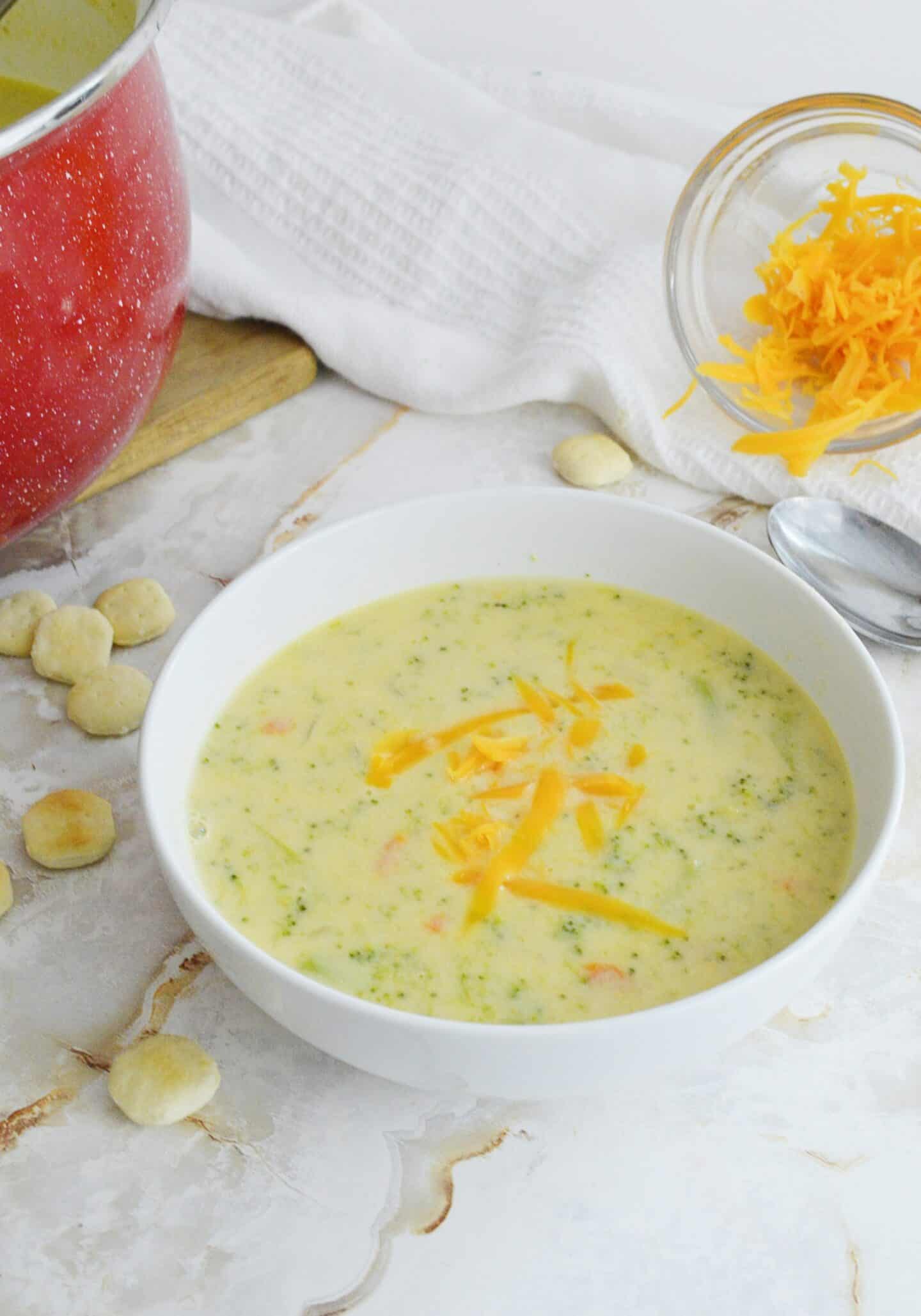 When you're faced with a hectic schedule, a hectic home life, and a barely-there workout routine, you want meals that are both easy and nutritious. Our Broccoli & Carrot Cheddar Soup is one of those soup recipes simple enough to whip up and packed with several vitamins and minerals.
Soup recipes such as Instant Pot Chicken Taco Soup, Butternut Squash Taco Soup, Instant Pot Vegetable Soup are the best option for those super busy weekday nights!
Why You'll Love Broccoli & Carrot Cheddar Soup
10 easy-to-find ingredients
This dish is freezer-safe and reheatable
Can be prepared over the stove, in an instant pot or crockpot
-You're easily able to incorporate meals for a savory meal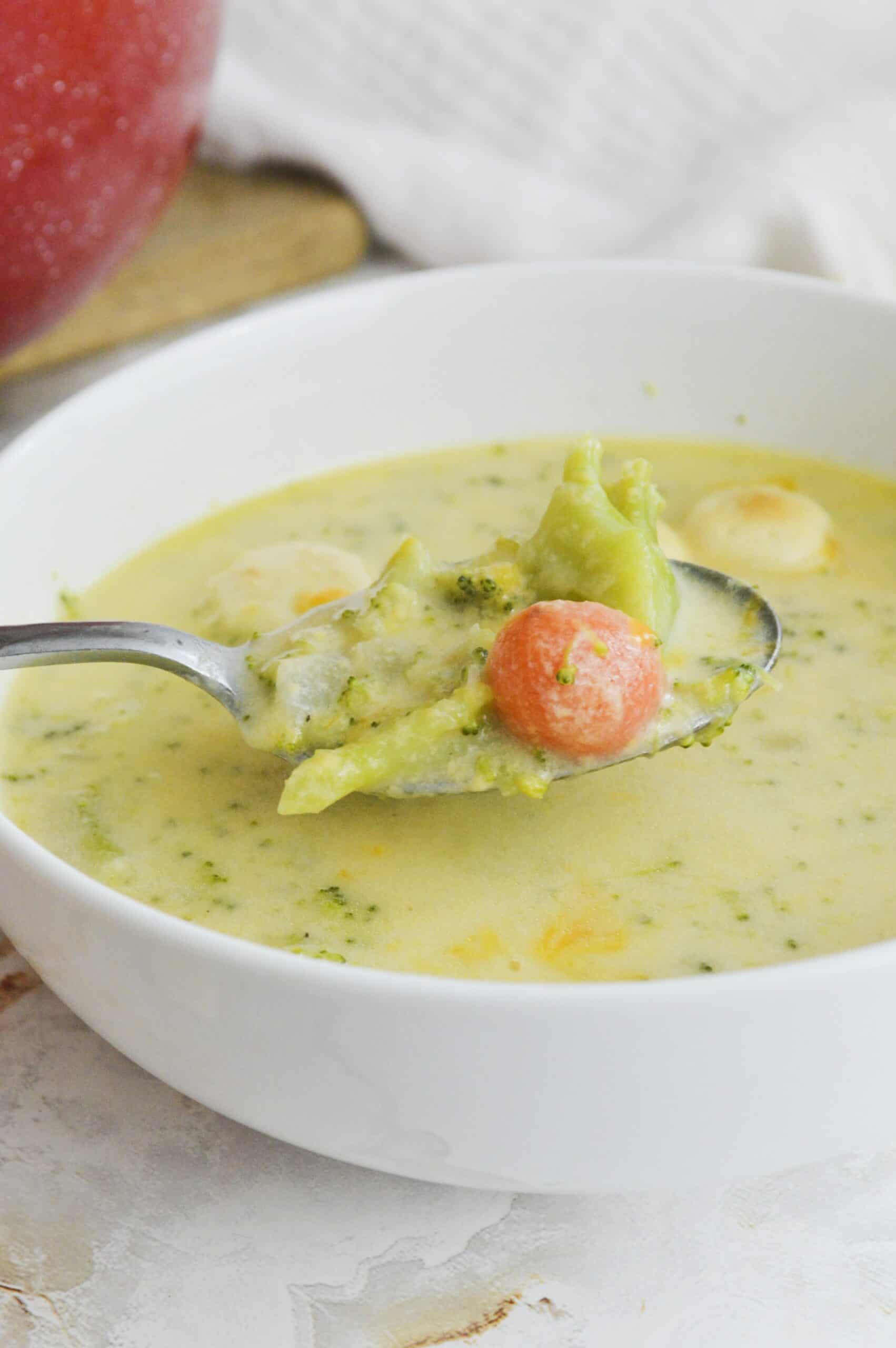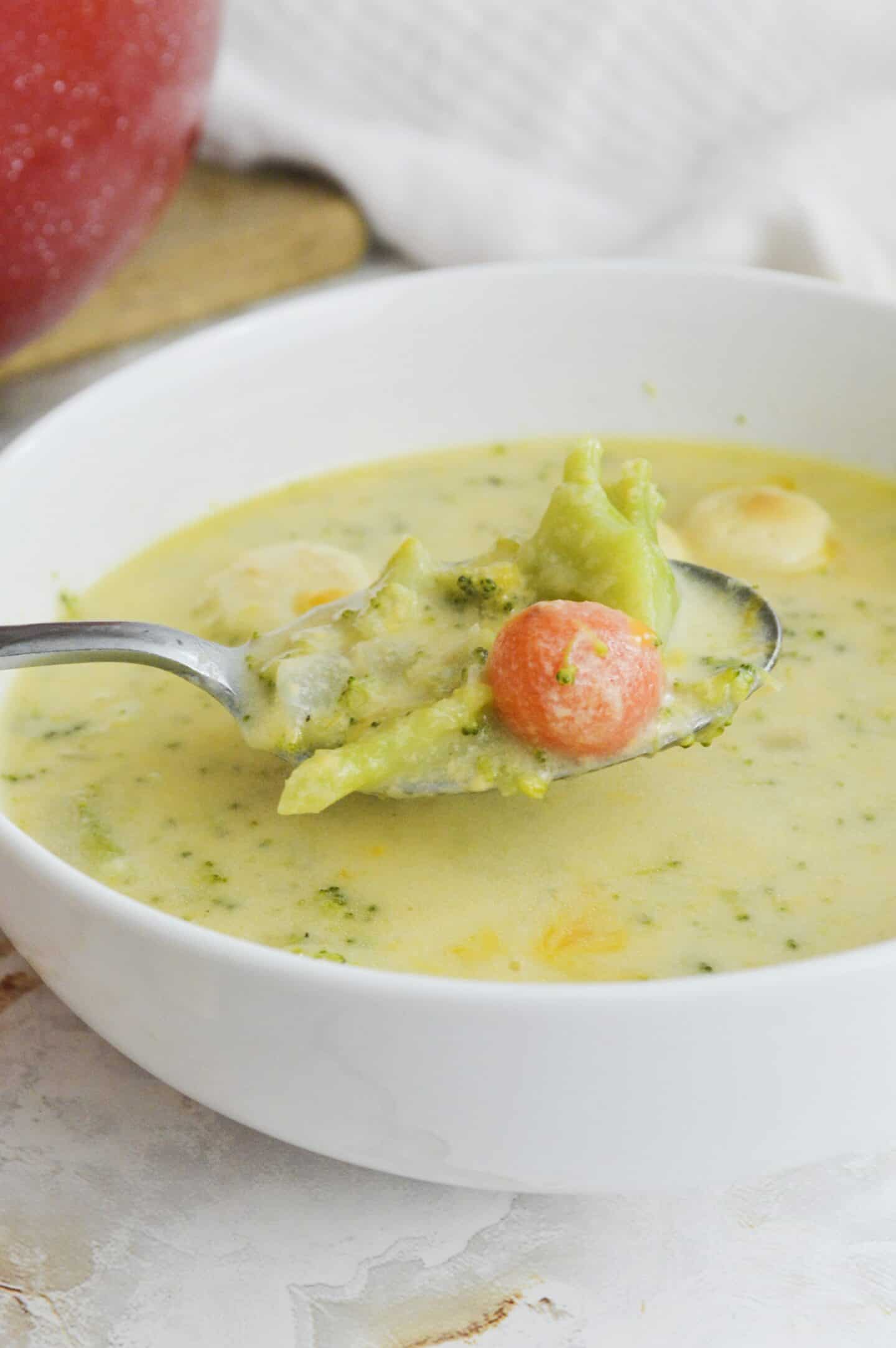 The main ingredients of this dish are broccoli crowns, carrots, cheddar cheese, milk, and butter.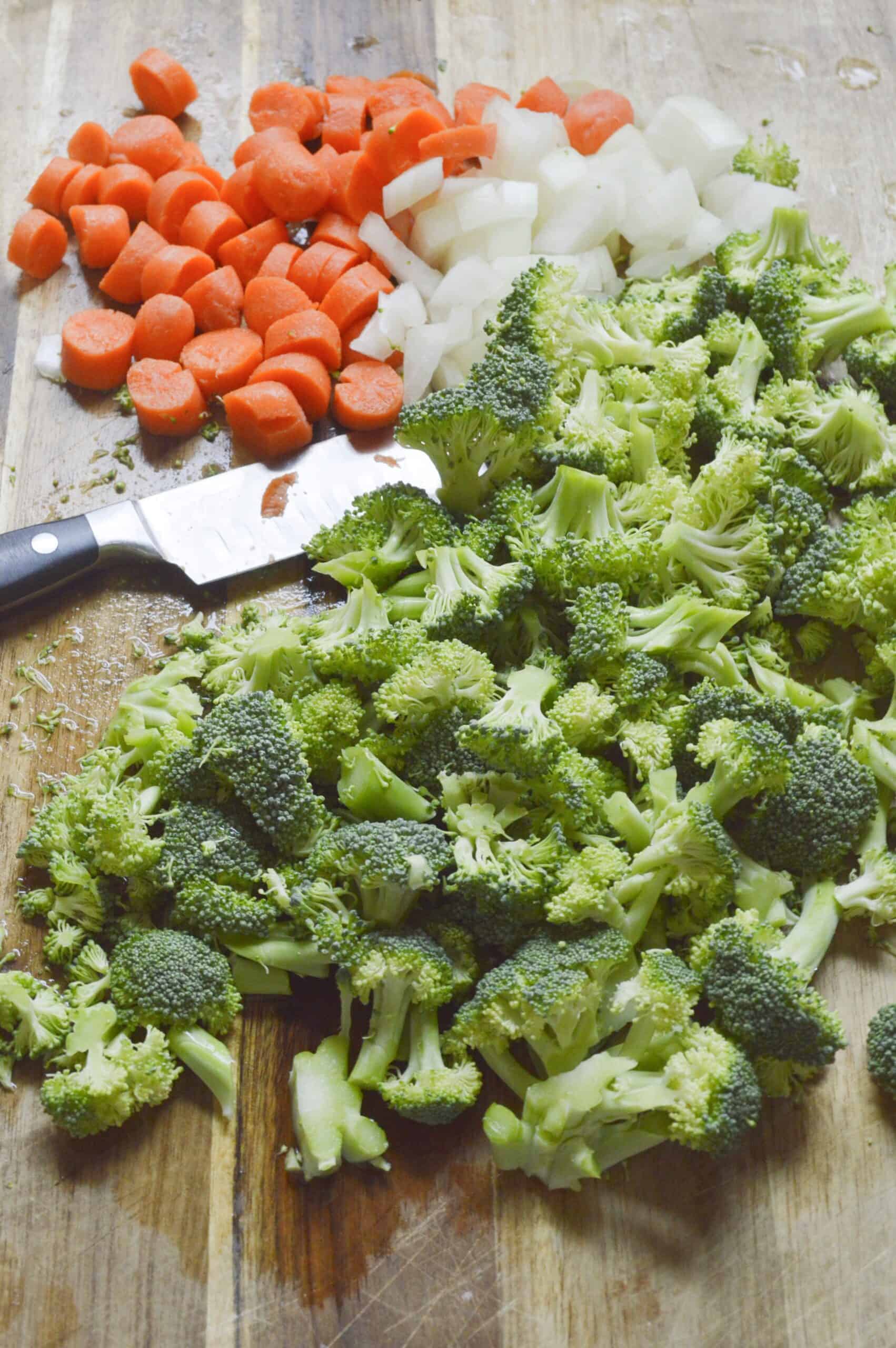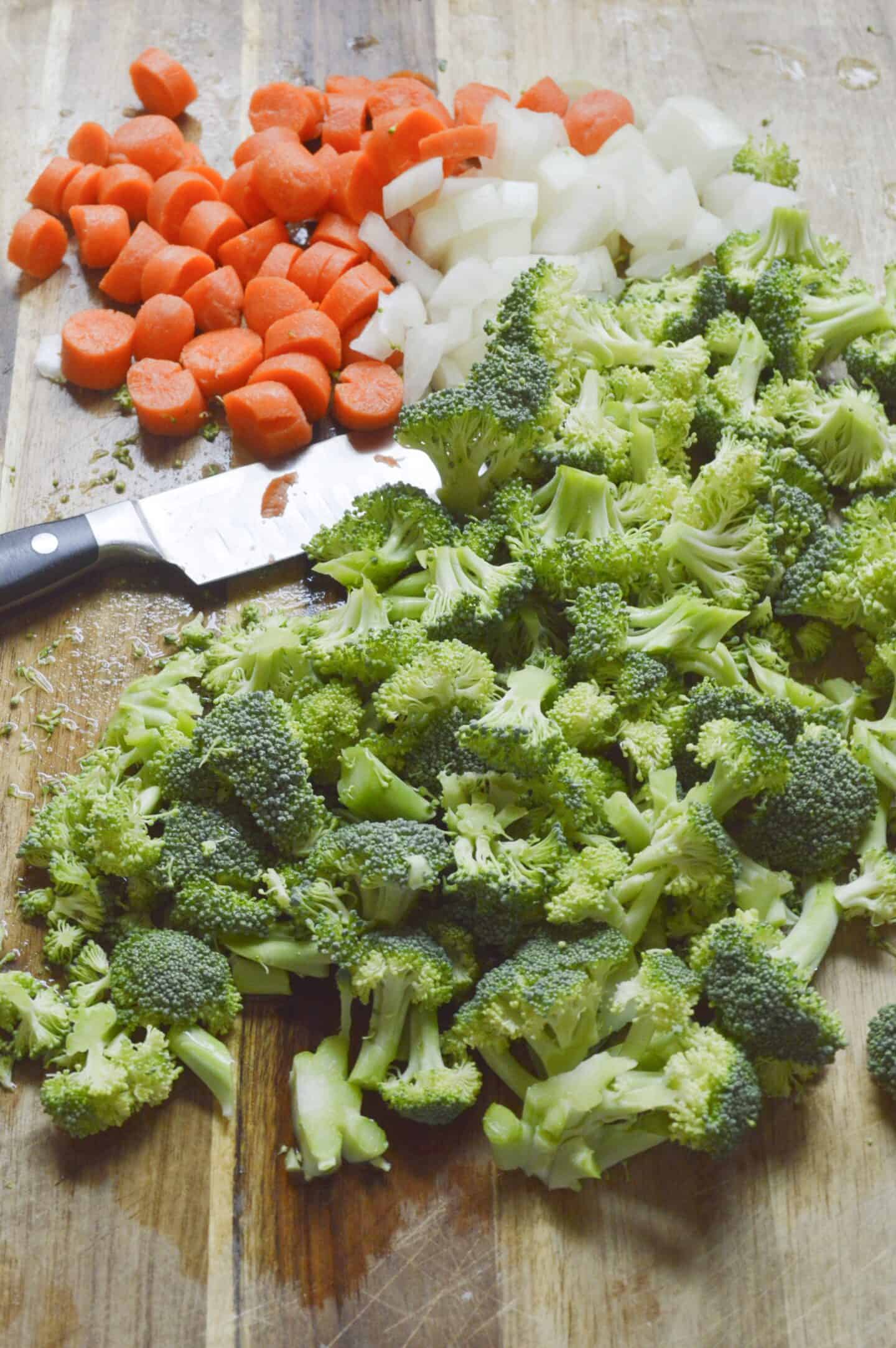 Although the broccoli crowns and the cheddar are the main components of this dish, the butter steals the show! With the butter, the soup takes on a hearty flavor as the churned oils and fresh cream fat attach to the solid components of broccoli and blend beautifully. This makes it one of those soup recipes that freeze well and don't come out soggy when trying to reheat.
I opt for a non-stick aluminum medium pot for butter and cheese dishes. There's two (2) reasons for this: 1) When making your flour "roux," it's important that it doesn't burn or stick. Although you have the fat from the butter at the beginning, the non-stick aluminum gives you added confidence that your dish won't become a gooey mess should you take a call or attend to your family.
How to Make Broccoli and Carrot Cheddar Soup
And while we're on the subject of pots, you can create this dish inside a crockpot or an instant pot too!
I'm a sucker for a rich soup and a sucker for using the time-saving Instant Pot, so when looking for sturdy soup recipes in Instant Pot 6-quart or higher, this Broccoli & Carrot Cheddar Soup makes the list!
Both the ingredients and instructions are the same, yet the time differs. However, you'll still get that robust flavor as if using the stovetop version.
Another important step to take note of is the whisking of the flour.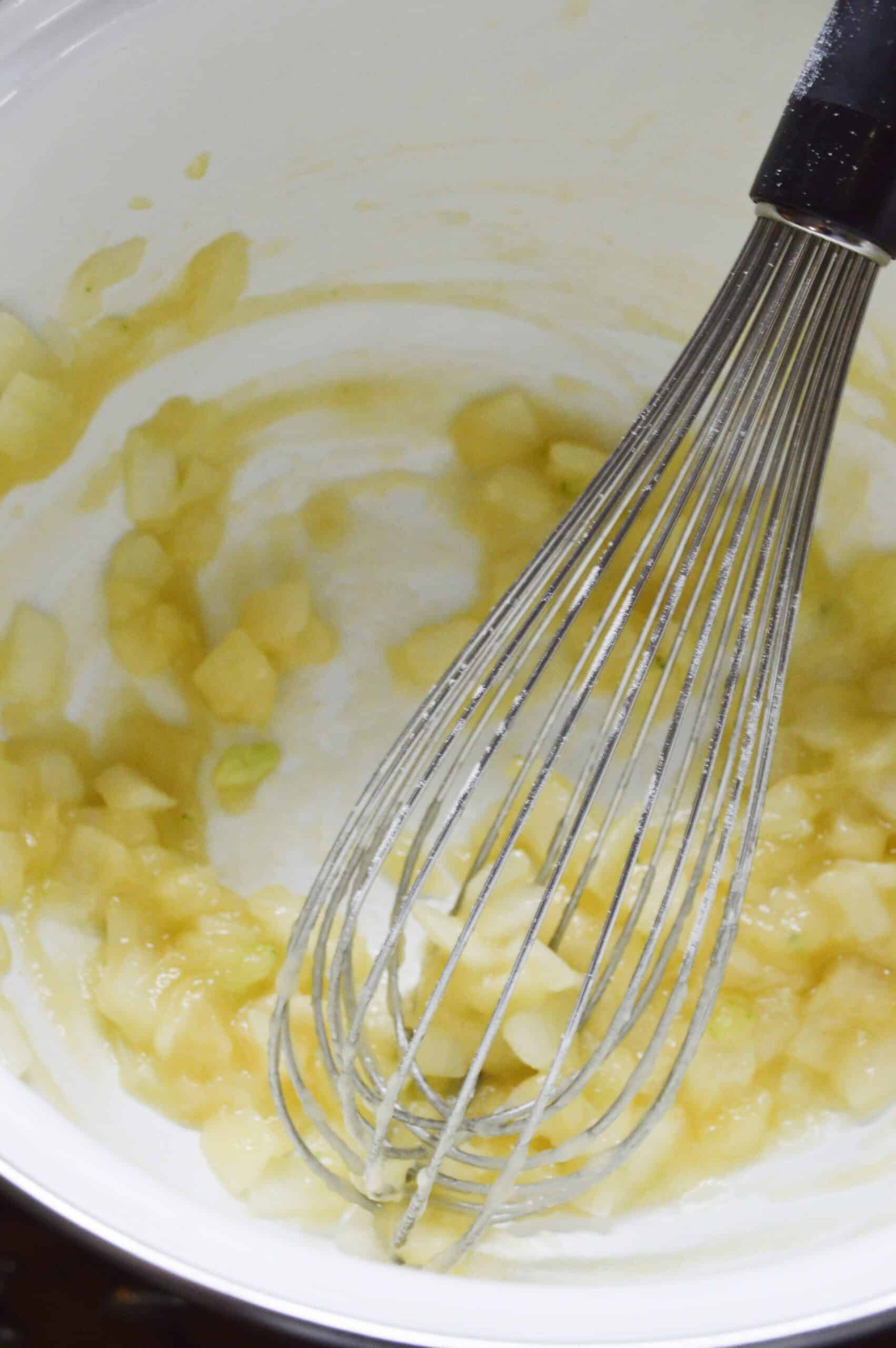 When whisking the flour with the sauteed onions and heated butter, a mild roux is formed. Mild because butter is involved. If you're familiar with Cajun cuisine or Gumbos, then you know how important the roux is to the dish. Similar to Gumbo, you want to make sure that you are consistently stirring so that the flour mix does not clump together, or worse- burn.
Now, if you're worried that this will be an issue with using the Instant Pot, it won't be. The moisture sealed inside the cooking container keeps the flour from burning instead of churning over a hot, open flame.
Broccoli and Carrot Soup Recipe Ingredients
When it comes to cheese, not many can say no to the sharpness of creamy Cheddar Cheese. It's somewhat gooey consistency ties together with the fats in the butter and milk that warms bellies and energizes the soul.
You don't need much cheese for the dish to take on its flavor; however, you can note the difference if you choose to use Mild Cheddar over Extra Sharp Cheddar. How much difference? Not much, but if you are a connoisseur of cheese, then you'll taste the subtle shifts in tanginess. The most significant difference between the two is the aging process, as extra sharp has a few years under its belt instead of the few months of the mild. Either works perfectly with the dish as both kinds of cheese have enough sharpness to make the Broccoli and Cheddar Soup dish stand out.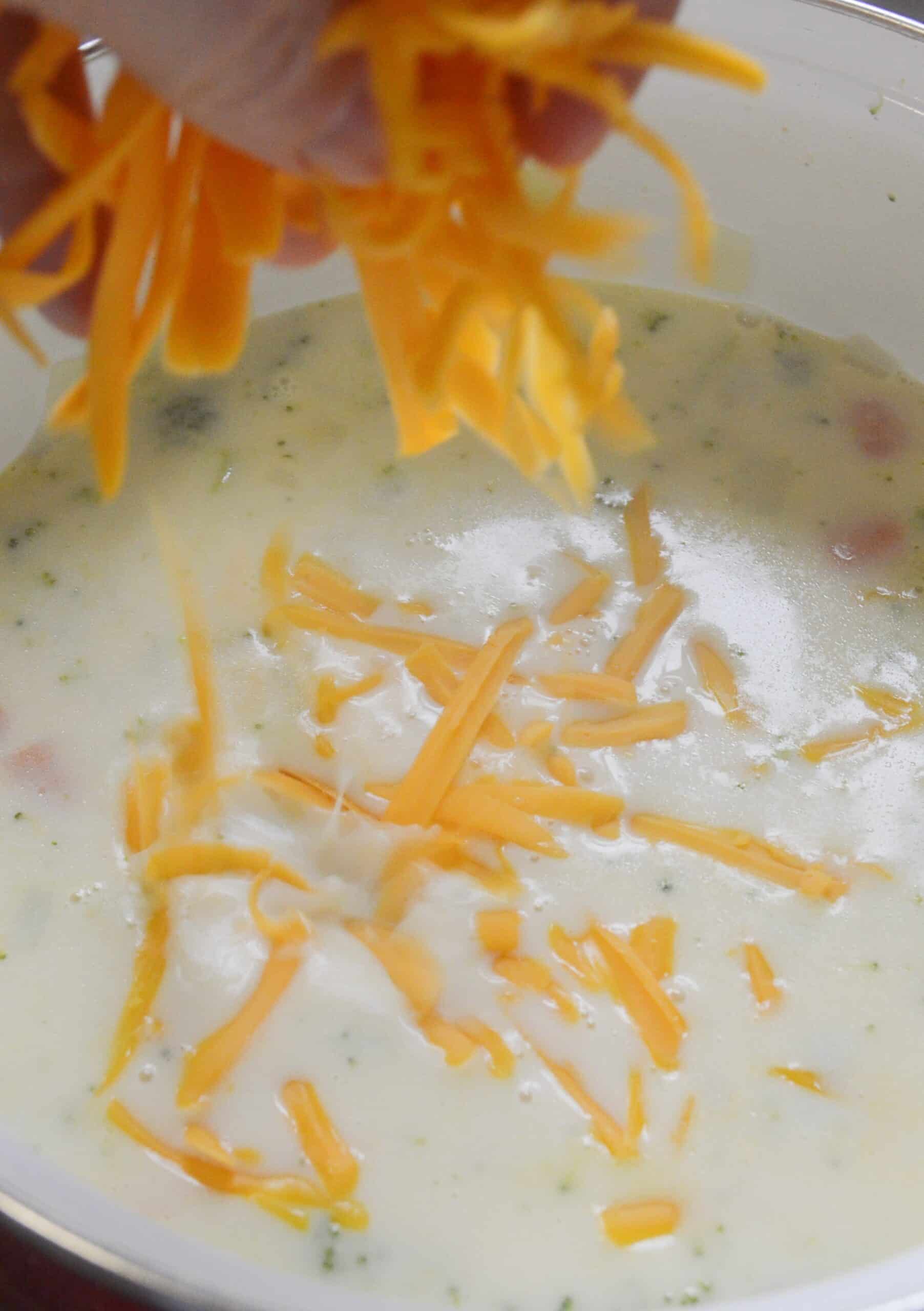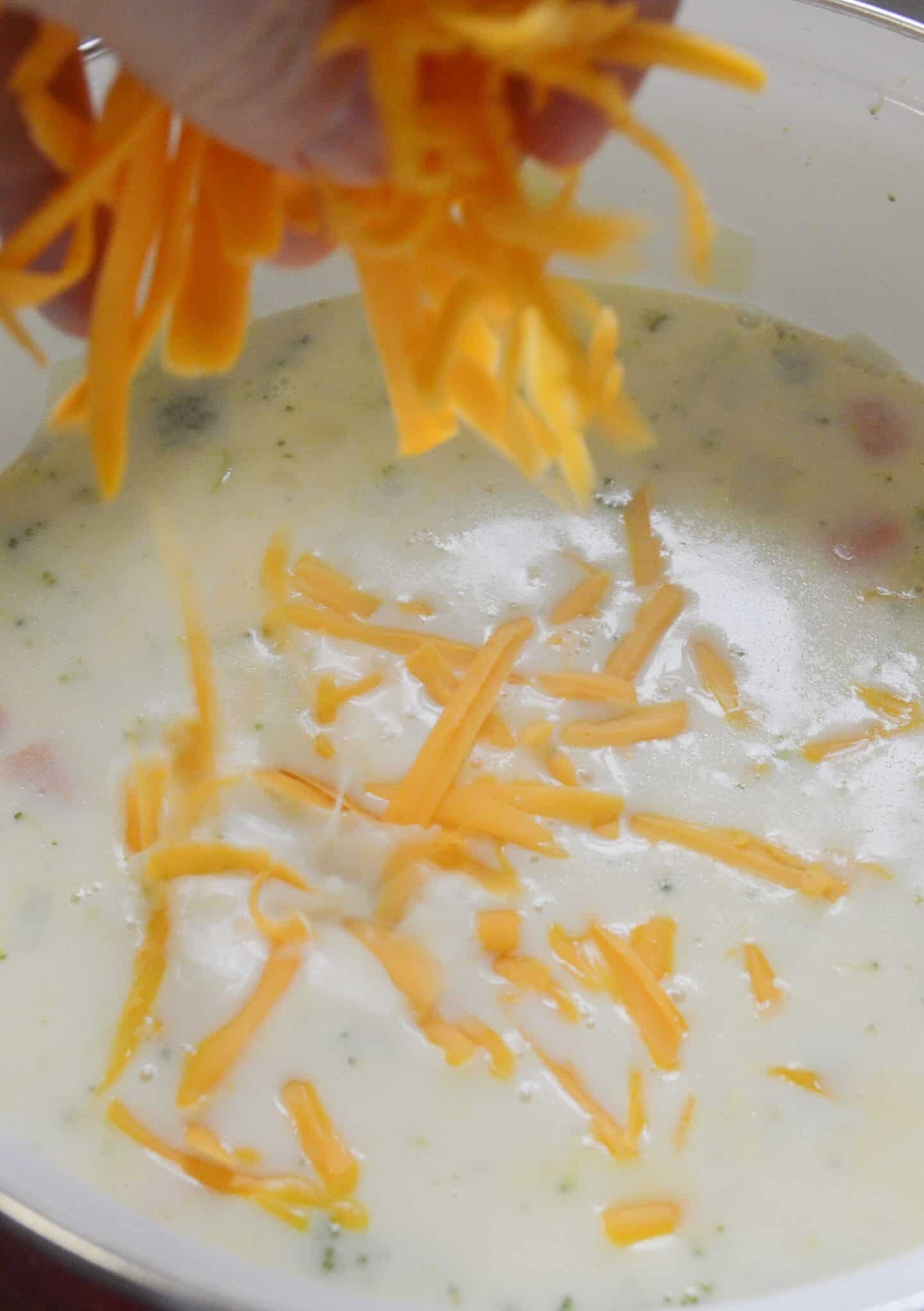 As for that full-fat flavor, it's all in the milk.
Although we don't specify which milk to use, choosing one with a full-fat flavor, such as whole milk or cashew milk- if you're preparing this for plant-based eaters, would help build the body of this dish. Even if you're not catering to a plant-based crowd, cashew milk or oat milk paired with cheddar cheese would work amazingly well in this Broccoli & Carrot Cheddar Soup and stick to you for a long time.
Last but most critical is the quality of your broccoli crowns—the freshness of the crowns matter. Whether chopped straight from the head or you're choosing to use a freshly frozen pack, the quality of your broccoli crowns will not only help with extending your freeze time but will give the soup a crisp crunch that's refreshing on a cold, foggy day.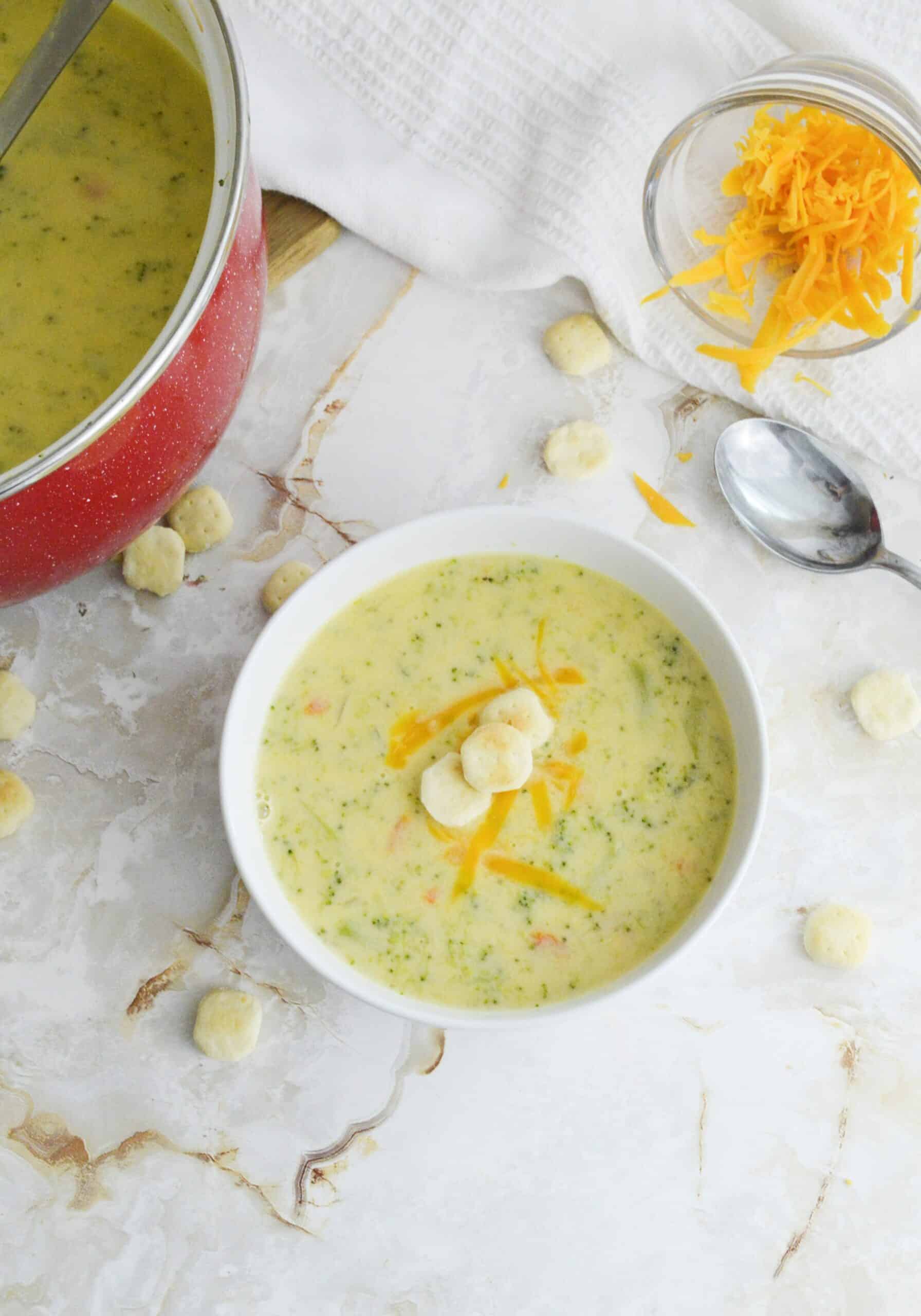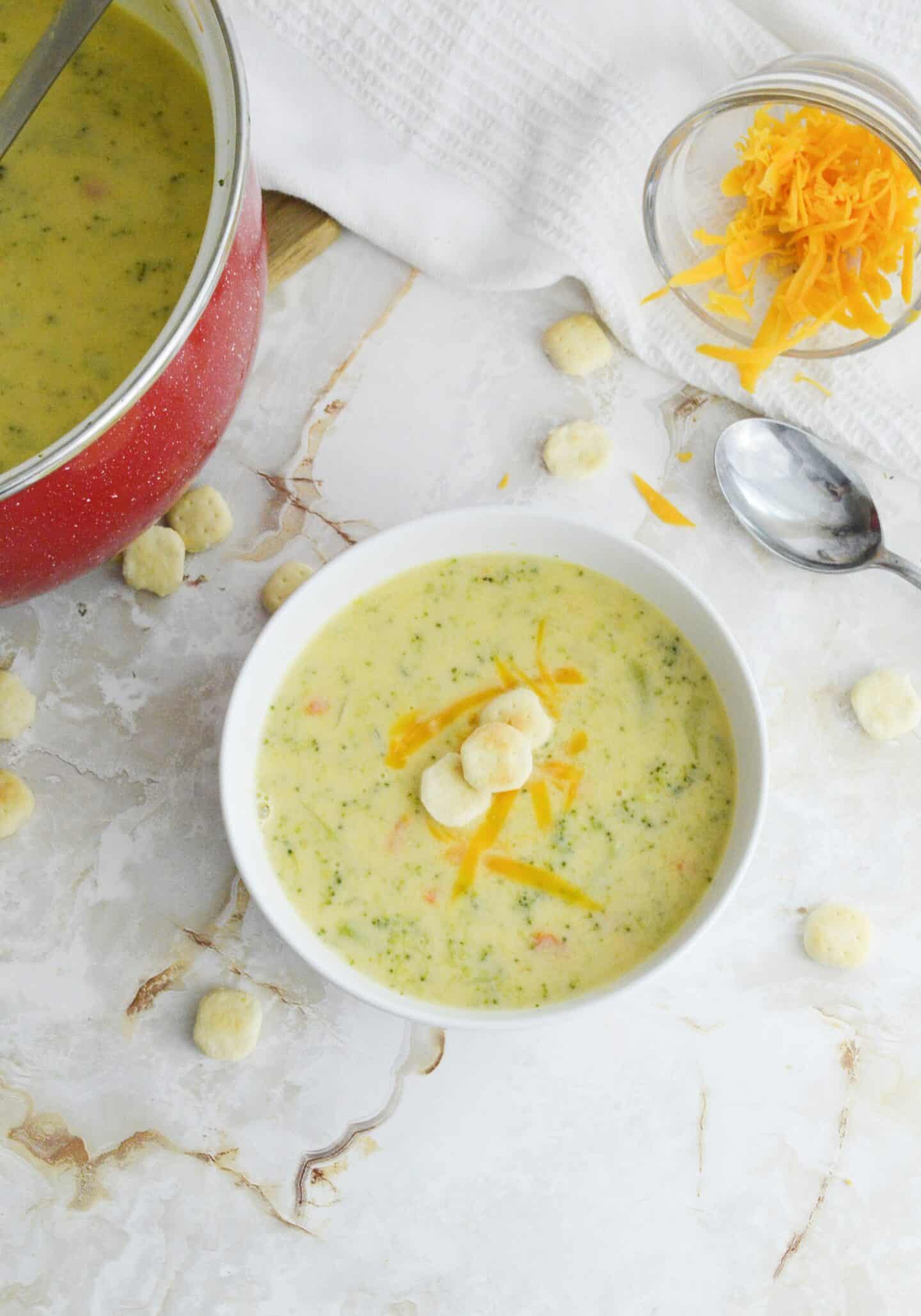 One of the best parts about this dish is that you can enjoy it alongside Rotisserie Chicken or pour over a bed of rice anytime during the year! Plus, with a long freezer life, you can prepare it in batches and freeze it in an airtight container for up to 6 months!
Whether you're looking for soup recipes simple for weeknight meal prep or soup recipes that burn fat, this Broccoli & Carrot Cheddar Soup dish is a blessing for busy lifestyles.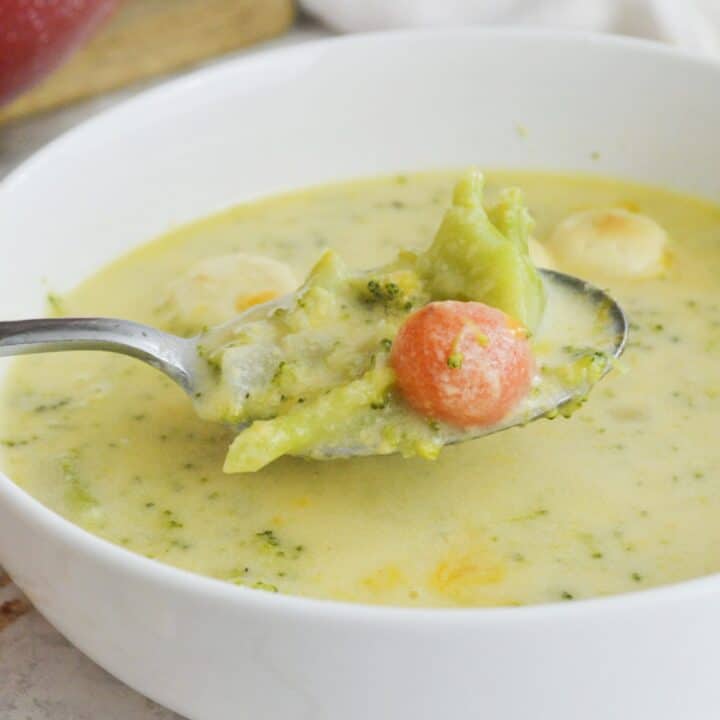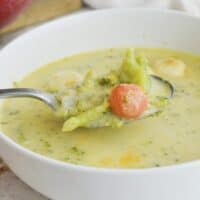 Broccoli & Carrot Cheddar Soup
Homemade broccoli and carrot cheddar soup recipe! This delicious soup recipe makes the perfect weeknight meal.
Print
Pin
Rate
Ingredients
4

tbsp

butter

1/2

onion

diced

4

tbsp

flour

32

oz

Vegetable Stock

2

cups

milk

2

Small Broccoli Crowns

removed from stem and chopped

1 1/2

cups

carrots

chopped

Salt & Pepper to taste

1/2

tsp

garlic powder

2

cups

shredded cheddar cheese
Instructions
In a medium pot, heat butter over medium heat.

Once melted add onions and sauté e until soft and fragrant.

Then whisk in the flour until dissolved and starting to brown a little.

Slowly whisk in the vegetable stock and then the milk.

Add in the broccoli, carrots, and seasoning.

Bring to a boil and then turn down the heat to low and simmer covered for about 15 minutes.

Stir frequently.

After broccoli and carrots are cooked, stir in the cheddar cheese until melted.

Serve hot with extra cheese, crackers, or toppings of choice.
Nutrition
Calories:
368
kcal
|
Carbohydrates:
20
g
|
Protein:
19
g
|
Fat:
25
g
|
Sodium:
421
mg
|
Fiber:
6
g
Please note that the nutritional information provided for each recipe is an estimate sourced from the My Fitness Pal database. It's important to be aware that the nutritional content may vary depending on the specific products used, the accuracy of measurements, and the reliability of the nutrition data source. While we strive to provide accurate information, we cannot guarantee the exact accuracy of the nutritional information provided.