32 Healthy Chicken Wrap Recipes For Lunch
This post may contain affiliate links. As an Amazon Associate I earn from qualifying purchases.
Looking for healthy chicken wrap recipes? You have come to the right place! I have created a list of the best healthy chicken wrap recipes. From chicken Caesar wraps, to avocado, to buffalo chicken, you'll find 32 delicious and EASY chicken wrap recipes right here!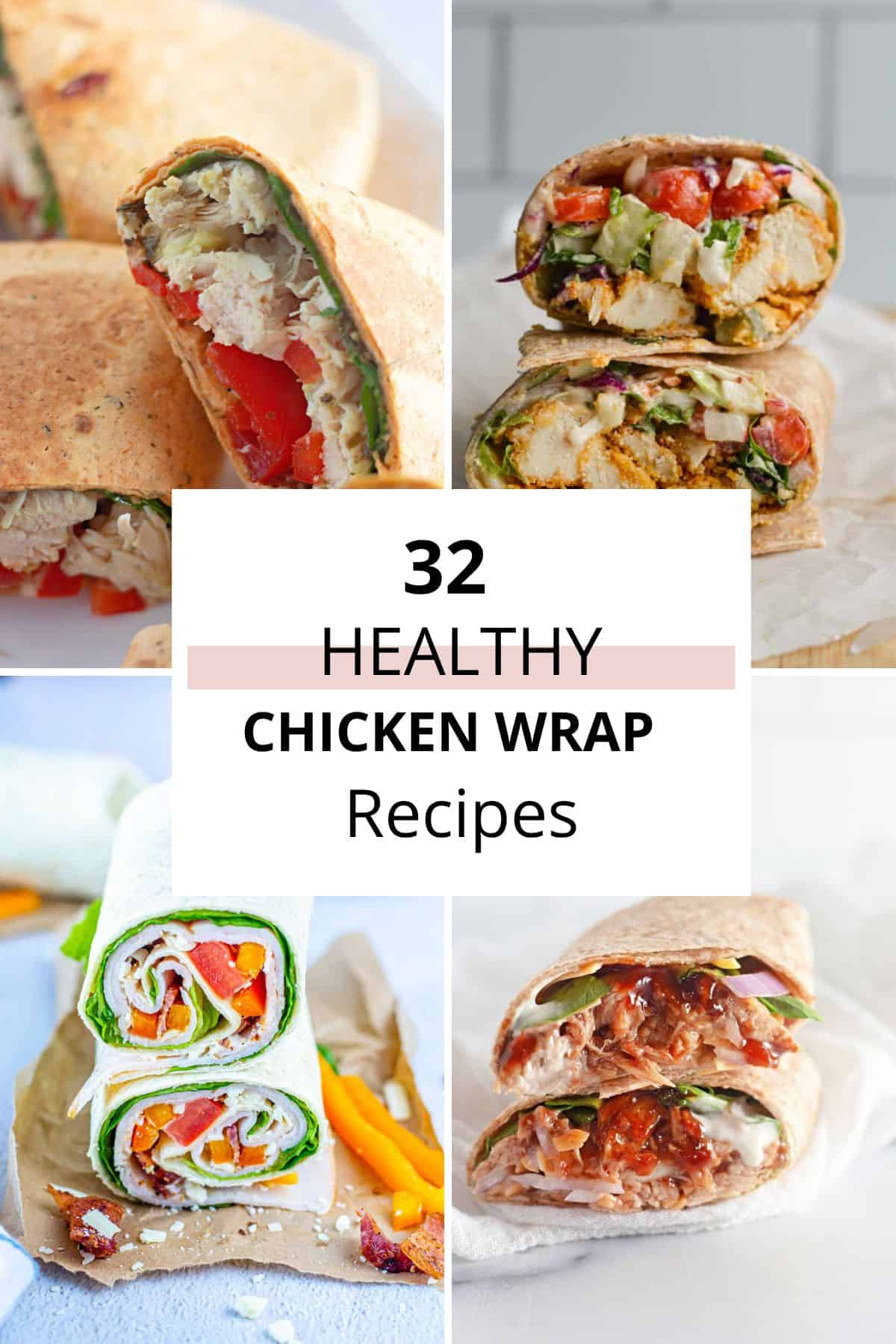 As an Amazon Associate I earn from qualifying purchases. You can read my full disclosure HERE. 
You ever have one of those days where you're caught between "I want something tasty" and "I really don't want to put in a ton of effort"? Yup, me too. More times than I'd care to admit. That's when my trusty chicken wrap recipes come to the rescue.
Think about it: a wrap is like a blank canvas. A little bit of this, a sprinkle of that, and before you know it, you've got a delicious, mouth-watering meal right in the palm of your hand. And the best part? With the right recipes, you don't have to compromise on either your health goals or flavor.
I mean, who says fast and convenient can't also be fresh and healthy? Chicken wraps defy that notion. They're the unsung heroes of those busy days, those "don't-feel-like-cooking" moments, or even those "I want to impress my friends but not work too hard" occasions.
Why I Love Chicken Wraps
Crafting the Perfect Chicken Wrap: Let's Dive Into the Basics
Chicken Prep: The Heart of the Wrap
We've all got our go-to methods, but when it comes to chicken, the preparation really sets the tone for a great wrap. To keep your wrap healthy – it is best to avoid frying. Here are my three favorite way to prepare my chicken wraps:
Grilling: Grilling gives your chicken that smoky, charred flavor that's just hard to resist. It's not only a great way to seal in those natural juices but also adds a delightful char that sings summer BBQ vibes. If it's too cold for outdoor grilling you can use an indoor grill ( I love my Ninja Grill) or even a grill pan.
Baking: If you're looking for a hands-off approach, baking's your best buddy. Just season, set, and let your oven do the heavy lifting. The result? Perfectly cooked chicken that's ready for any wrap adventure.
Air Frying: Is anyone else obsessed with their air fryer? It is my favorite way to prepare chicken. It delivers that crispiness we all crave without all the oil. It's like magic, but for chicken. If you haven't tried air-fried chicken in your wrap yet, you're in for a treat.
Wrap It Up: The Right Base Matters
When it's time to roll, what you wrap with is just as important as what's inside. There are so many tortilla options available now, it can definitely be overwhelming.
If you're on the hunt for a tortilla that complements your weight loss journey, focus on options rich in fiber and protein, made from whole grains, to ensure lasting fullness and nutrition.
My favorite brands of healthy wraps are: Ole Extreme Wellness, Joeseph's Lavash Bread, Mission Carb Balance, and La Tortilla Factory Light Flour Tortillas.

**You should be able to find all of these at your local grocery store.**
Filling It Right: It's Not Just About the Chicken
The fillings and toppings can make or break the wrap experience. It's like the supporting cast to your chicken star.
Veggies: Think colorful bell peppers, crunchy lettuce, and juicy tomatoes. They add freshness, crunch, and nutrients to your wraps.
Legumes: A sprinkle of black beans or chickpeas? Yes, please! They not only boost the protein but also give a lovely texture contrast.
Herbs: Fresh herbs like cilantro, mint, or basil can elevate your wrap from good to gourmet.
Sauces: From tangy tzatziki to spicy sriracha, the right sauce can tie everything together. To keep things light…opt for dressings made from yogurt or vinaigrettes. Just remember, a little goes a long way!
Healthy Chicken Wrap Recipes
Ready to unwrap some seriously delicious chicken wraps? Let's roll (pun totally intended)!
1. BBQ Chicken Salad Wraps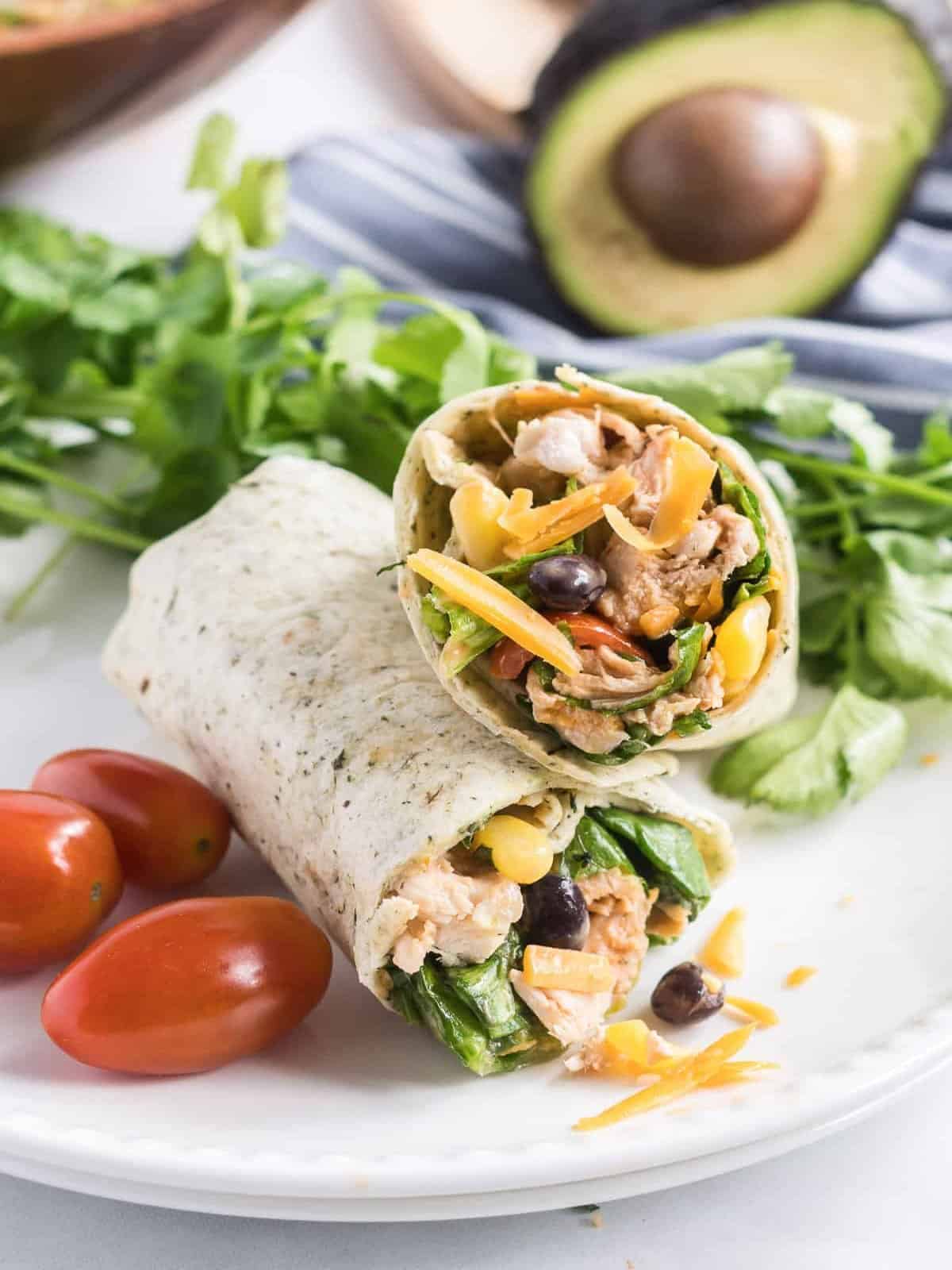 These BBQ Chicken Salad Wraps are high protein, low calorie choice that the whole family will actually love. They take just minutes to make for a quick and easy, low calorie weeknight meal.
2. Chicken Parmesan Wraps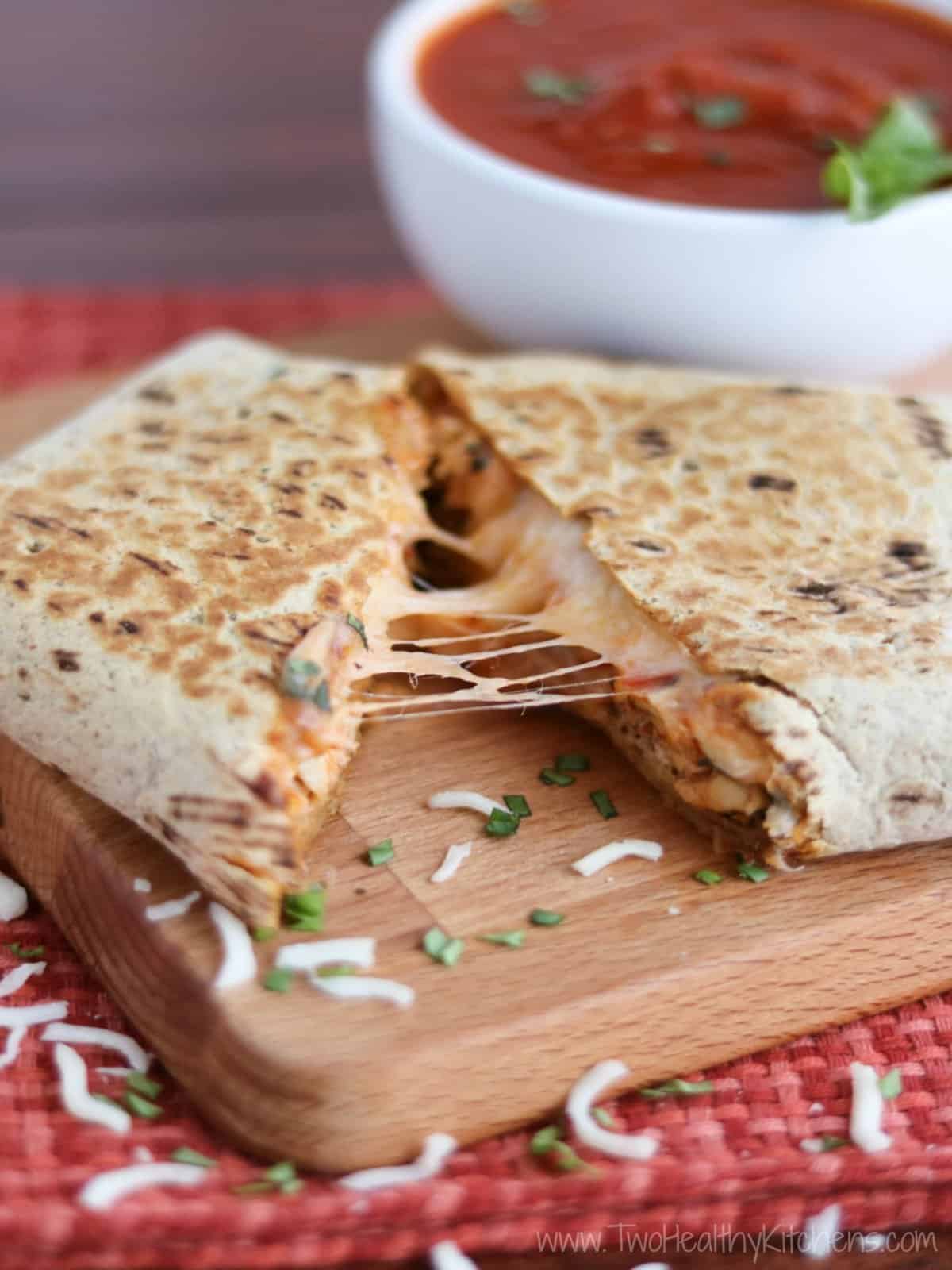 These Easy Chicken Parmesan Wraps are a super-fast 15-minute meal! You can even make them completely ahead – and they're freezable, too. All the cheesy, saucy, comforting flavors of your favorite chicken parmesan casserole … yet so quick and simple!
3. Pesto Chicken Wraps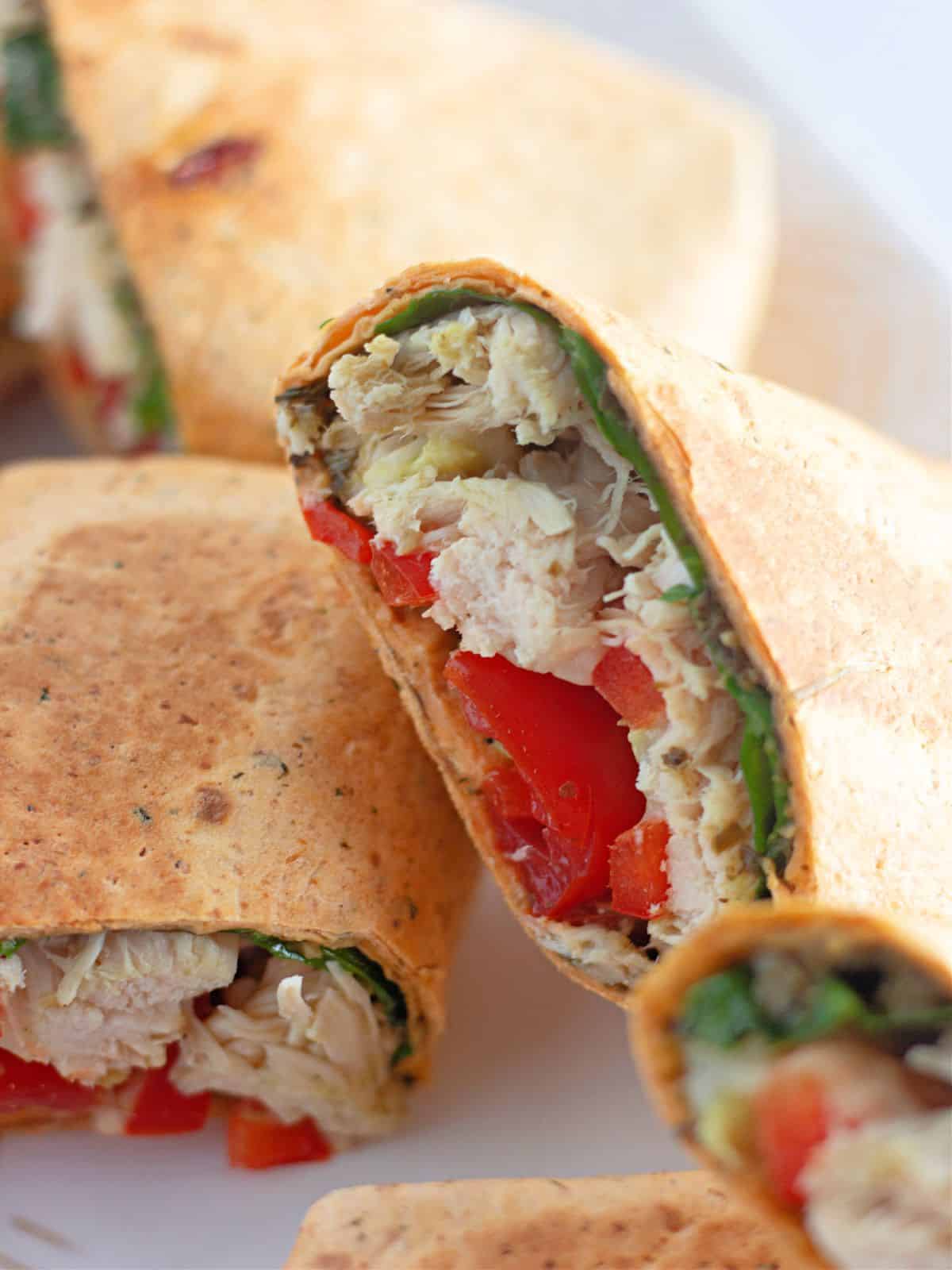 This chicken pesto wrap is set to become your next favorite when you want something nourishing and healthy without much effort. Imagine tender chicken paired with pesto, crunchy vegetables, and melted mozzarella, all wrapped up in a tortilla. Sounds delicious, doesn't it?
4. BBQ Chicken Wraps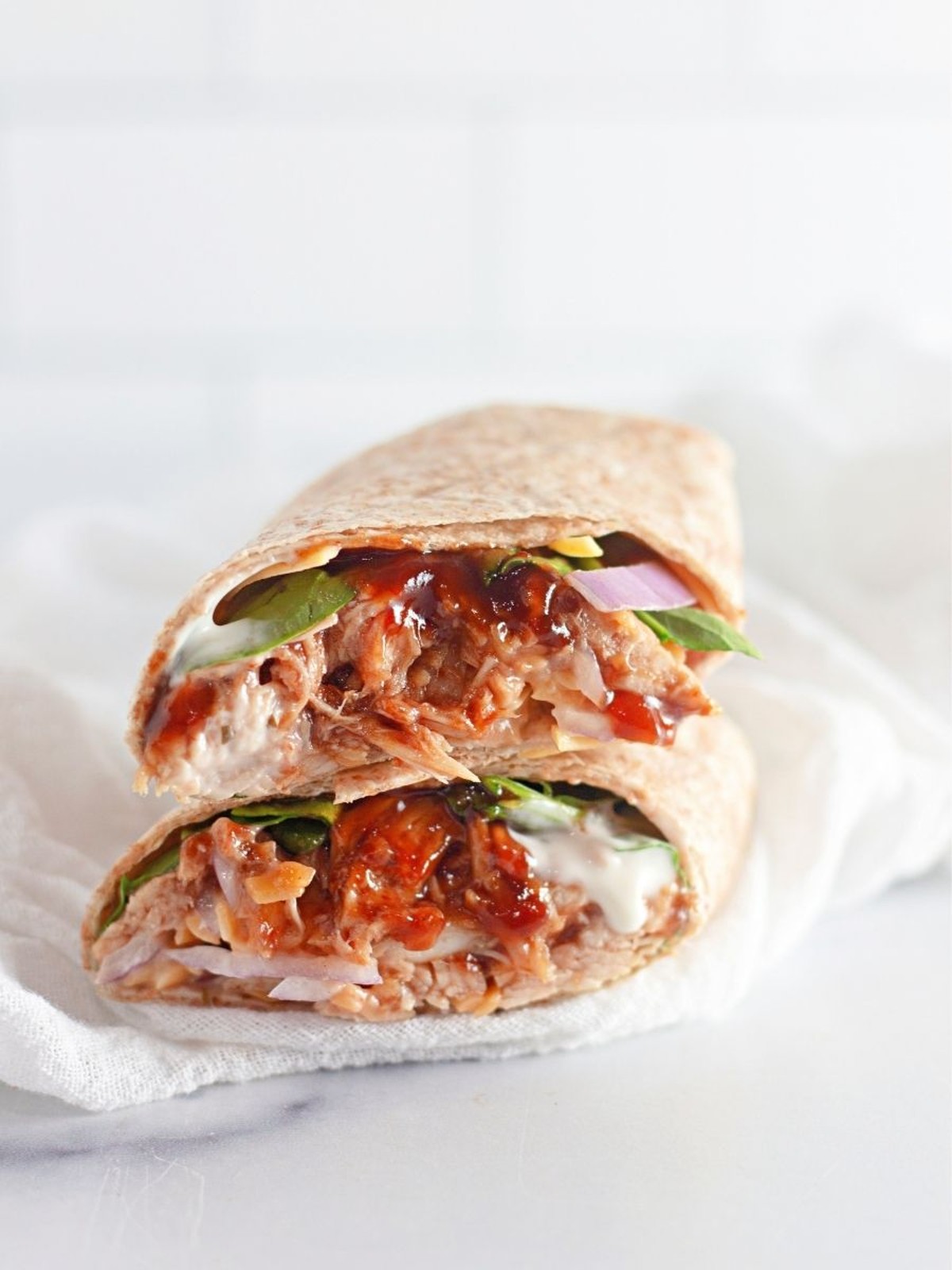 My favorite pulled BBQ chicken wrap is made tender chicken soaked BBQ sauce, layered with red onion, melting cheese, and topped with creamy ranch, all wrapped within a tortilla. High protein and delicious.
5. Easy Asian Chicken Salad Wraps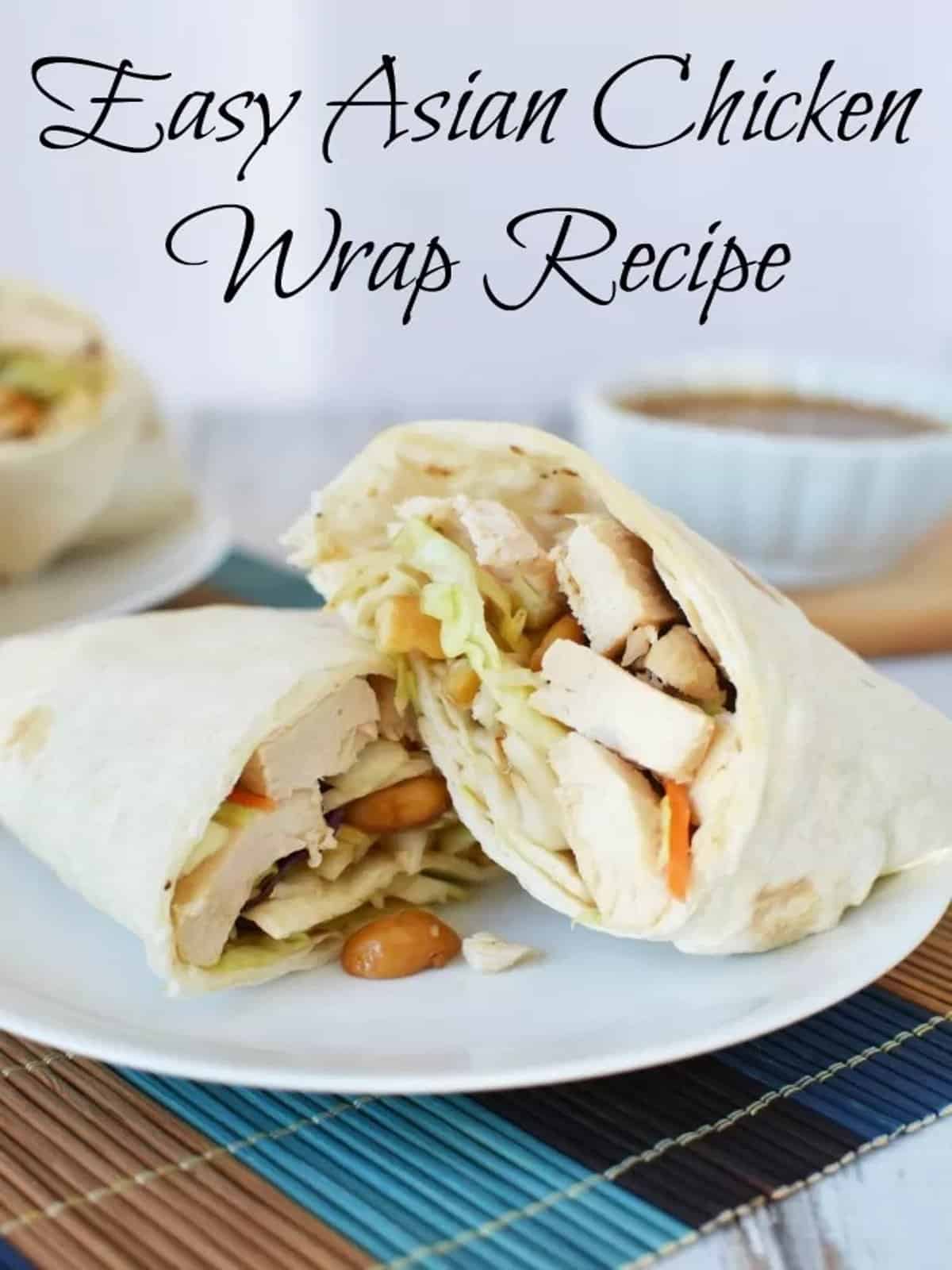 These light and flavorful Asian chicken wraps can be made with rotisserie chicken, chicken strips, or baked chicken. Made with coleslaw mix, this recipe is both easy and delicious.
6. Easy Grilled Chicken Pita Wraps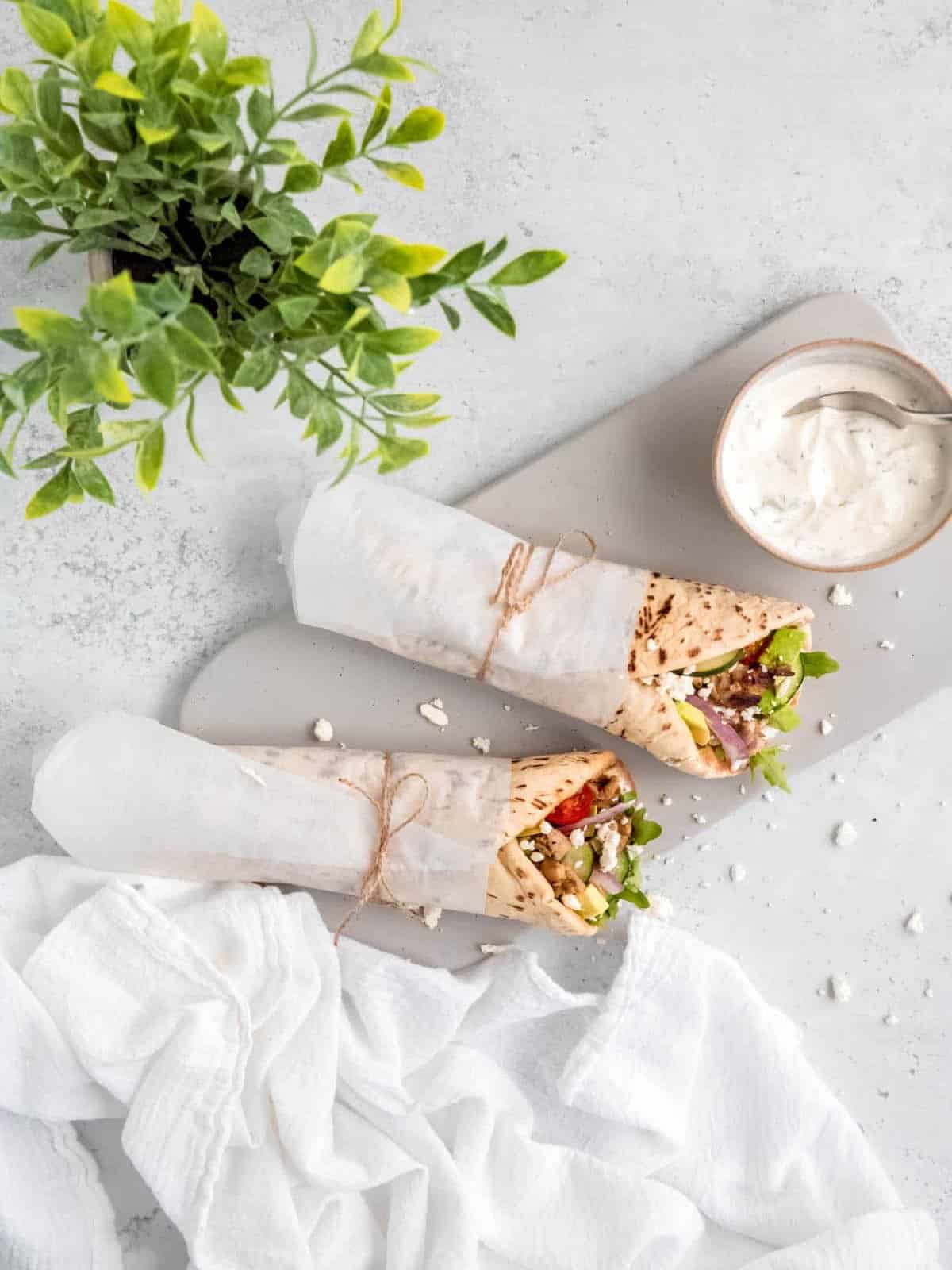 Vibrant, refreshing, cozy, and adaptable, these Grilled Chicken Pita Wraps are the midweek marvel you've been searching for at dinner. With only 10 simple ingredients and a mere 15 minutes of hands-on kitchen time, this chicken souvlaki wrap, inspired by Greek flavors, employs clever store-bought hacks to deliver that fast and flavorsome takeout feel!
7. Buffalo Chicken Folded Wrap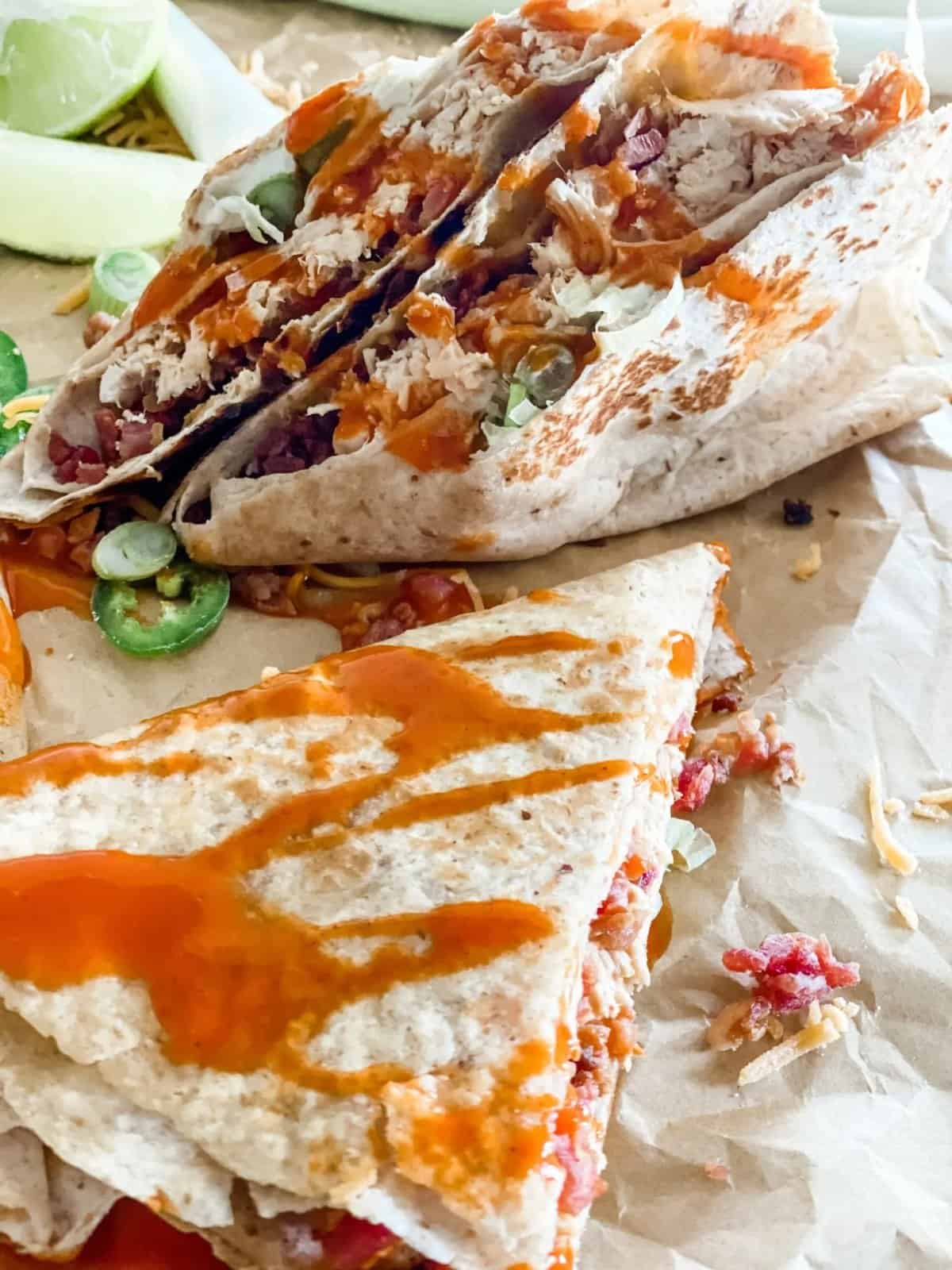 This Buffalo Chicken Folded Wrap combines Greek yogurt, pulled chicken, buffalo sauce, and is loaded with fillings like laughing cow cheese, crumbled bacon, green onion, and shredded cheddar. All folded using the popular TikTok tortilla wrapping hack and cooked in a pan with olive oil spray. Who knew hot sauce could taste so good!
8. Grilled Chicken Wraps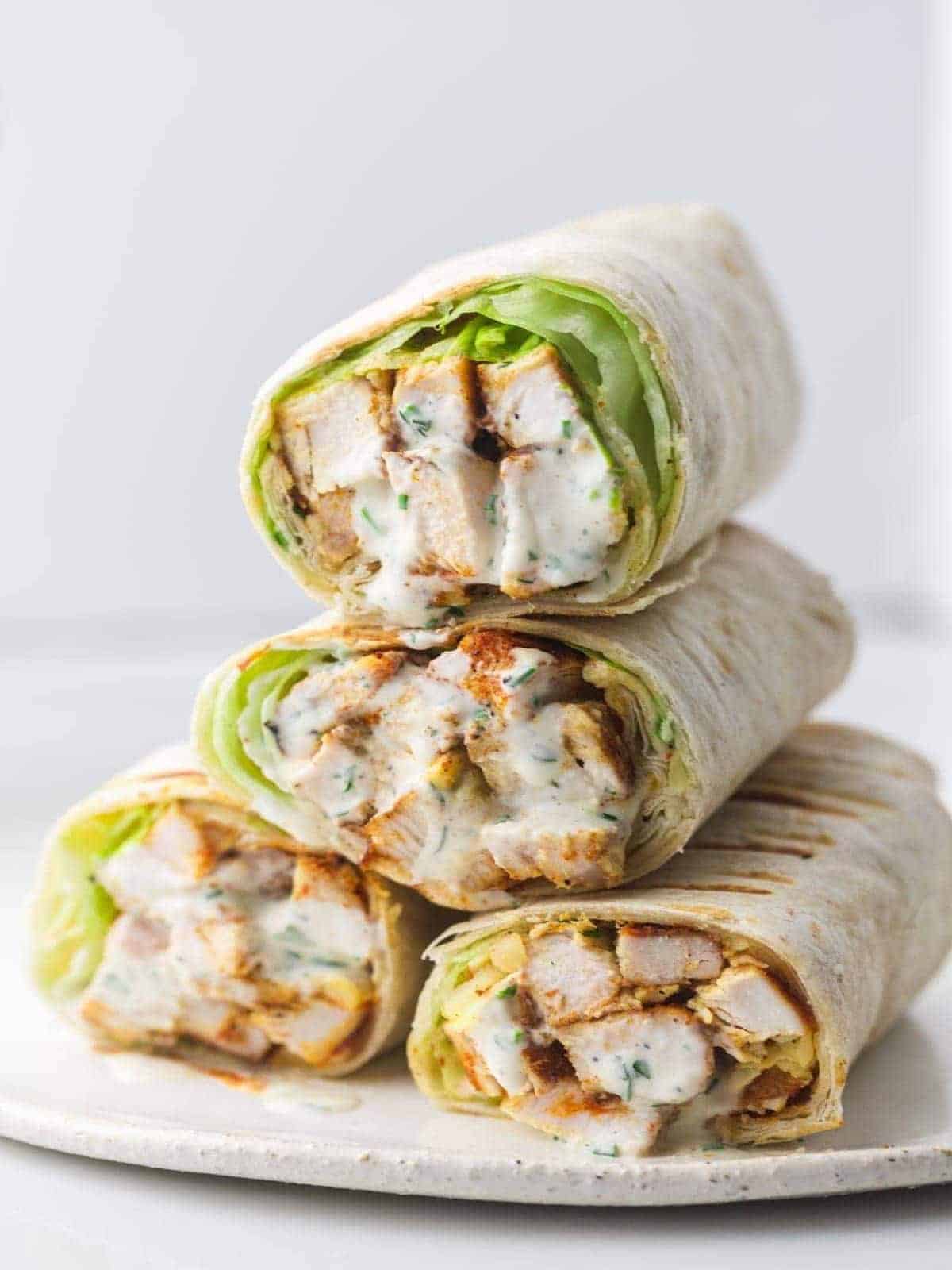 These grilled chicken wraps are brimming with taste plus they're effortless and fast to prepare, making them great for on-the-go lunches or picnics.
9. Chicken Shawarma Wrap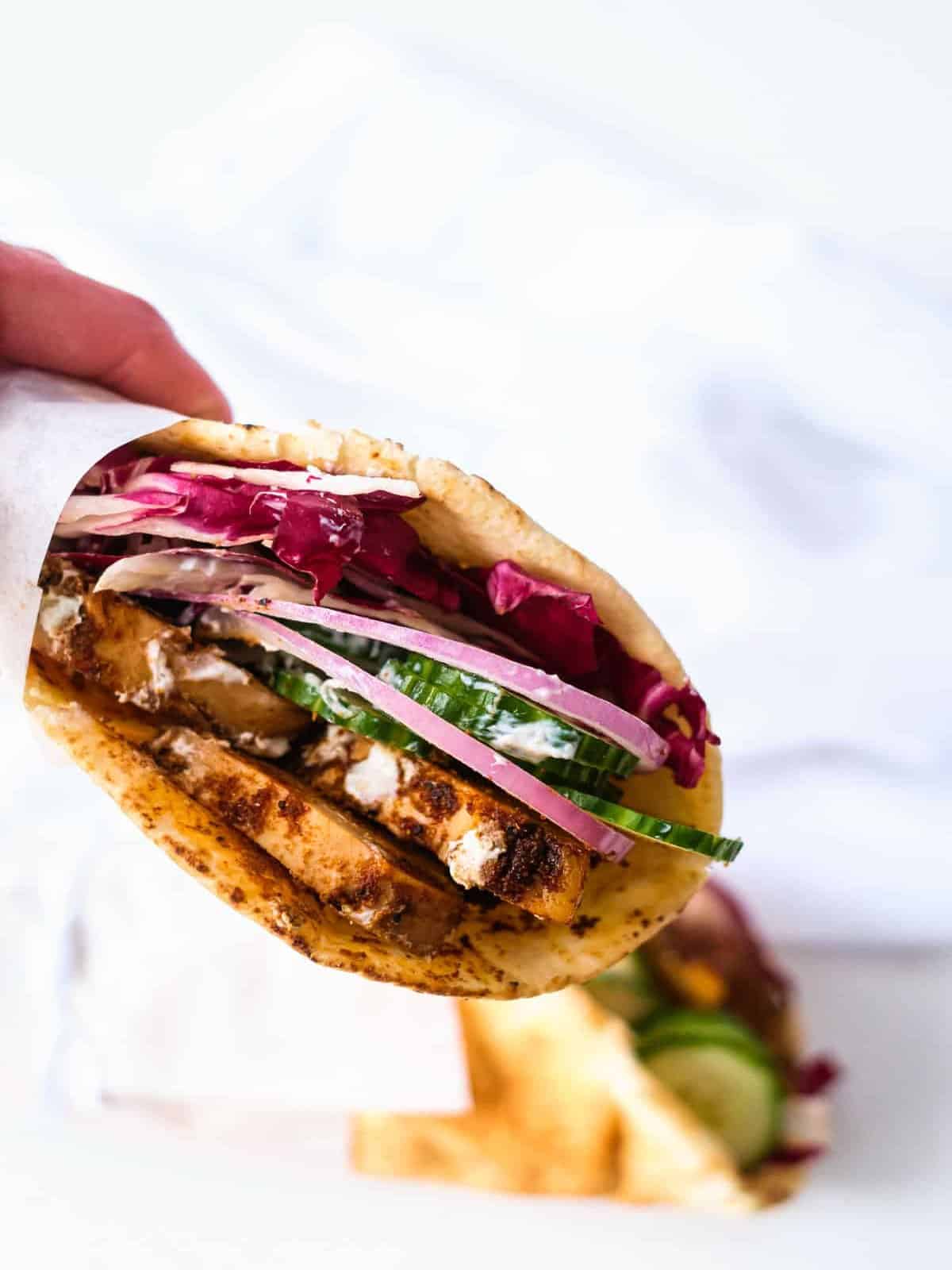 You will love these chicken shawarma wraps. This simple recipe is bound to be your next favorite, boasting rich flavors, affordability, and the flexibility to tailor it using healthy ingredients already in your pantry.
10. Chicken Bacon Ranch Wraps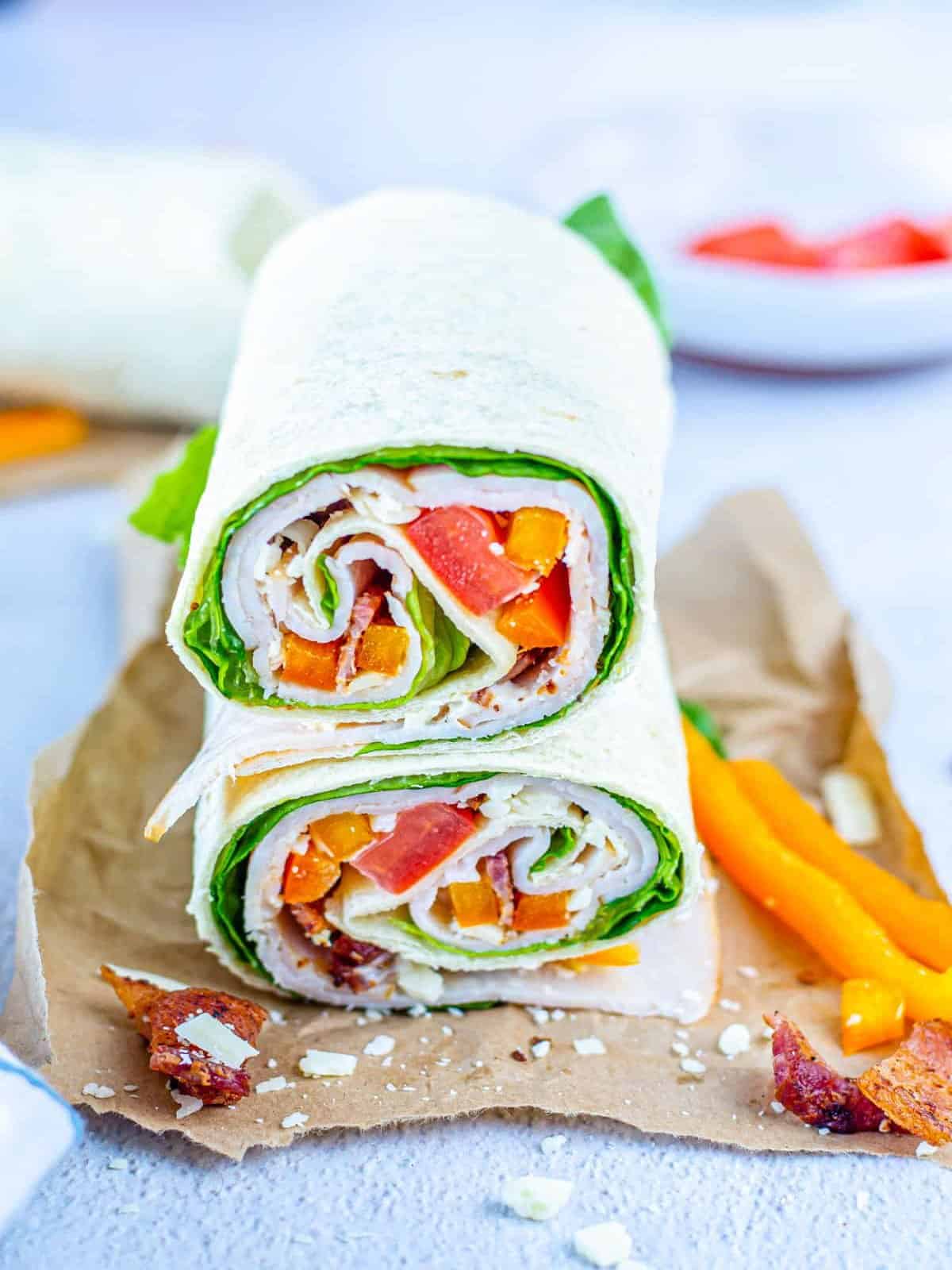 These chicken bacon ranch wraps make the perfect family lunch that's both budget-friendly and effortless to whip up with leftover chicken.
11. Tomato Basil Chicken Crunch Wrap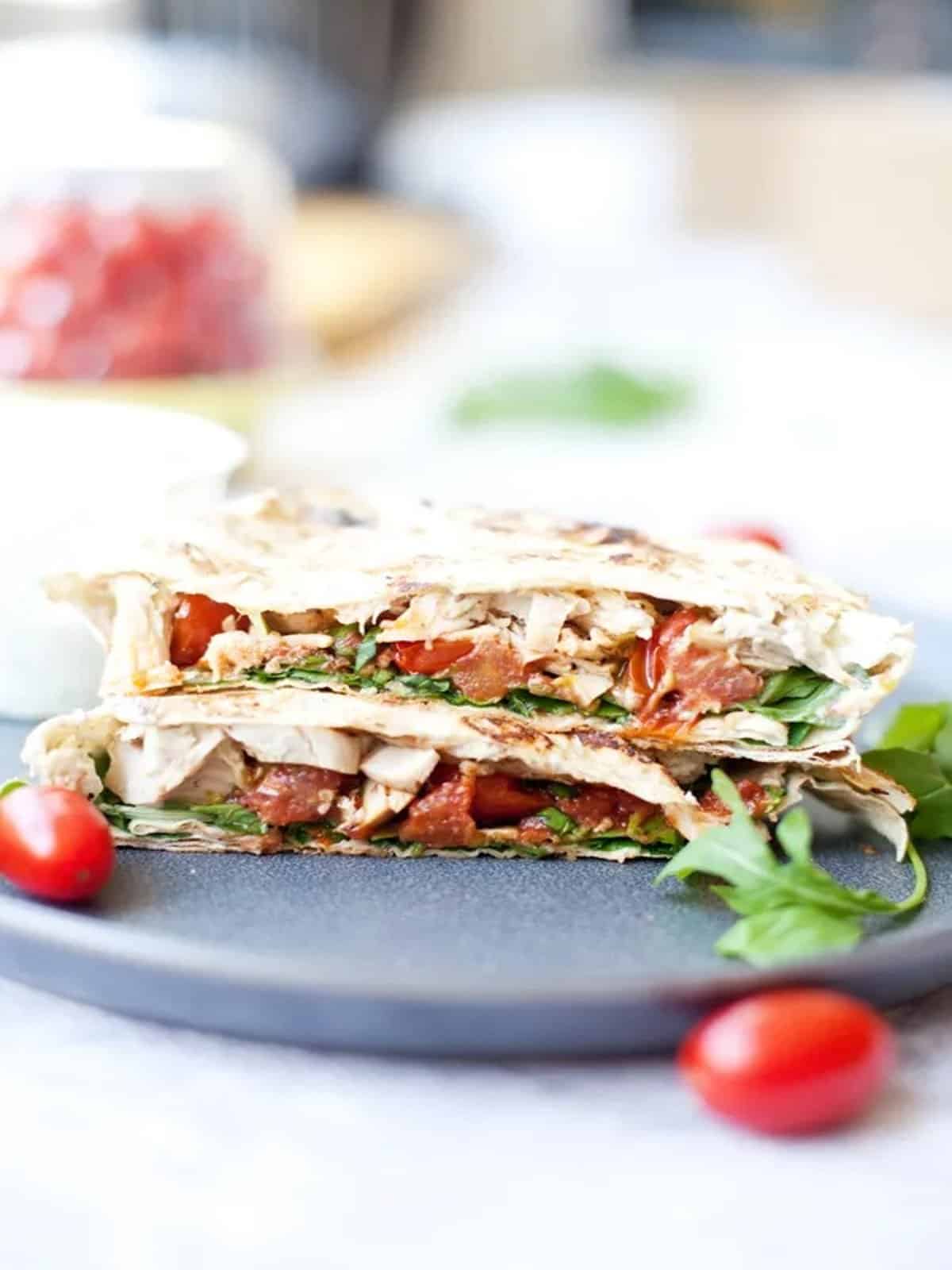 This tomato basil chicken crunch wrap combines juicy tomatoes with a delicious basil garlic aioli. The use of rotisserie chicken simplifies the process, while the pepper jack laughing cow cheese adds creaminess without piling on the fat. And thanks to the 'cut da carb' wraps, the carbohydrate content remains impressively low.
12. Avocado Chicken Salad Wraps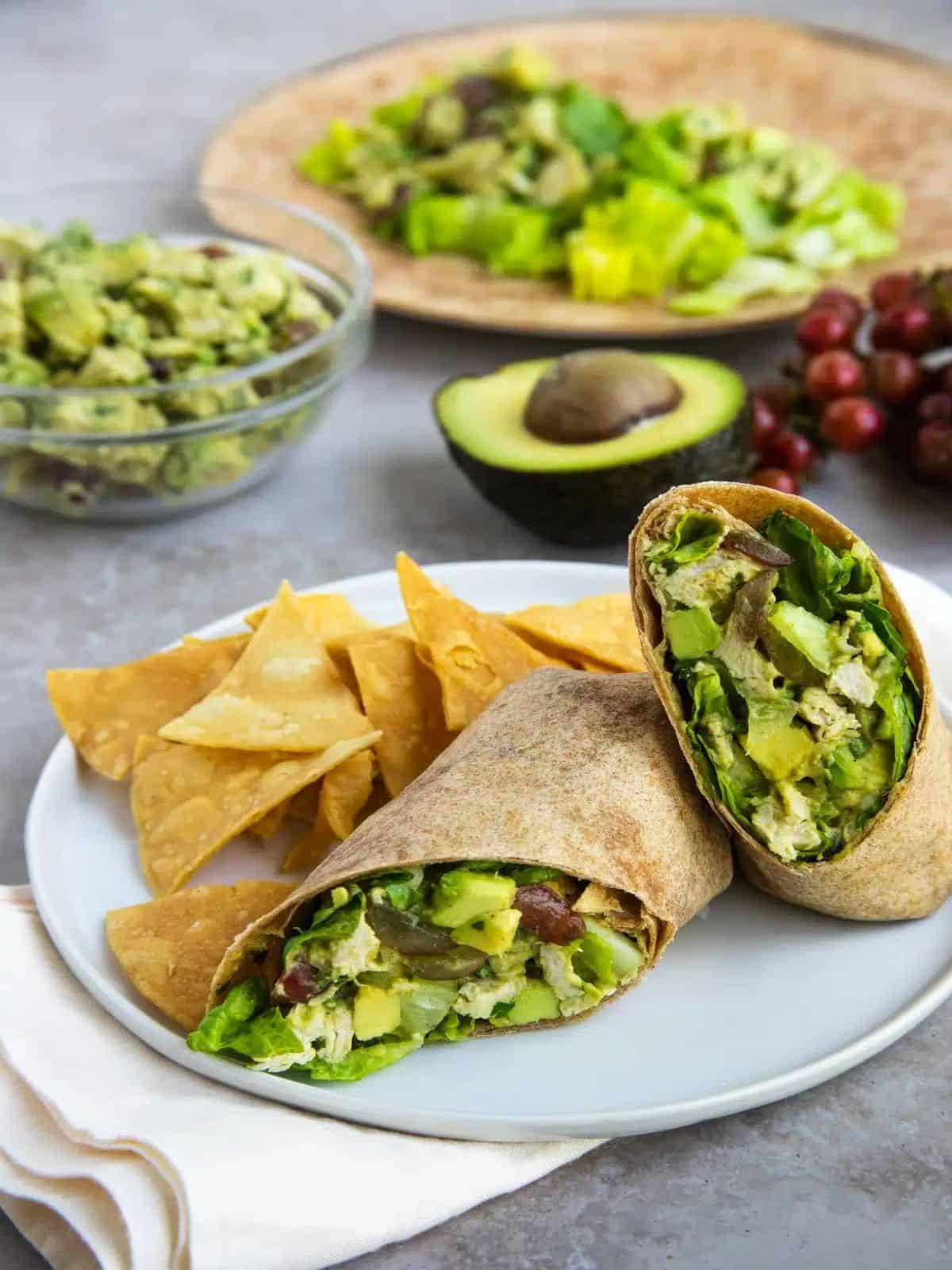 These avocado chicken salad wraps are perfect for warm weather. If you are an avocado lover – this wrap is for you, made with a smooth avocado Caesar dressing and generous avocado bits.
13. Chicken Strawberry Salad Wraps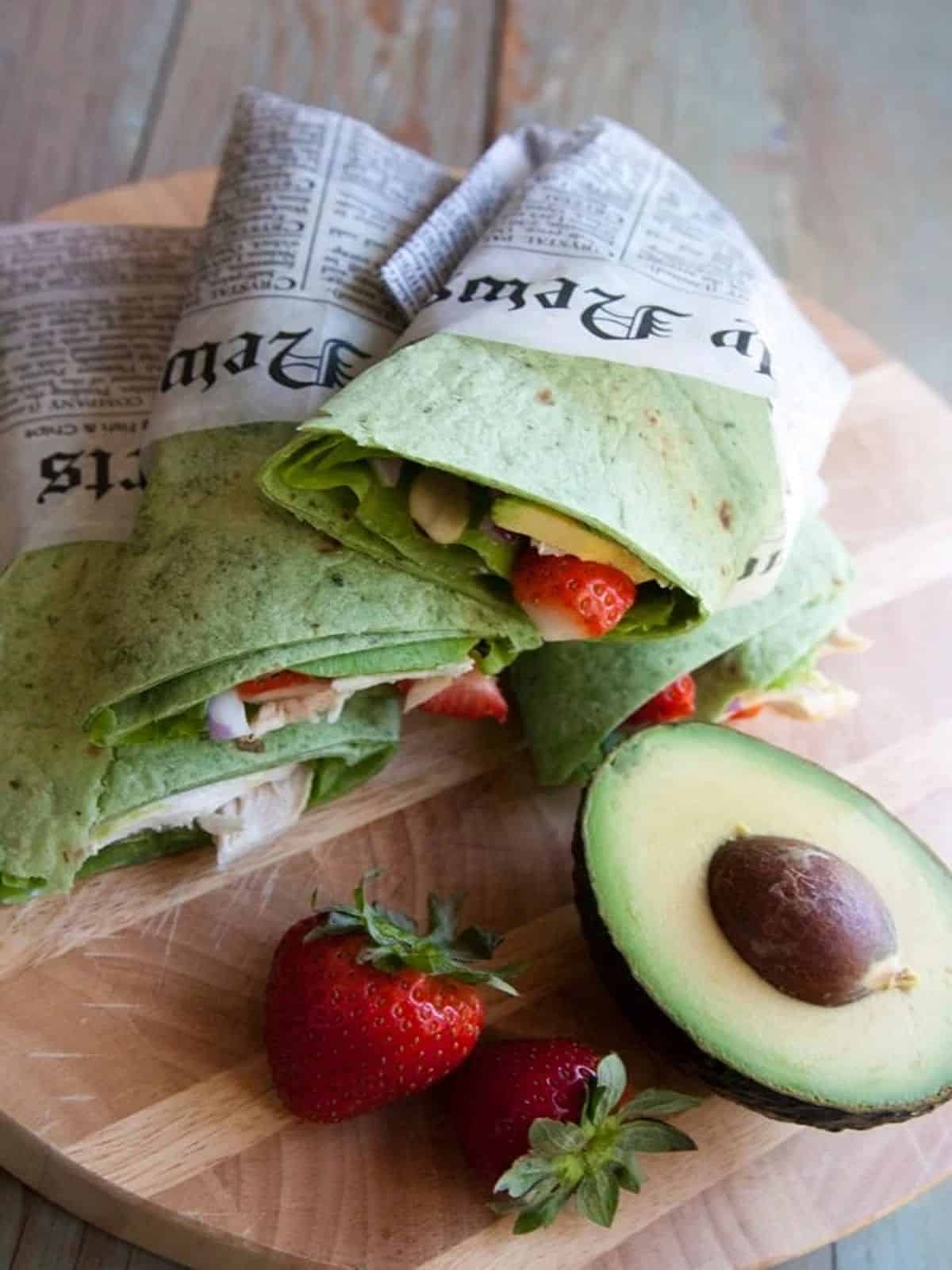 Utilize your leftover chicken to make this chicken salad strawberry wrap enriched with avocado, strawberries, and crispy almonds. Wrapped in a tender spinach tortilla, this will be your new favorite lunch recipe.
14. Thai Chicken Wraps
If you love Thai food then you have to try these Thai Chicken Wraps. A blend of grilled chicken, cucumber, bean sprouts, and carrots, all complemented by a zesty peanut sauce and enclosed in a flour tortilla. These make a great lunch or dinner!
15. Honey Mustard Chicken Wraps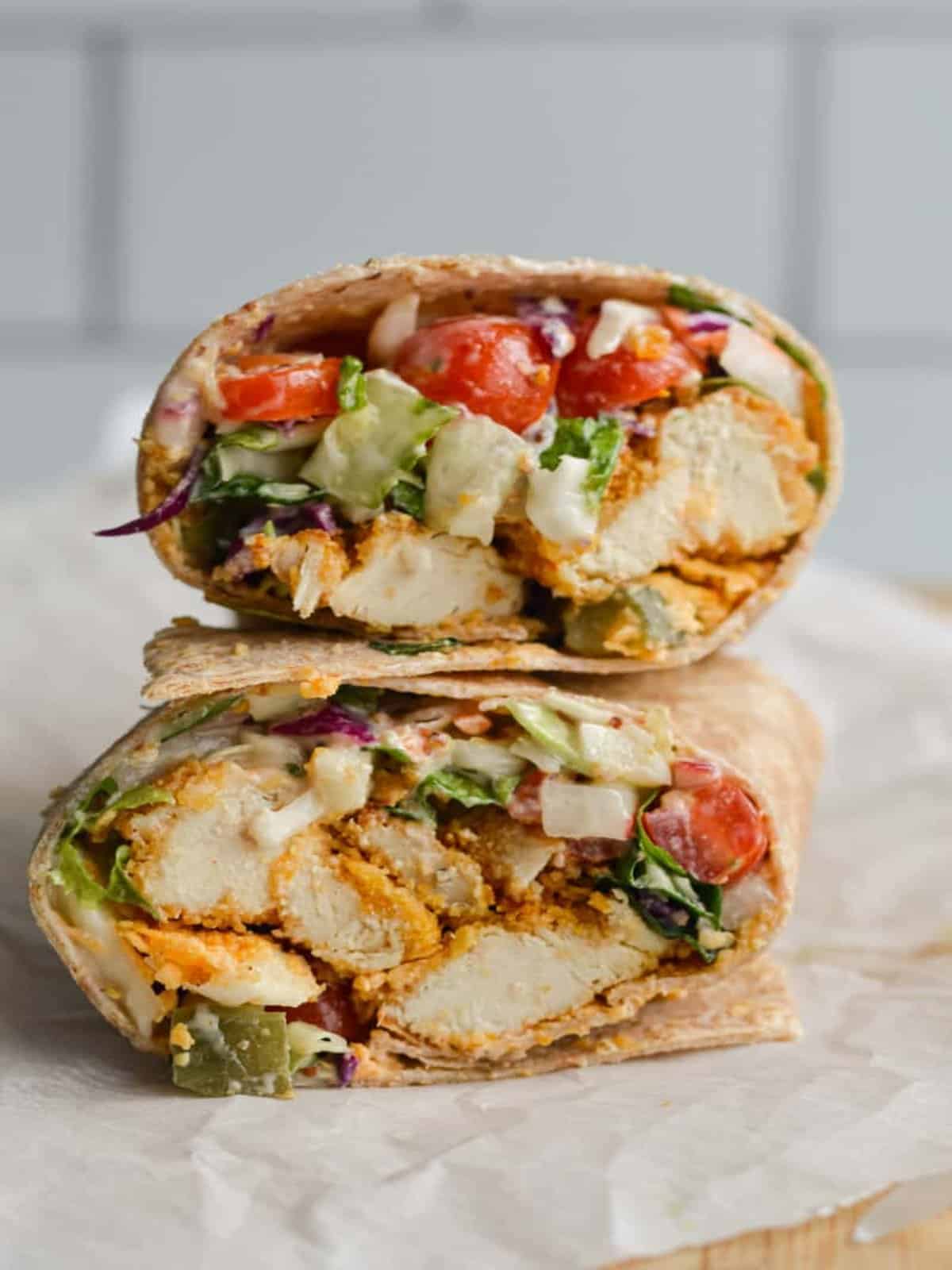 These honey mustard chicken wraps are so easy to make! With crispy buffalo chicken tenders and a honey mustard coleslaw- this is a lunch you'll actually get excited about.
16. Greek-Inspired Healthy Chicken Wraps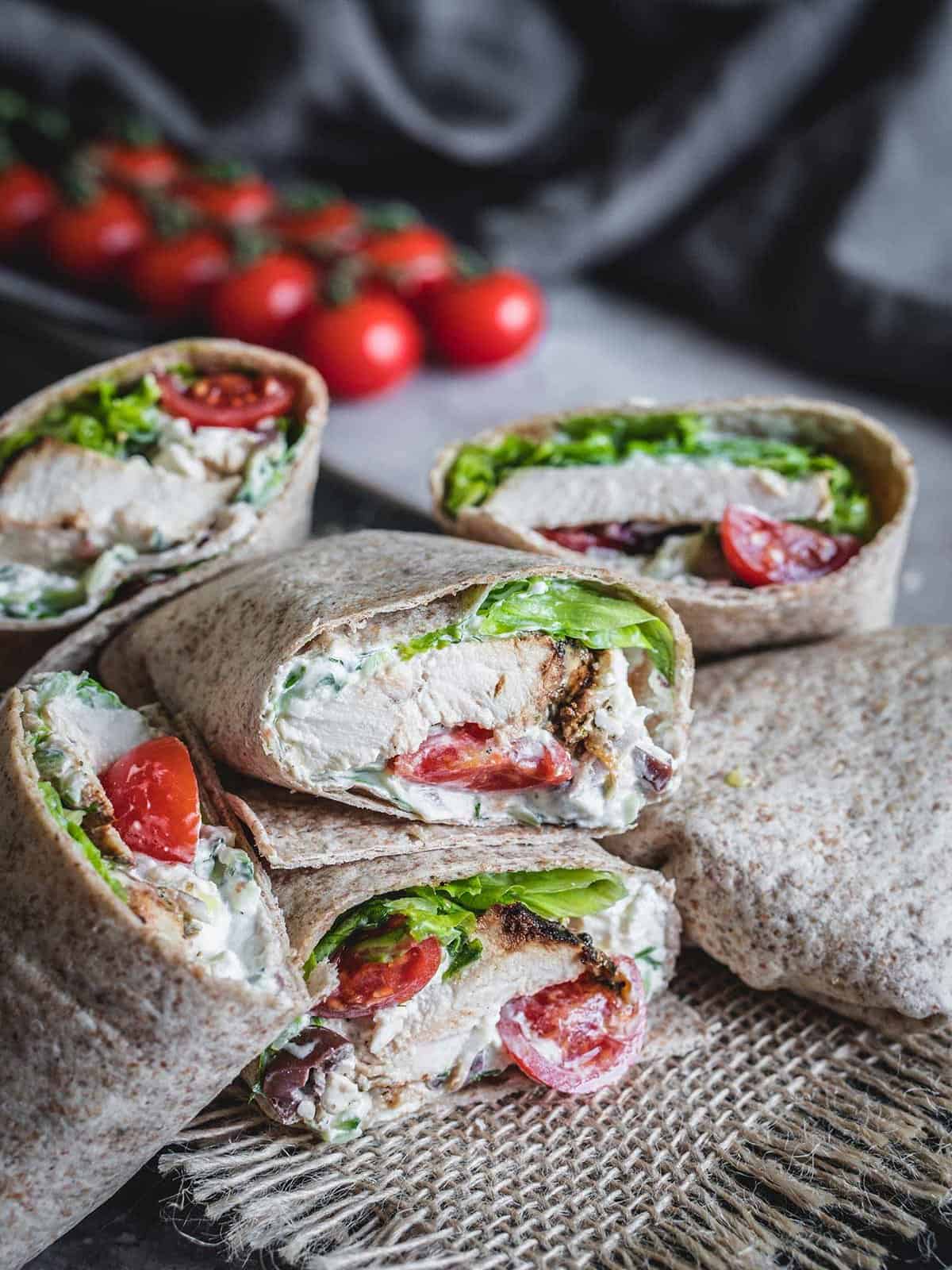 These chicken wraps with homemade tzatziki sauce drizzled over layers of fresh veggies and feta is a healthy and tasty lunch idea!
17. Cilantro Lime Chicken Wraps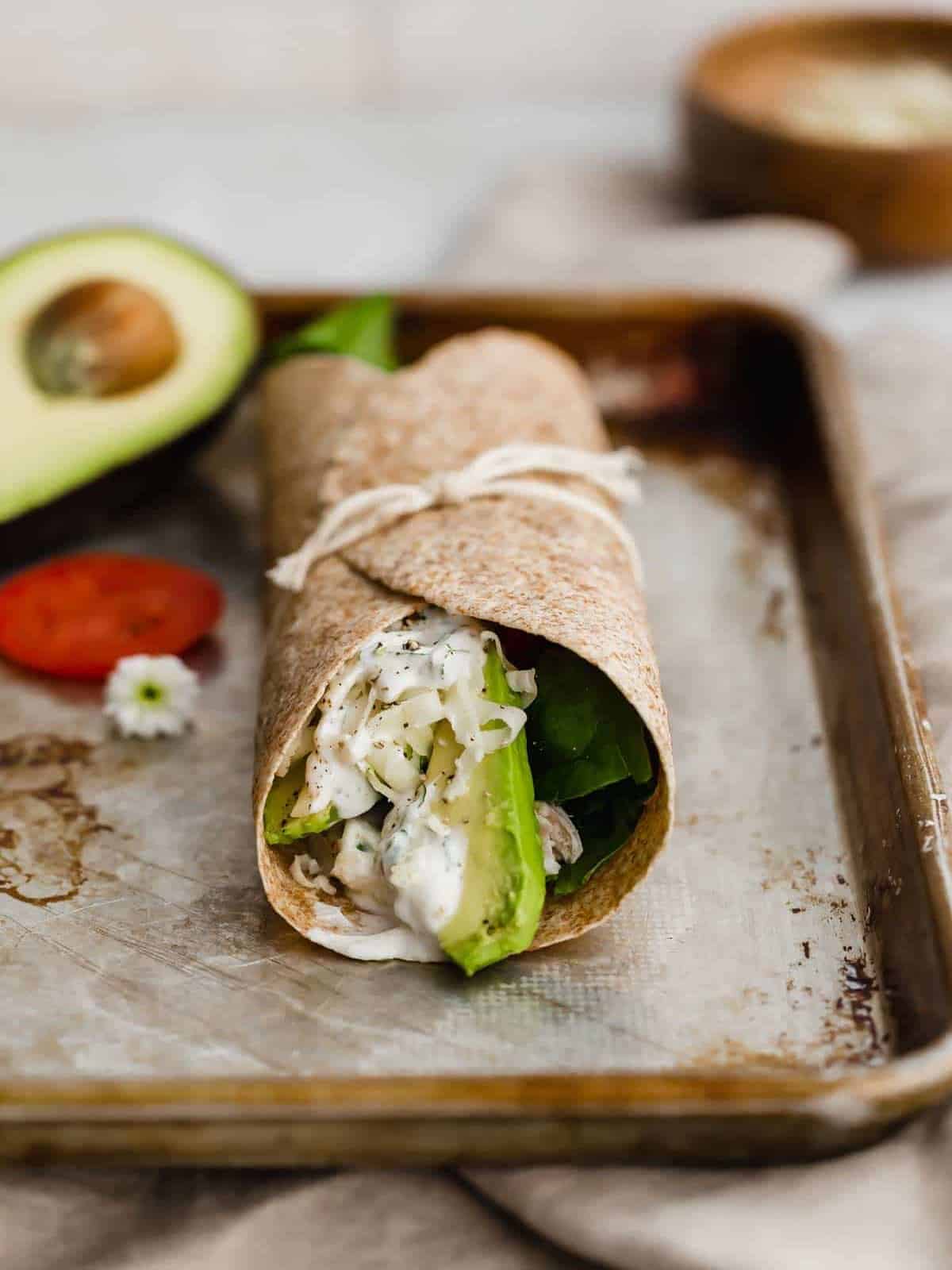 These Cilantro Lime Chicken Wraps feature a standout sauce crafted from Greek yogurt with hints of cilantro and lime juice. Spread over a tortilla and packed with rotisserie chicken, tomatoes, avocado, and spinach, these wraps are not only tantalizingly tasty but loaded with nutritious as well.
18. Peanut Chicken Wraps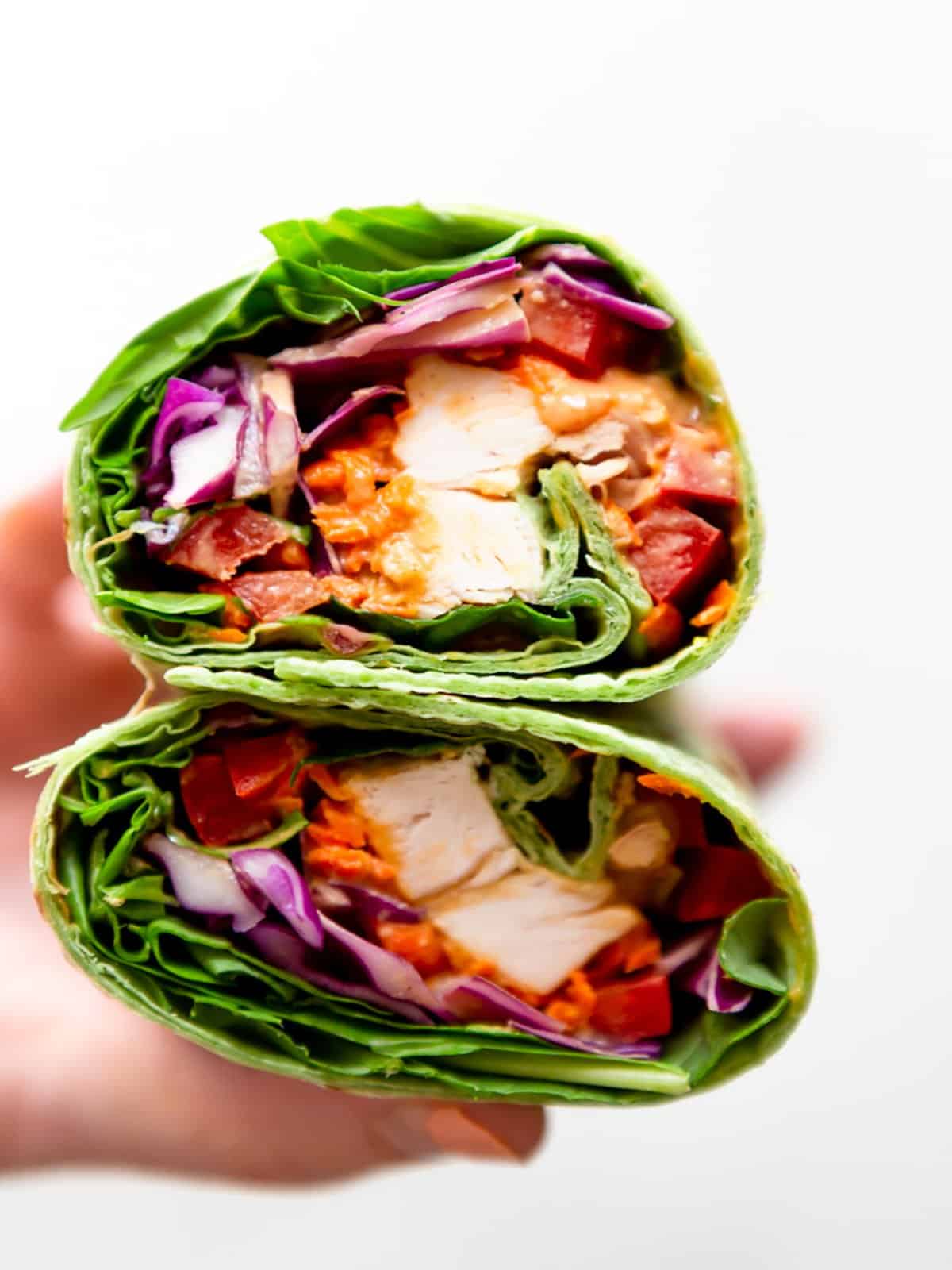 These easy peanut chicken wraps offer an easy and nutritious lunch bursting with taste. They feature crisp vegetables, chicken rich in protein, and a yummy peanut sauce.
19. Tandoori Chicken Wraps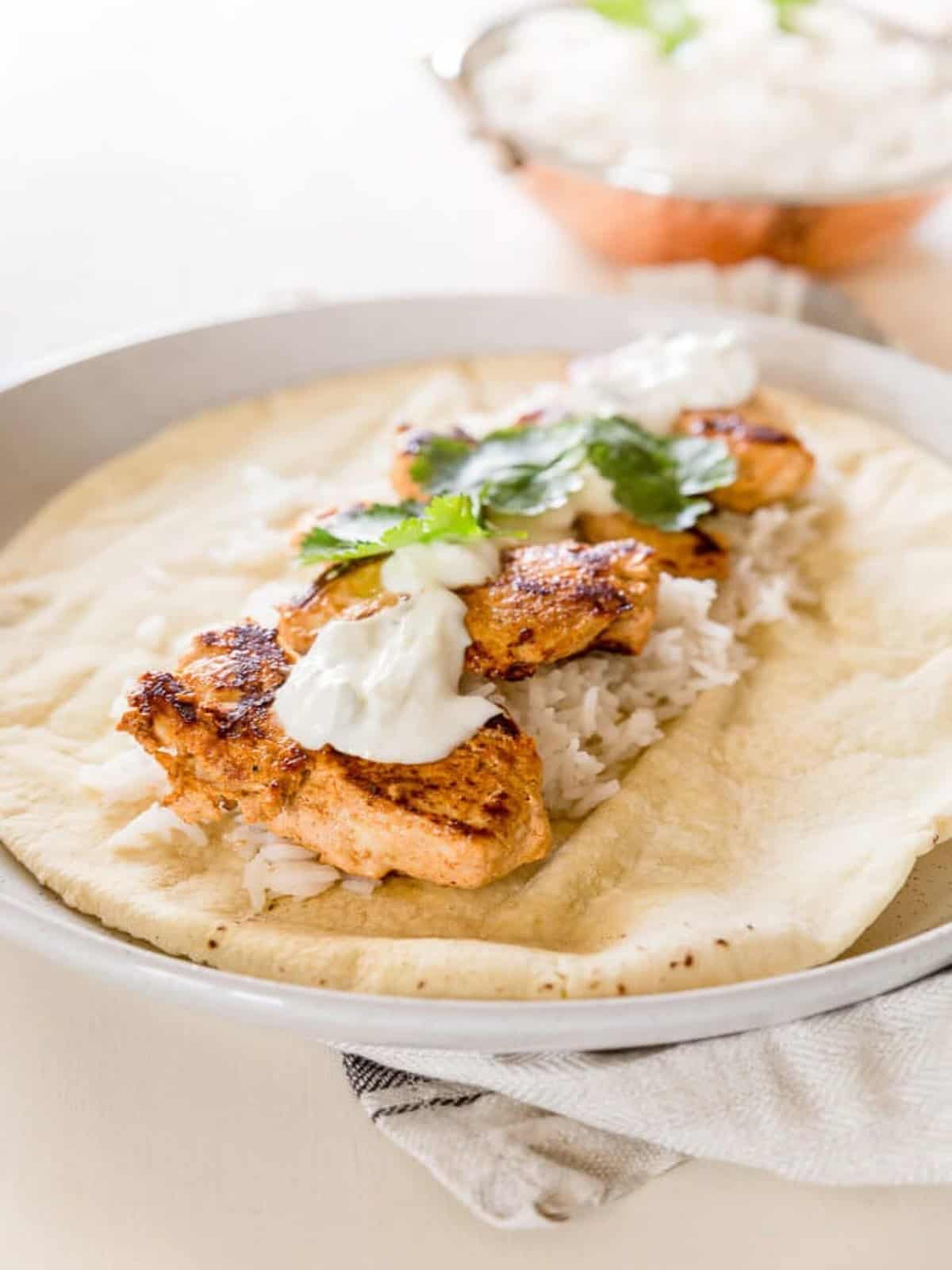 These Tandoori Chicken Wraps are a quick and easy Indian inspired wrap that you can enjoy on the go. Perfect for lunch or easy meals.
20. Chicken Fajita Wraps
These Easy Chicken Fajita Wraps are so delicious and super simple to make! They are filled with Mexican flavor and make an excellent dinner or lunch.
21. Cajun Chicken Wraps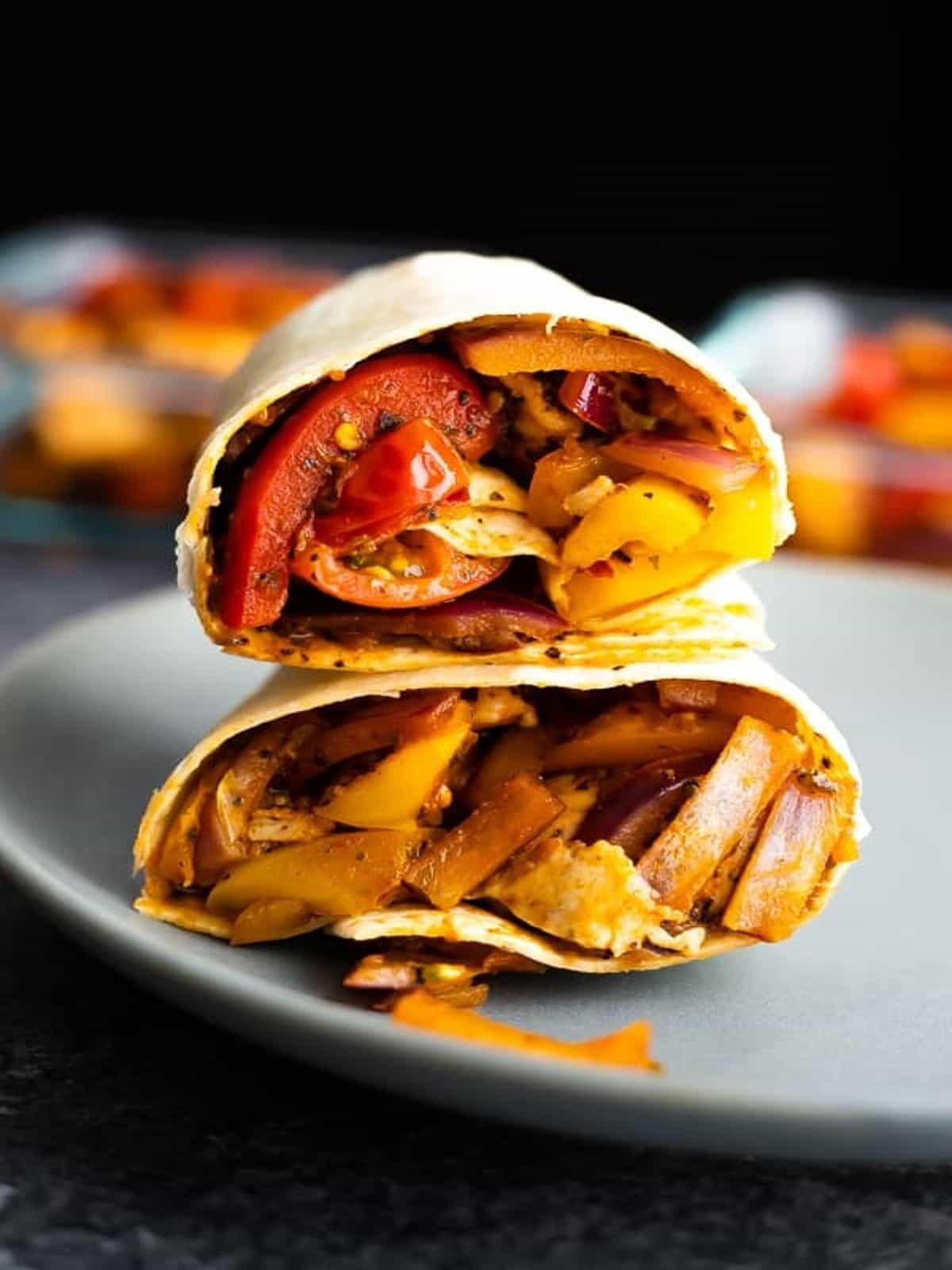 Perfect for meal prep, this Cajun chicken wrap recipe is a winner! It's prepped in less than 20 minutes, brimming with vegetables, and is a flavorful choice for either lunch or dinner!
22. Chicken Salad Lettuce Wraps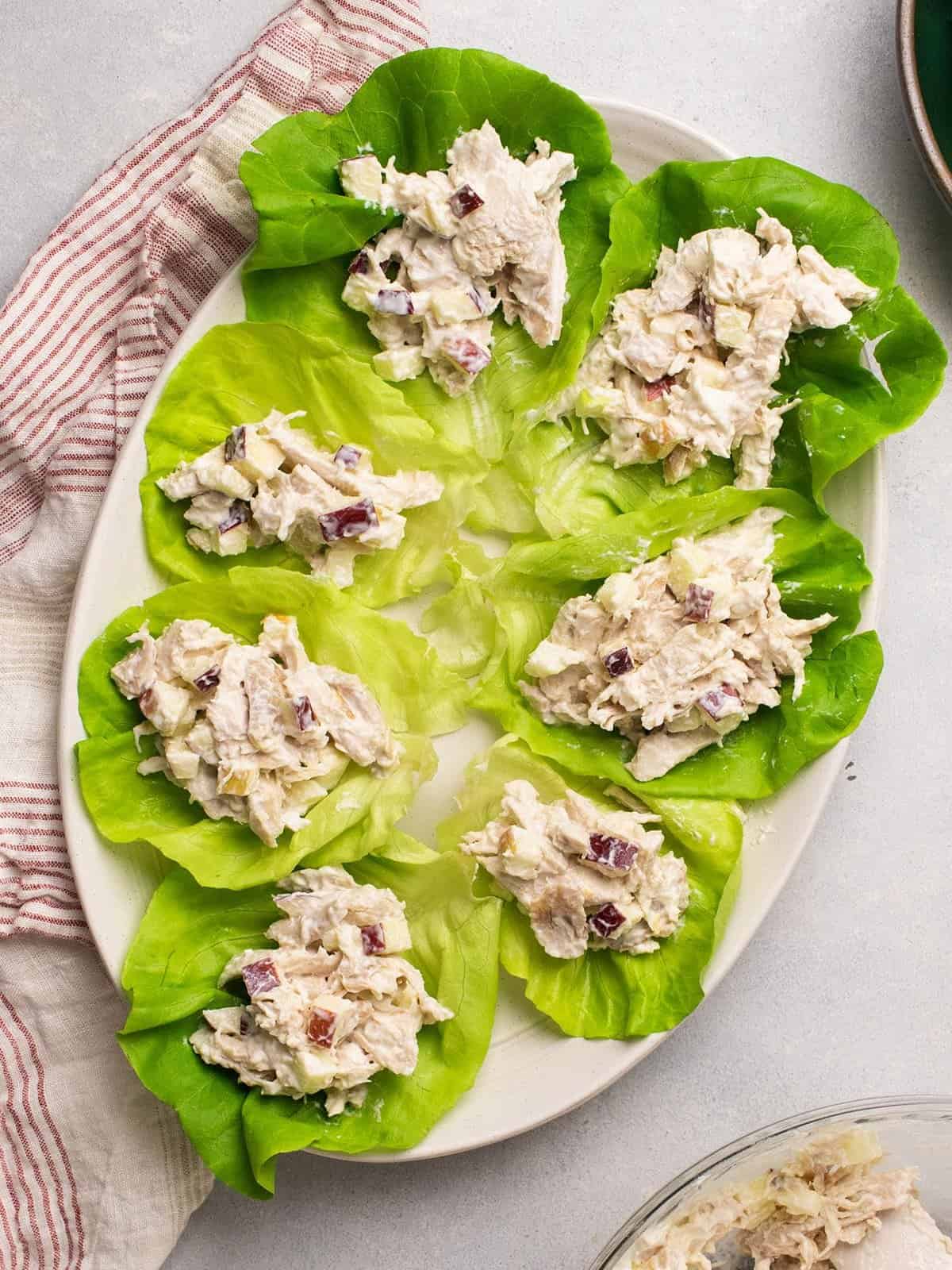 This easy chicken lettuce wrap recipe is ready in minutes thanks to a rotisserie chicken and a quick Greek yogurt dressing! Fresh, diced apples are our secret weapon here: They lend a bit of sweetness and crunch to this simple chicken salad.
23. Chick-fil-a Grilled Chicken Cool Wrap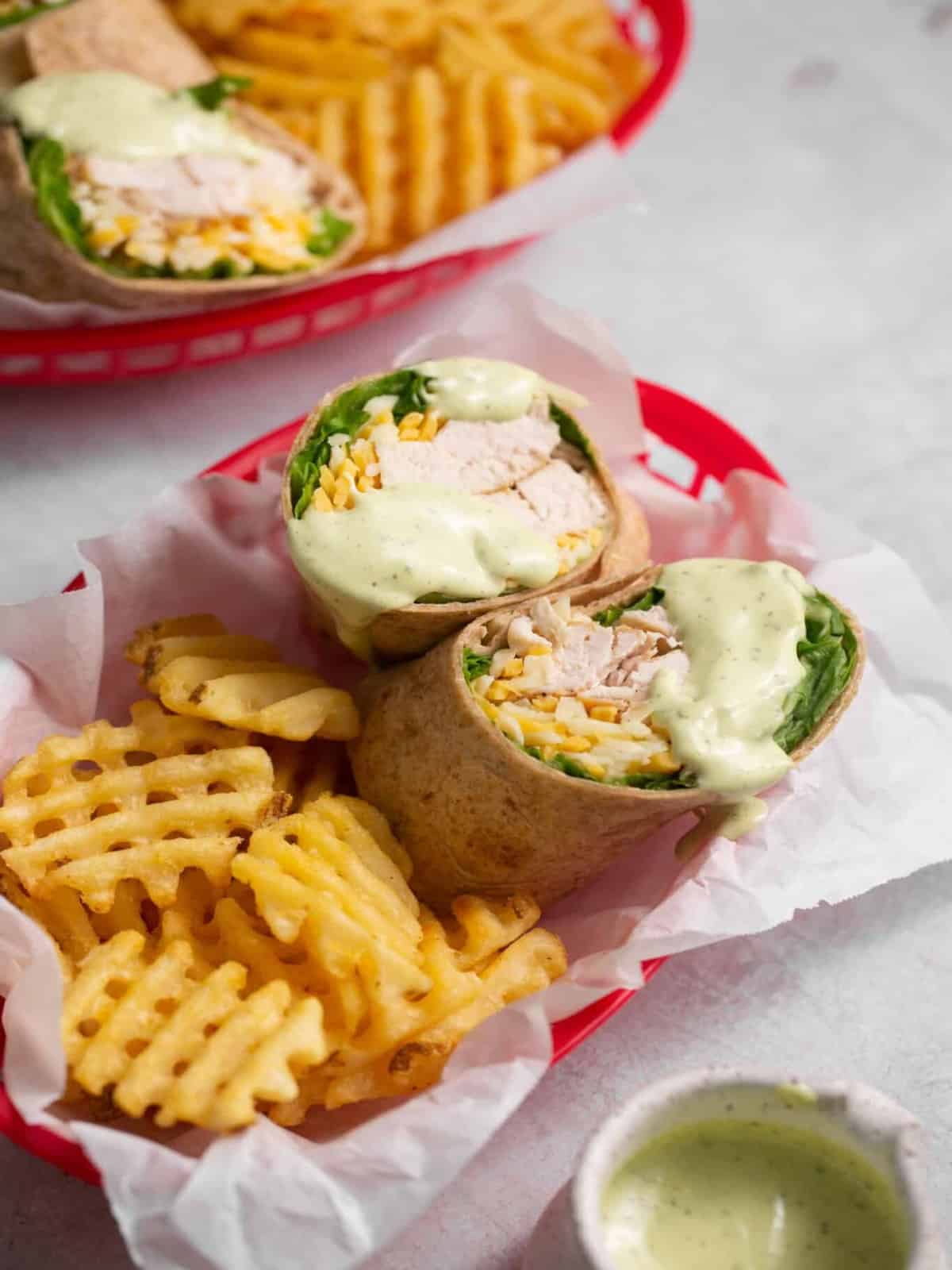 This Chick-fil-A Grilled Chicken Cool Wrap recipe is a hearty, protein-packed wrap stuffed with fresh ingredients like juicy chicken, creamy cheese, and crispy lettuce! It's wrapped together in a yummy, soft whole wheat tortilla and perfect for enjoying your favorite Chick-fil-A meal any day of the week for a whole lot less!
24. Buffalo Ranch Chicken Wraps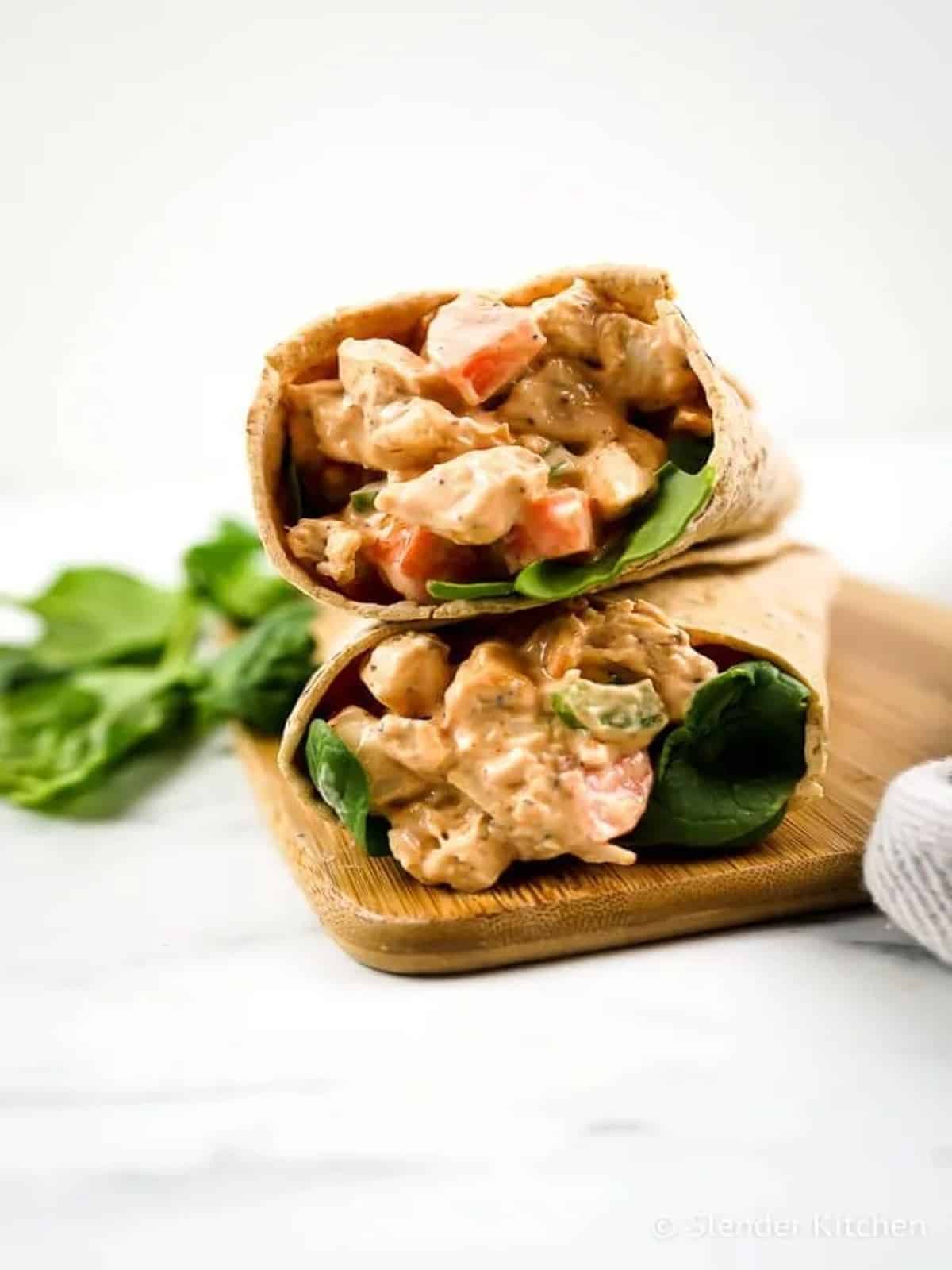 These Buffalo Ranch Chicken Wraps are made with a zesty buffalo ranch Greek yogurt dressing. When combined with celery and carrots, you get that restaurant vibe in a quick and tasty wrap you can easily make at home.
25. Chicken Avocado Wrap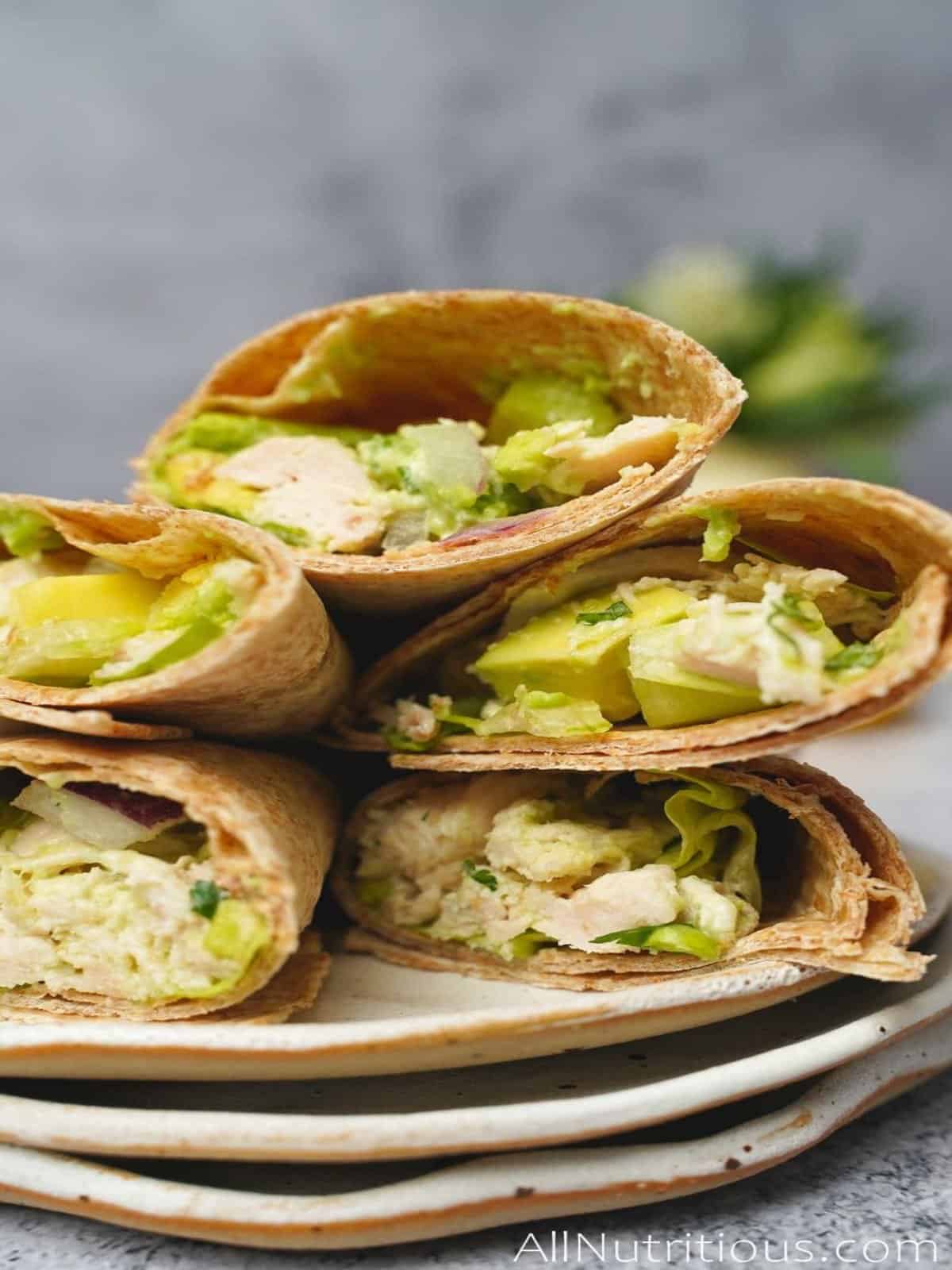 This chicken avocado wrap is a delicious mix of chicken and avocado. It's perfect for a quick and easy lunch that's high in protein but doesn't weigh you down in calories.
26. Green Goddess Chicken Wrap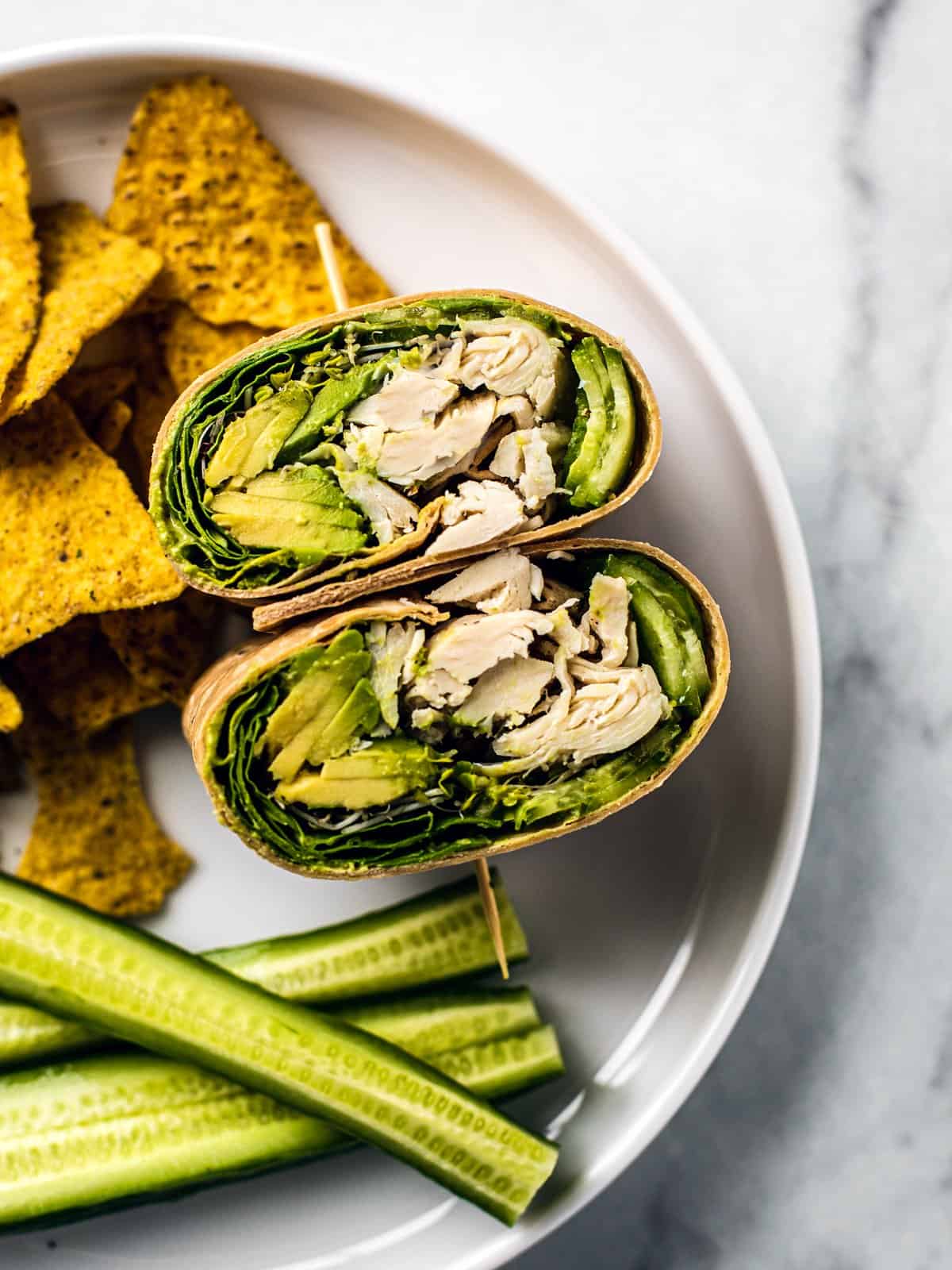 This green goddess chicken wrap is packed with protein, loaded with veggies and is both incredibly filling and delicious. A quick, easy, and healthy lunch option.
27. Mojito Lime Chicken Wraps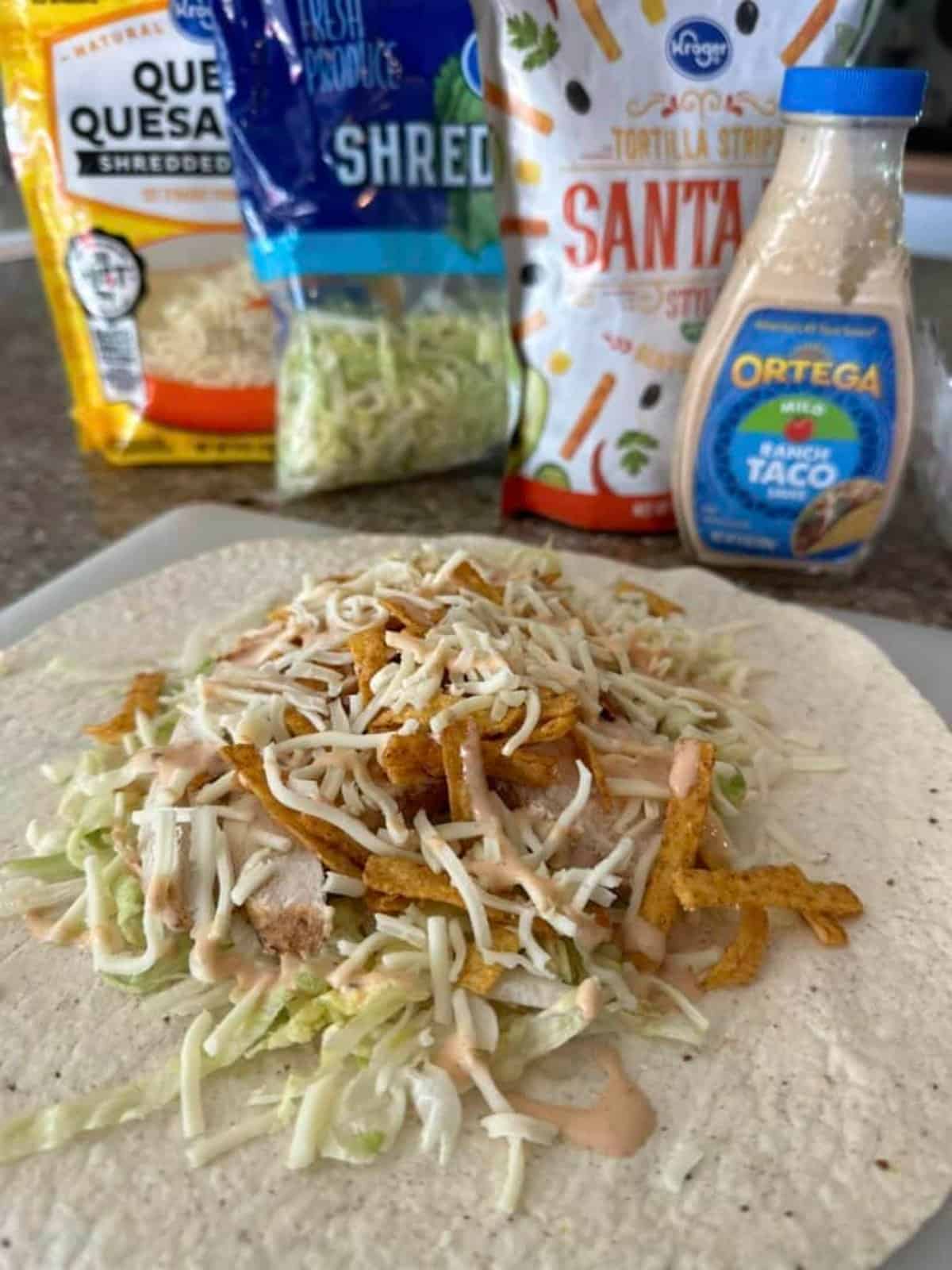 These Mojito Lime Marinated Chicken Wraps are made flavorful chicken, cheese, lettuce, crispy tortilla strips, and a mild ranch taco sauce. These are simple yet delicious.
28. Avocado Ranch Chicken Salad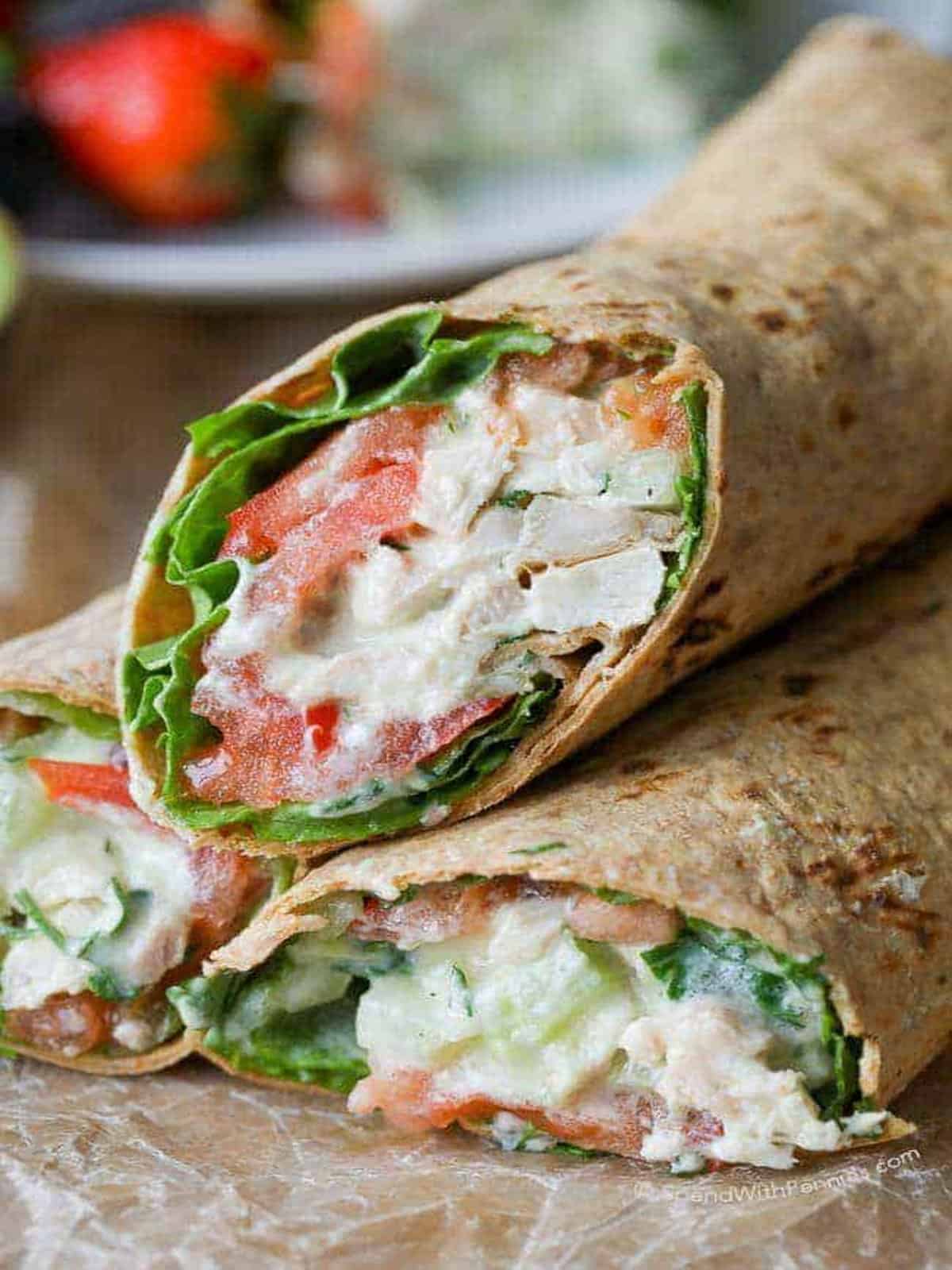 This easy avocado ranch chicken salad is creamy and delicious. Made without mayonnaise and wrapped in a Flatout wrap – it is a lighter alternative to a classic chicken salad!
29. Crispy Chicken Salsa Wraps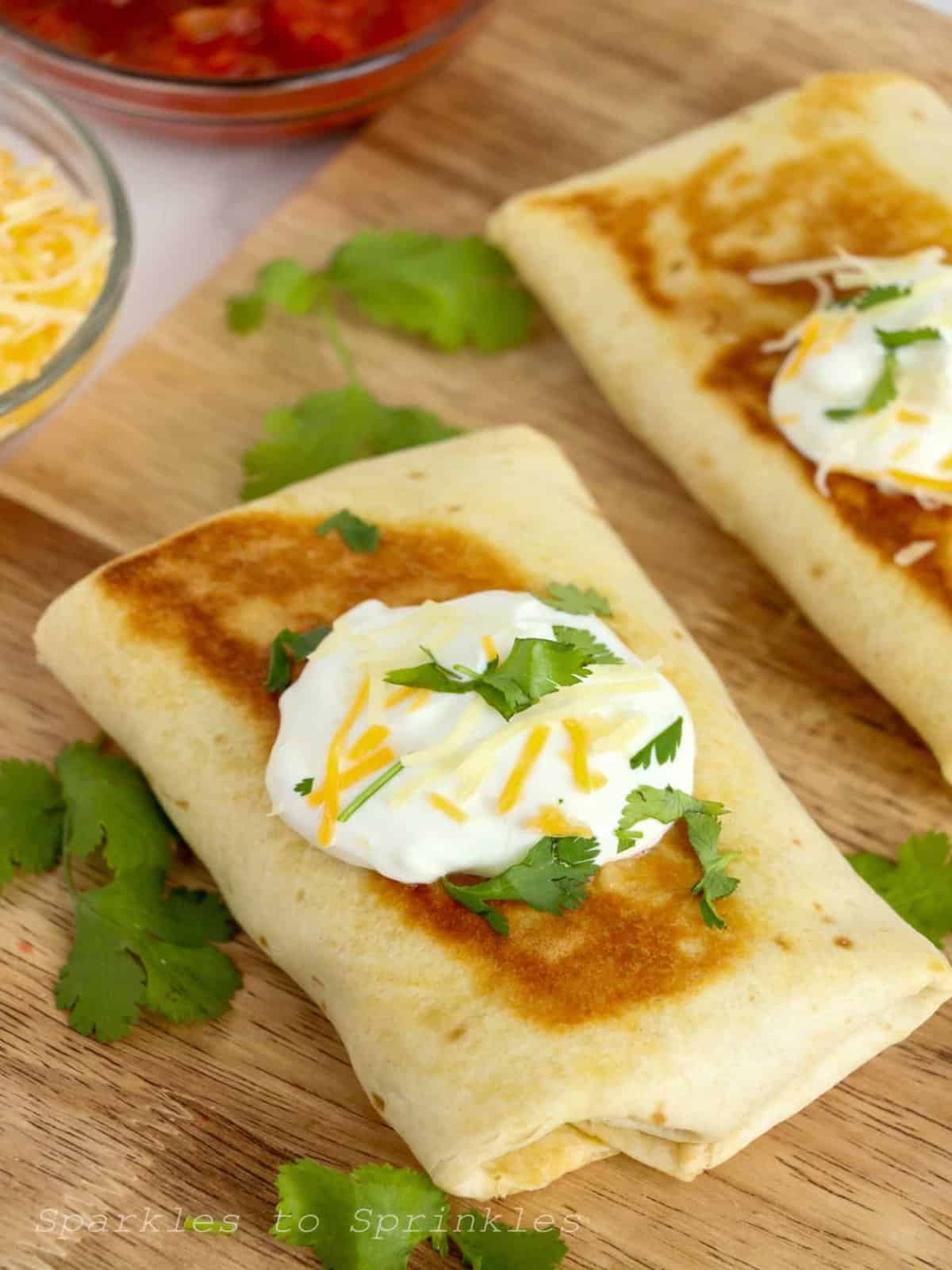 These Crispy Chicken Salsa Wraps are perfect for lunch, snack time, or dinner. All you need are tortillas, chicken, salsa, cheese, sour cream, and cilantro, and 20 minutes and you have a delicious meal ready to go.
30. Chicken Caesar Salad Wraps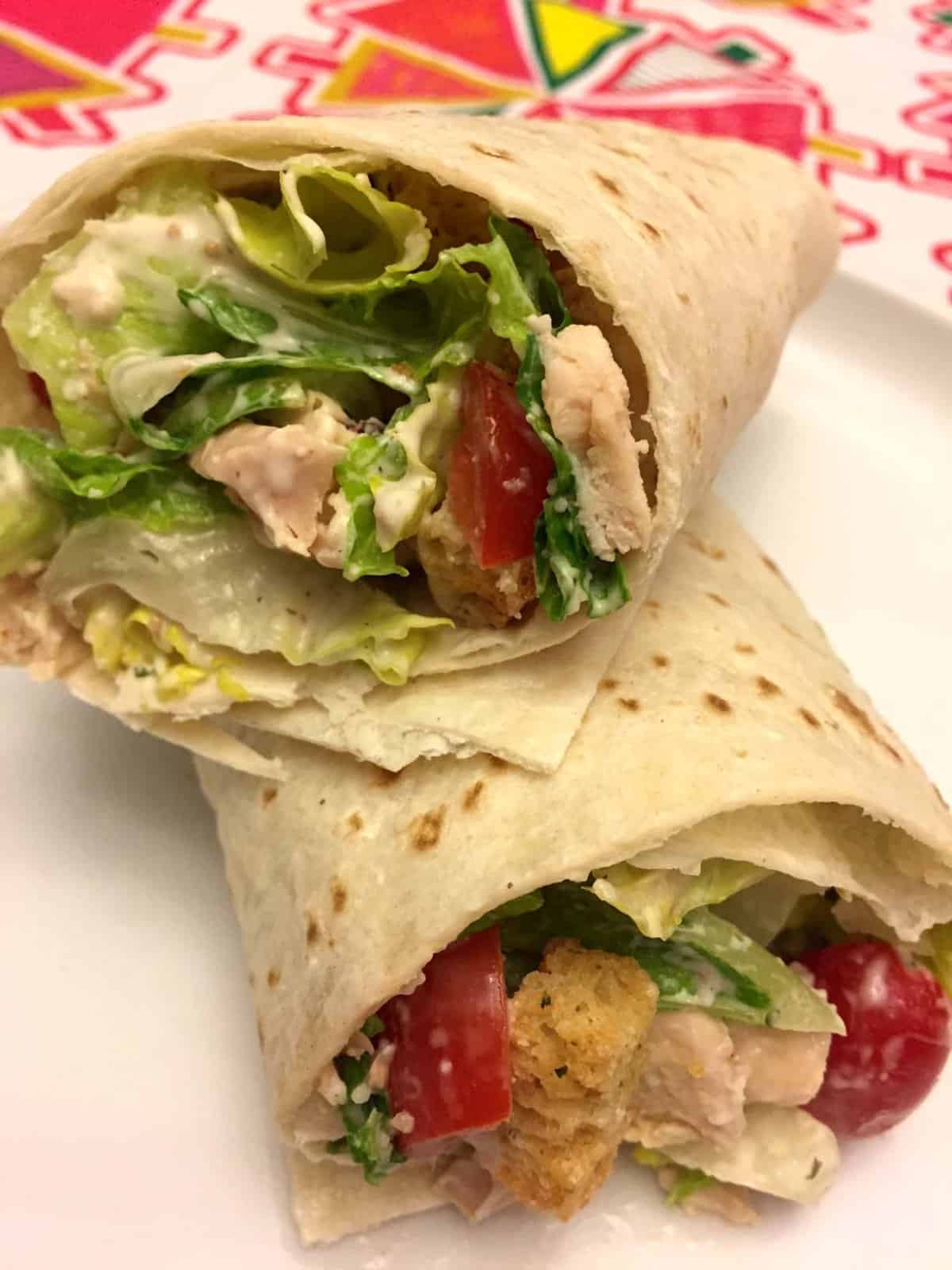 These Chicken Caesar Wraps are filled with a mix of romaine lettuce, cherry tomatoes, rotisserie chicken, croutons, Parmesan cheese, and Caesar dressing, all encased in a burrito-sized tortilla. It's a classic salad reimagined as a grab and go wrap.
31. Fiesta Ranch Chicken Wraps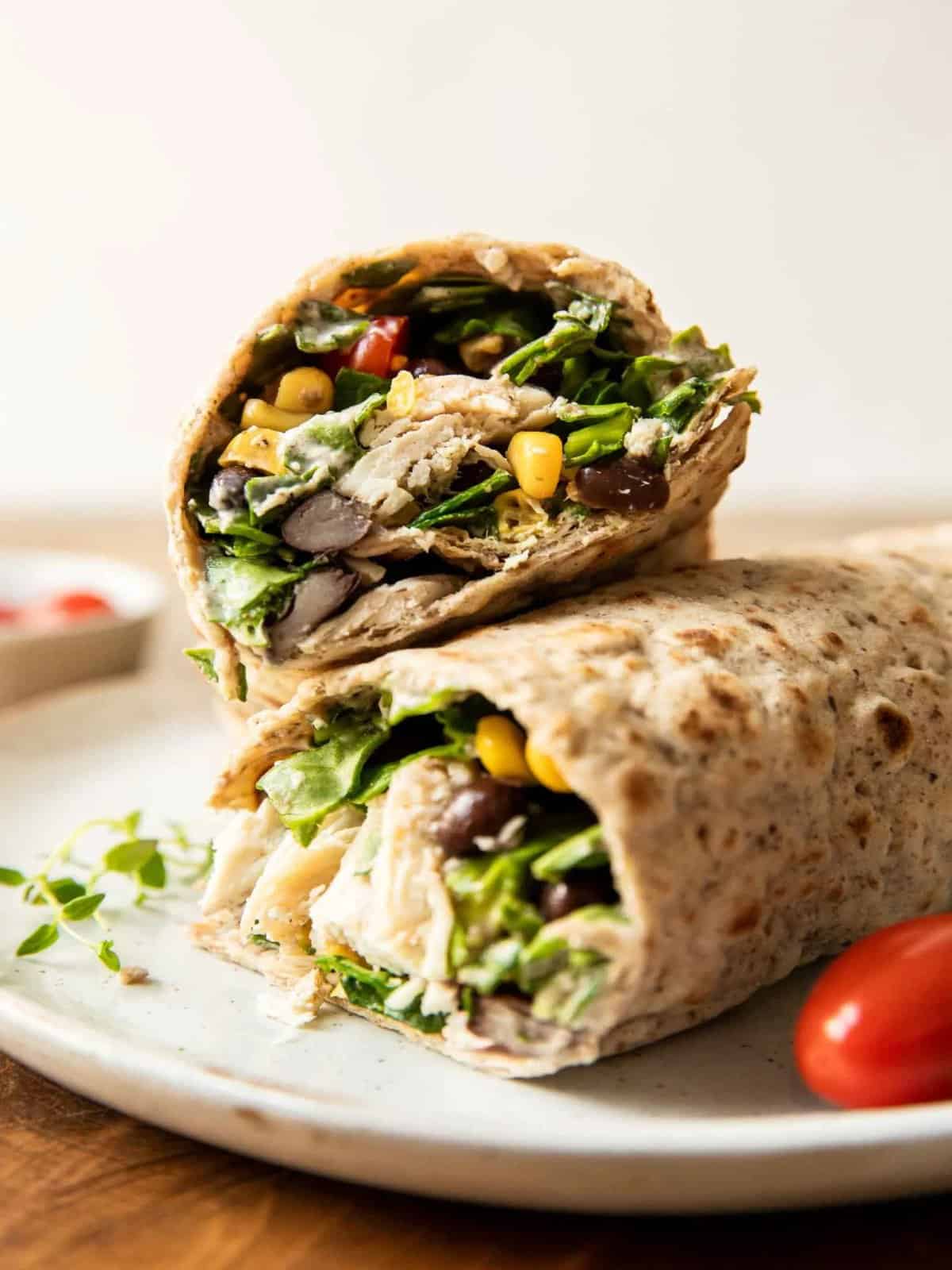 These Slow Cooker Fiesta Ranch Chicken Wraps make the perfect choice for a quick and convenient weekday lunch or dinner. Featuring whole wheat tortillas, crunchy, garden-fresh veggies, a homemade wholesome fiesta ranch dressing, and slow-cooked ranch chicken (with a kick from some chili powder), this dish is not only yummy but also simple to prepare!
32. Greek Chicken Wraps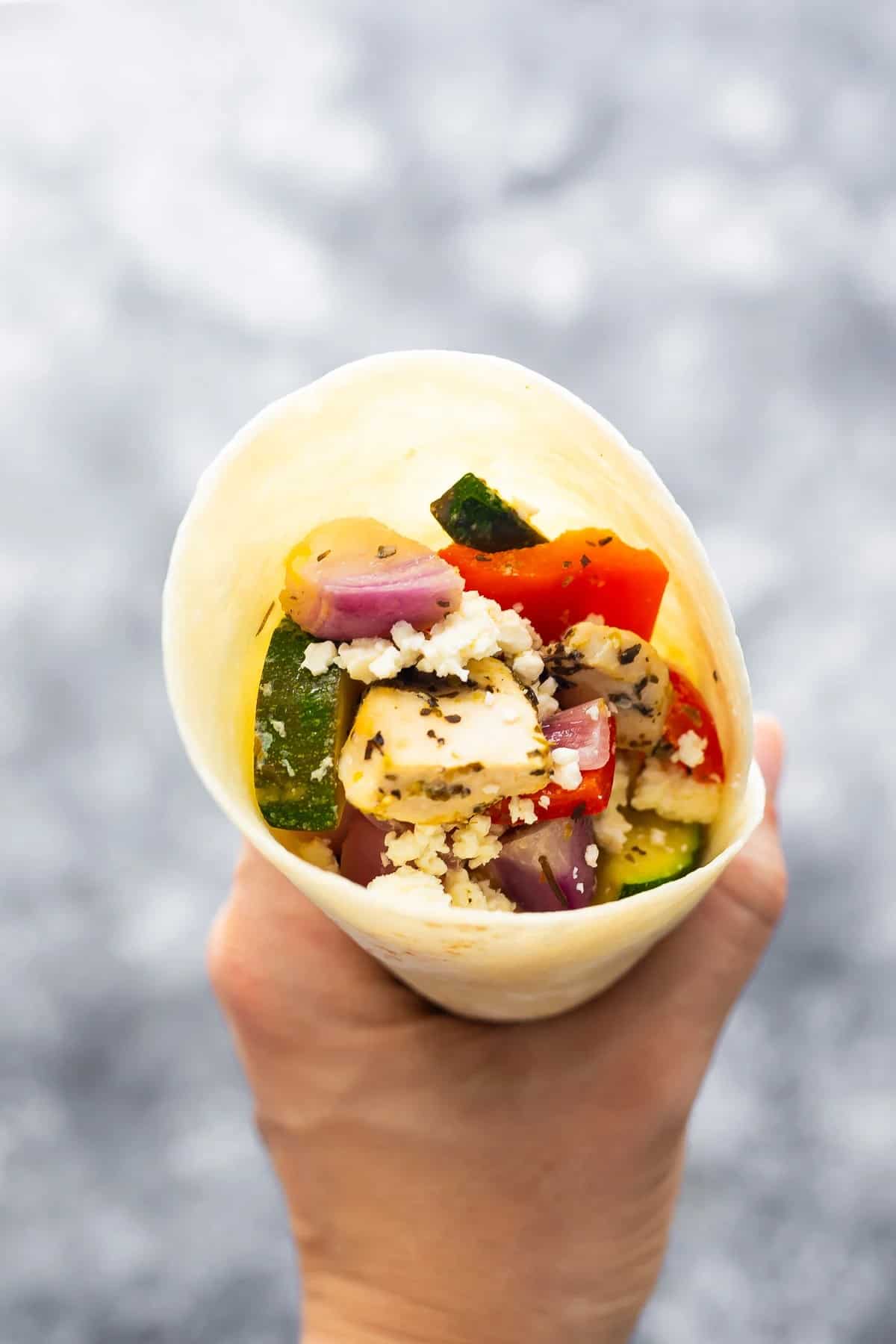 These Greek chicken wraps demonstrate that basic ingredients can produce outstanding taste! They feature spiced roasted chicken and veggies, tangy feta cheese, and a hint of lemon juice.
Storage and Make-Ahead Tips
Storing Your Crafted Wraps: We've all been there: whipping up a delectable wrap and then wondering how to store it to retain that fresh-off-the-grill flavor and crunch. The key is in the wrapping (pun intended!) and choosing the right storage spot.
Wrap It Right: Begin by placing your wrap on a piece of parchment paper or aluminum foil. Roll it up snugly, ensuring no fillings are poking out. This helps retain moisture and prevents it from drying out.
Fridge Fundamentals: Store your wrapped treasures in the main compartment of the refrigerator, away from the door, as the temperature is most consistent there. Aim to munch on them within 1-2 days for optimal freshness.
Prep Ahead for Swift Assembly: The beauty of wraps lies in their simplicity, and preparing ahead makes the process even smoother.
Filling Station: Roast, grill, or air fry your chicken in advance and store it in an airtight container. The same goes for any legumes or veggies you plan to use. Pre-chopped veggies can be a lifesaver on busy days!
Dress for Success: Whisk together your favorite dressing or sauce and store it separately in a small jar or container. This way, when it's go-time, you just have to drizzle and roll.
The Final Touch: When it's time to assemble, gather your ingredients, lay out your chosen tortilla, and let the wrap magic happen. Because you've prepped ahead, you're just minutes away from a yummy meal.
FAQs

Is eating a chicken wrap healthy?
A chicken wrap's healthiness hinges on preparation methods and ingredients used. Opt for lean-cooked chicken, whole or nutrient-rich wraps, an abundance of veggies, and watch for calorie-heavy sauces and dressings to ensure a healthier choice.
Is a chicken wrap healthier than a chicken sandwich?
It depends on the ingredients and preparation. Generally, wraps can be thinner than bread slices, potentially reducing calorie intake. However, the healthiness hinges on the choice of bread versus wrap, fillings, and cooking methods. It's essential to compare individual components and portions to determine the healthier option.
What kind of chicken is best for wraps?
You can use boneless, skinless chicken breasts or thighs based on your preference. Grilled, baked, or air-fried methods all work well, offering varying flavors and textures.


How long do pre-made wraps last in the fridge?
Ideally, consume prepared wraps within 1-2 days for the best freshness and taste.