Smoothies for Weight Loss
List of 20 healthy smoothies for weight loss.
This list of 20+ healthy smoothies are easy to make and can help to support a healthy weight loss plan.
Smoothies are the bomb.com! Don't you guys agree??
They are SO easy to make, are packed full of nutrients, and can help to support healthy weight loss.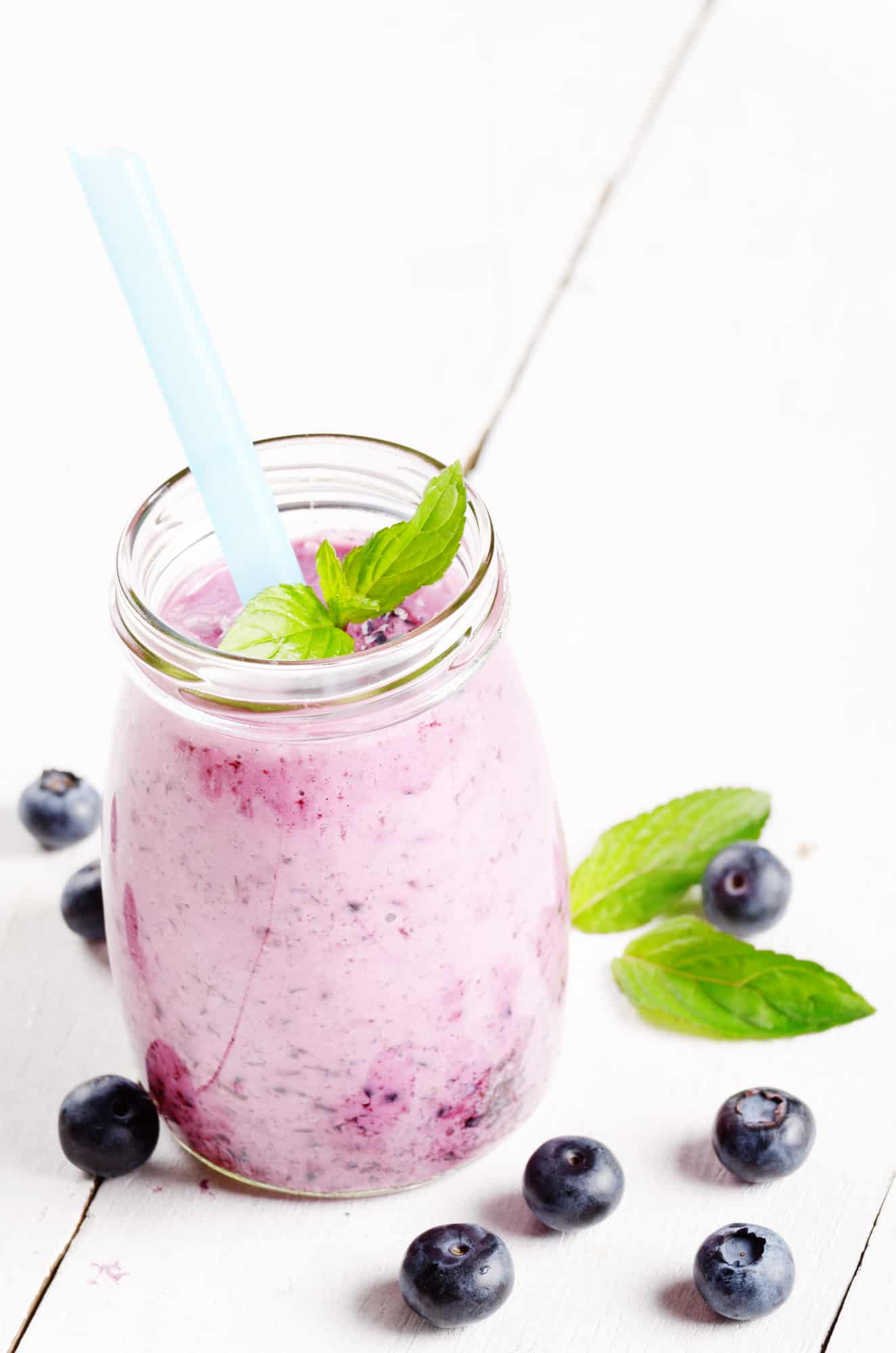 They are so versatile, the flavor combinations are endless, and they make the perfect snack OR meal.
I LOVE smoothies for those busy mornings when I am rushing out the door – smoothies are the perfect on the go wholesome and nutritious breakfast.
As an Amazon Associate I earn from qualifying purchases. You can read my full disclosure HERE. 
When making smoothies, I always try to stay away from the overly processed meal replacement shakes. Instead, I make my smoothies from a clean protein powder and whole food ingredients. Bring on the fruits and veggies!
Lately, I have been loving KOS Protein Powder.
Pro Tip: If you are not big on veggies -smoothies are a great option for you because they are super easy to sneak in those veggies – you seriously can't even taste spinach in a smoothie.
Are you ready to ditch the yo-y0 diets? My nutrition program is here! Check out The Balanced Body Blueprint.
Are smoothies good for weight loss?
Smoothies will not automatically burn your fat off. But they can be a great addition to a healthy weight loss plan – when done right.
Smoothies that are made with whole foods are nutrient-dense and full of fiber – which can fight off hunger and keep you satisfied throughout the day.
When drinking smoothies to lose weight be sure to avoid adding any added sugar (the sugar in the fruit should act as the sweetener), fruit juice, ice cream, etc.
My favorite ingredients to add to healthy smoothies for weight loss are:
Spinach
Kale
Unsweetened Almond Milk
Coconut Water
Strawberries
Blueberries
Banana
Pineapple
Chia Seeds
Flax Seeds
Cacao
Greek Yogurt
It is fun to experiment with different flavor combinations of ingredients – but sometimes it is also easier to follow a recipe.
Are you on a weight loss journey? Check out my post on Weight Loss Meal Prep for some more inspiration.
And, if you are in the market for a new blender..I am OBSESSED with mine! The Nutri Ninja will seriously change your life and up your smoothie making game. It is very reasonably priced on Amazon too.
Try one (or more) of the recipes below for a delicious and nutrient-dense smoothie that is both easy, delicious, and great for weight loss.
Healthy Banana Cream Pie Smoothie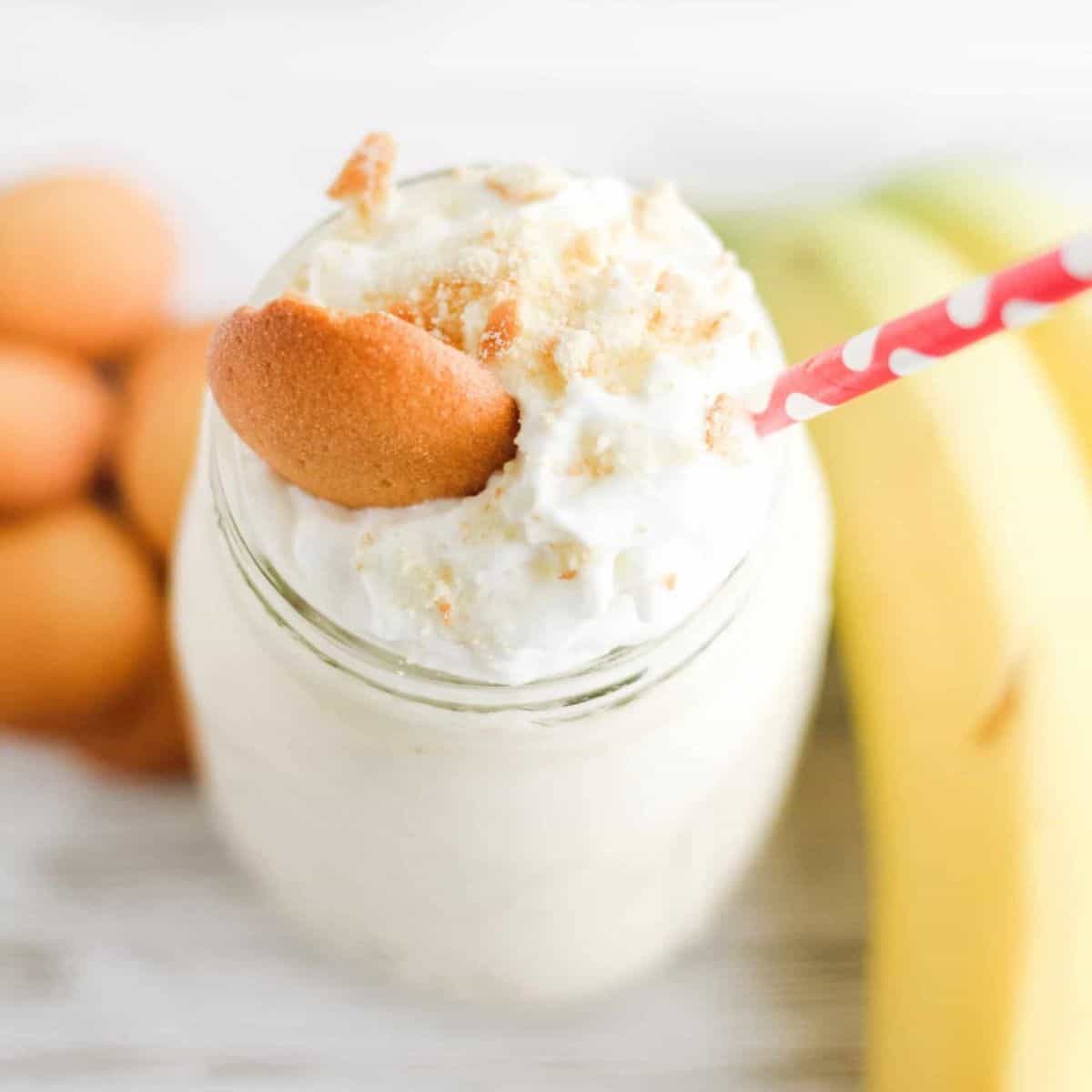 This protein-packed banana cream pie smoothie is loaded with healthy and good-for-you ingredients, yet it tastes like a decadent creamy milkshake!
Get the Banana Protein Shake Recipe Here.
Do you love smoothies but not yogurt? Check out my post on Smoothie Recipes Without Yogurt.
Orange-Blueberry Smoothie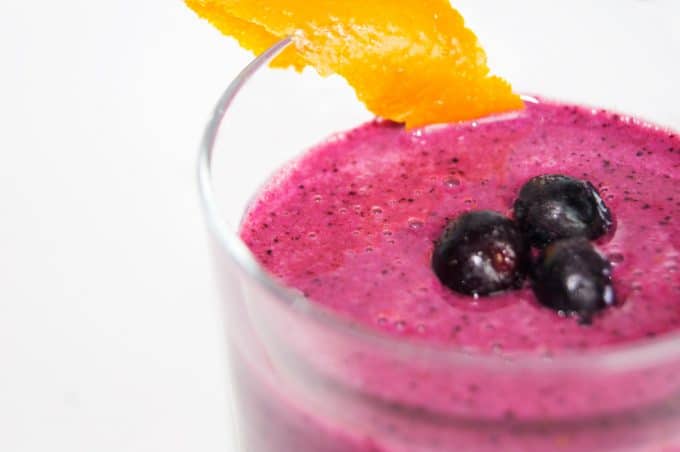 Creamy, naturally sweet, and exploding with vitamin C and antioxidants. This Orange-Blueberry Smoothie is a perfect breakfast option.
Get the recipe at Chocolates and Chai.
Raspberry Peach Smoothie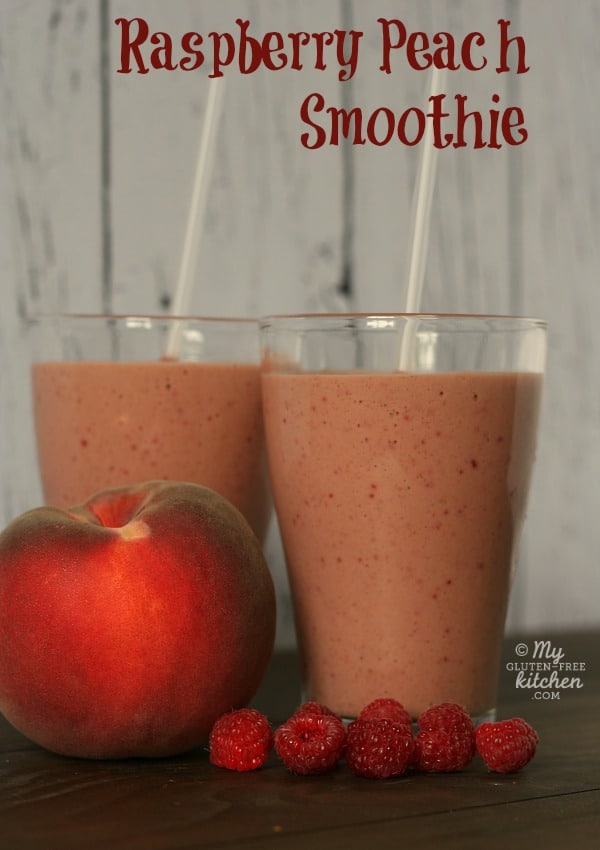 This Raspberry Peach smoothie is sweet, tangy, gluten-free, and delicious.
Get the recipe at My Gluten-free Kitchen.
Creamy Blueberry Breakfast Smoothie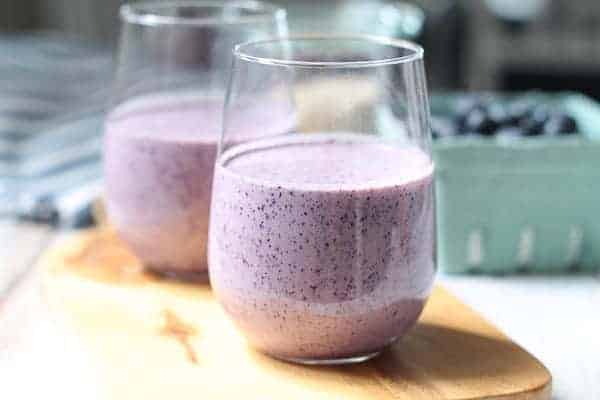 Do you need something quick in the morning? This Creamy Blueberry Breakfast Smoothie is a simple, healthy solution to give you that energy boost you need.
Get the recipe at The Honour System.
Smoothie with Fruit and Veggies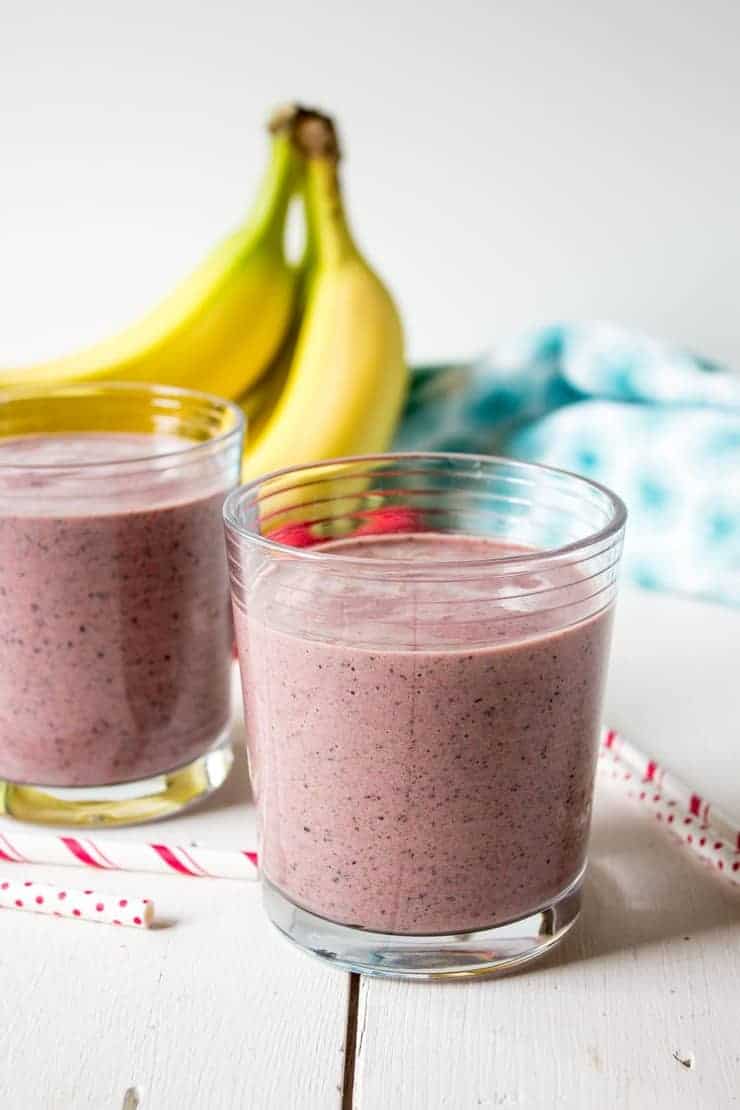 A smoothie with fruit and veggies is ultra healthy! Tips on how to use what's on hand and tailor to your tastes. You pick your favorite fruits and vegetables to make a delicious smoothie.
Get the recipe at Beyond The Chicken Coop.
Creamy Strawberry Watermelon Smoothie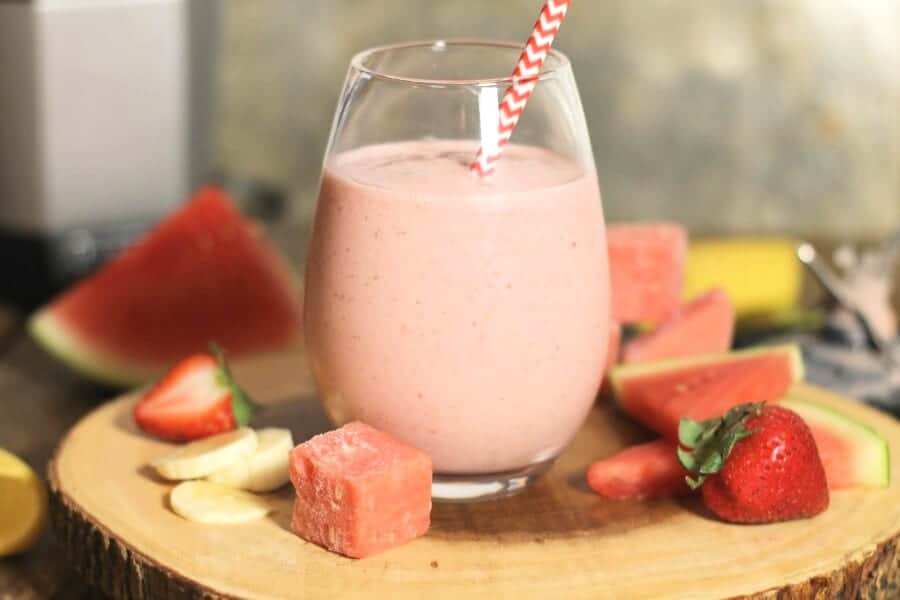 A refreshing fruit smoothie, this strawberry watermelon smoothie mixed with banana, greek yogurt, and chia, is full of healthy goodies.
Get the recipe at Earth, Food, and Fire.
Healthy Lemon Coconut Smoothie
Healthy lemon coconut smoothie recipe! A tart, yet sweet way to load up on probiotics and nutrients.
Get the recipe at Rhubarbarians.
Pear Ginger Smoothie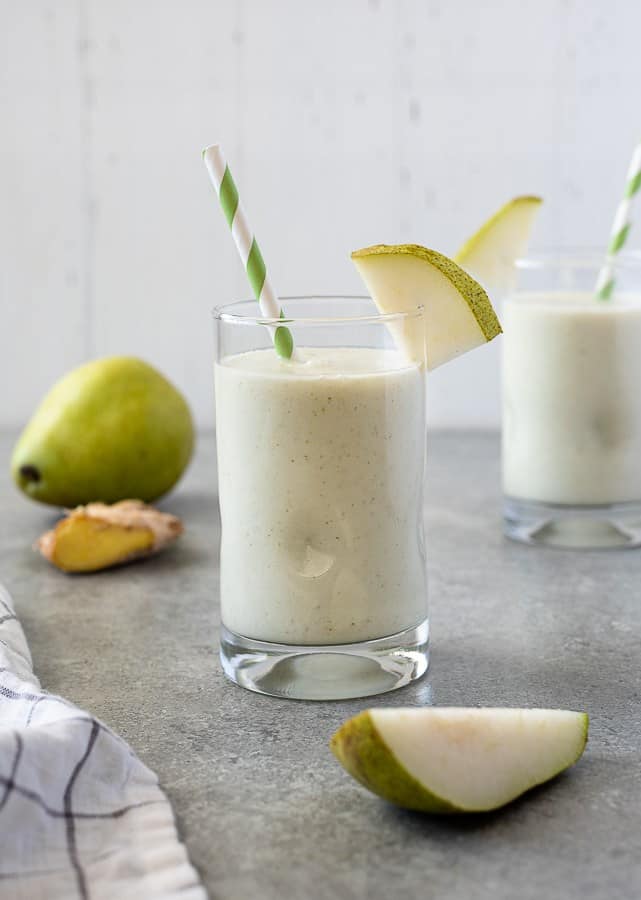 Pear Ginger Smoothie is a creamy, high protein pear smoothie recipe with juicy Bosc pear, Greek yogurt, and the flavor of fresh ginger!
Get the recipe at Flavor The Moments.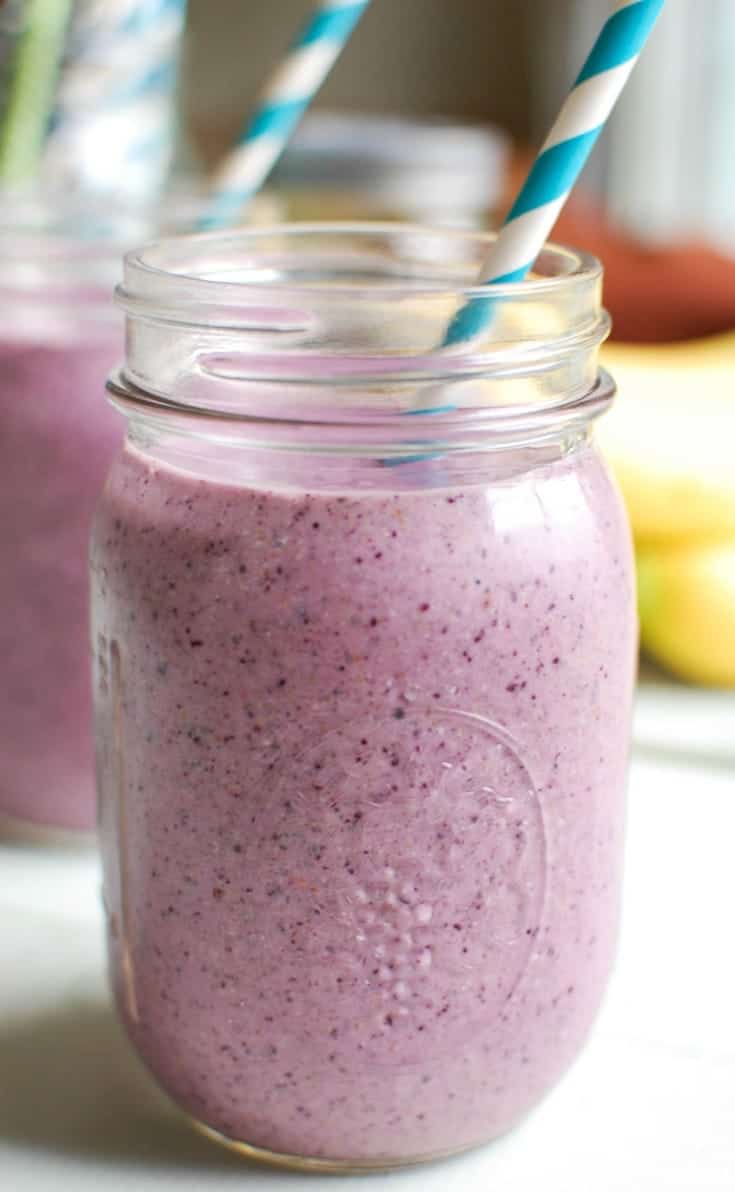 Pomegranate Blueberry Banana Smoothie is a powerhouse of a smoothie! This is packed with antioxidants, calcium, and protein making it the perfect way to start your day or give you energy in the afternoon.
Get the recipe at A Cedar Spoon.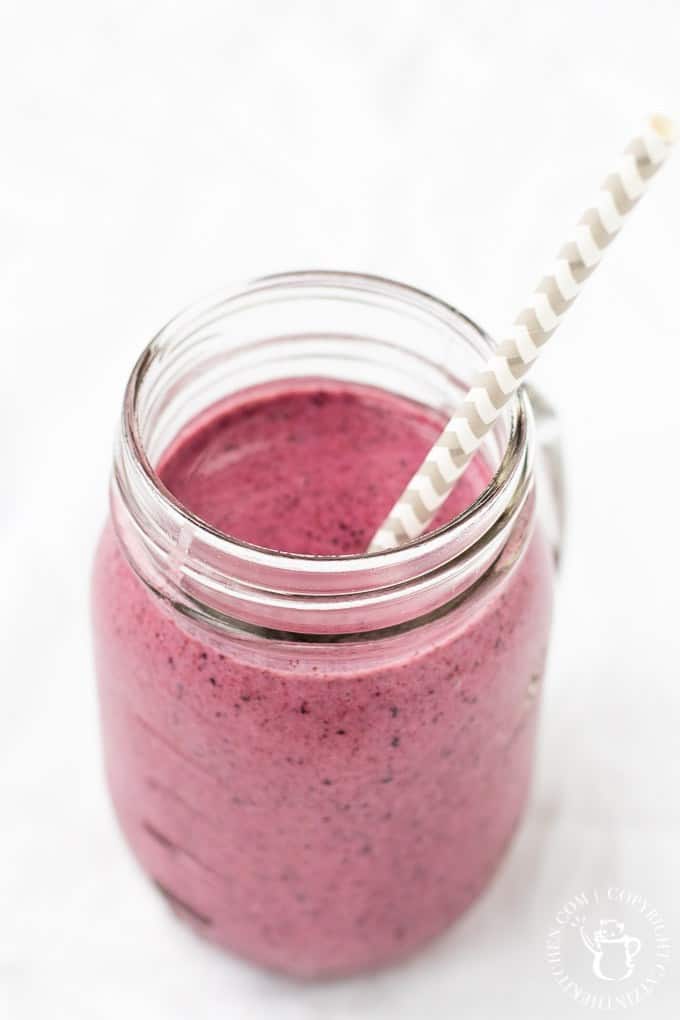 This chocolate covered blueberry protein smoothie is yummy and super easy to make.
Get the recipe at Catz in the Kitchen.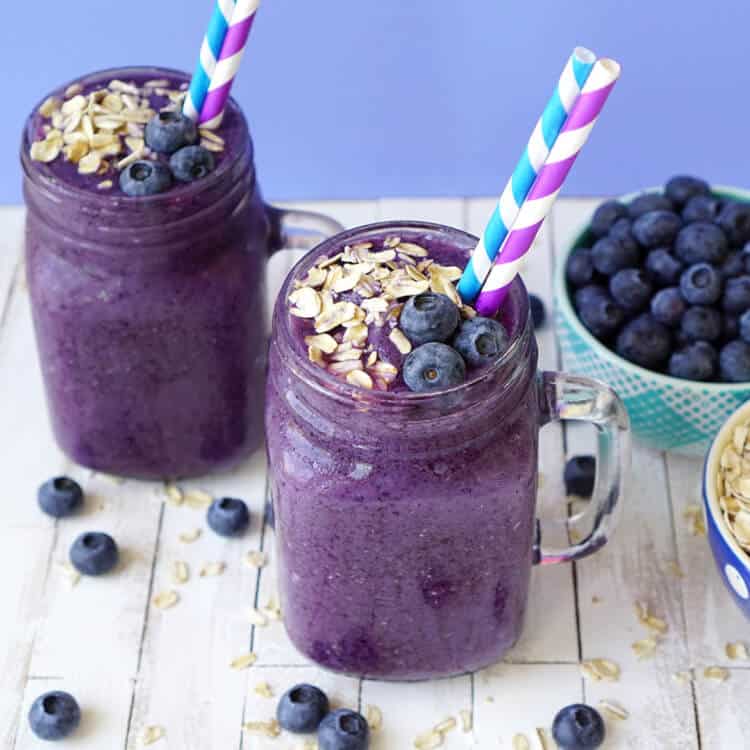 This delicious blueberry muffin smoothie made from blueberries, oats, and yogurt is the perfect way to start your day!
Get the recipe at Happiness is Homemade.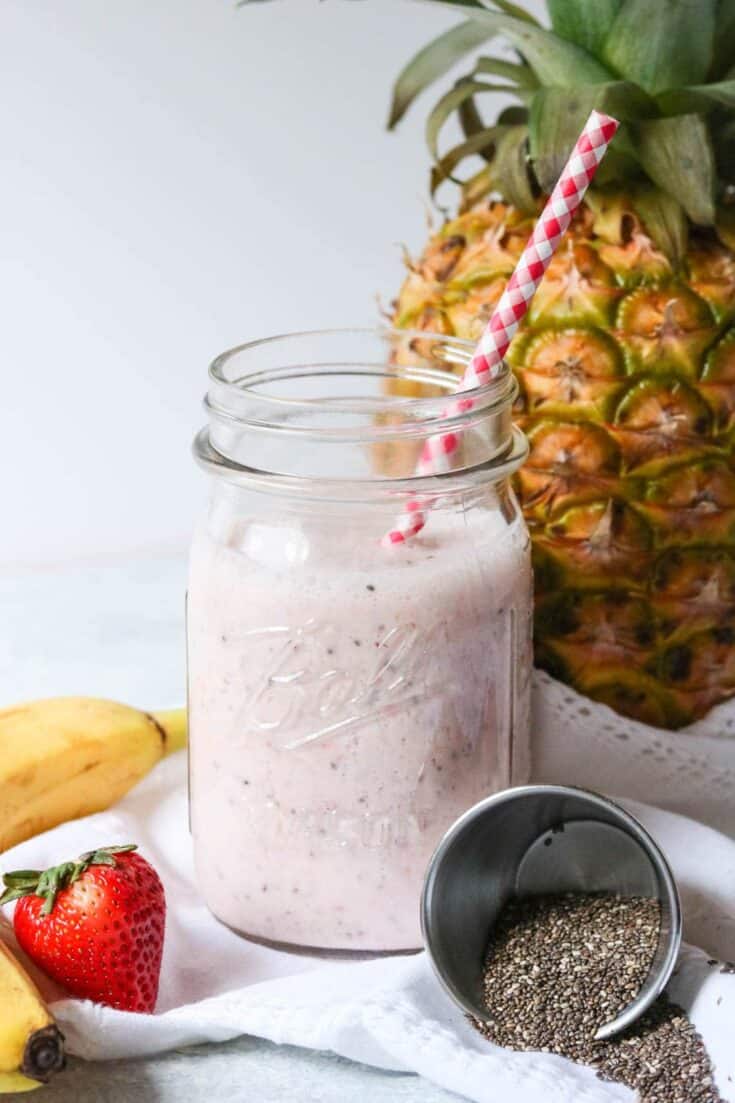 This tropical chia kefir smoothie is loaded with healthy fruit and probiotics.
Get the recipe at Wanderlust and Wellness.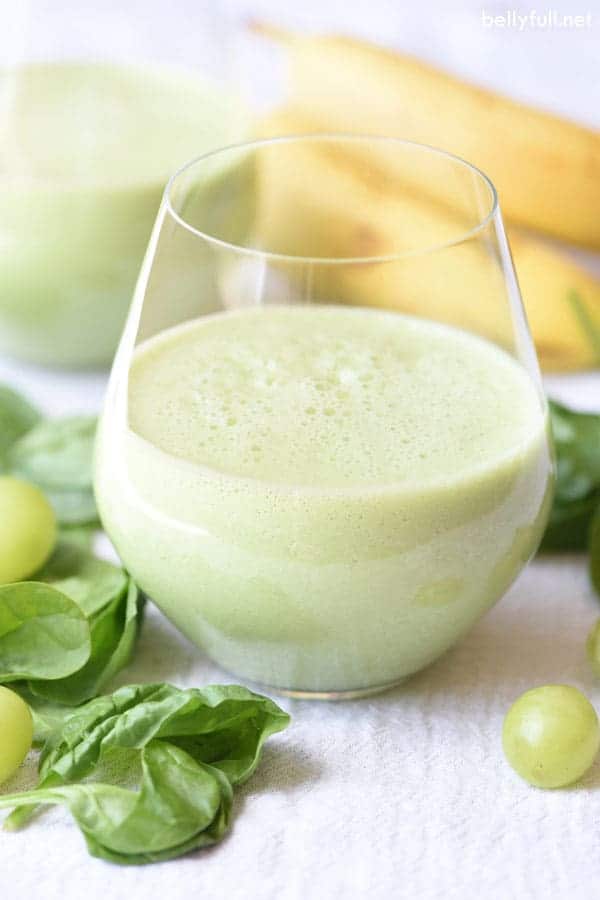 This Green Protein Power Smoothie is healthy, filling, and absolutely delicious. It is made with spinach, greek yogurt, and lots of fresh fruit.
Get the recipe at Bellyful.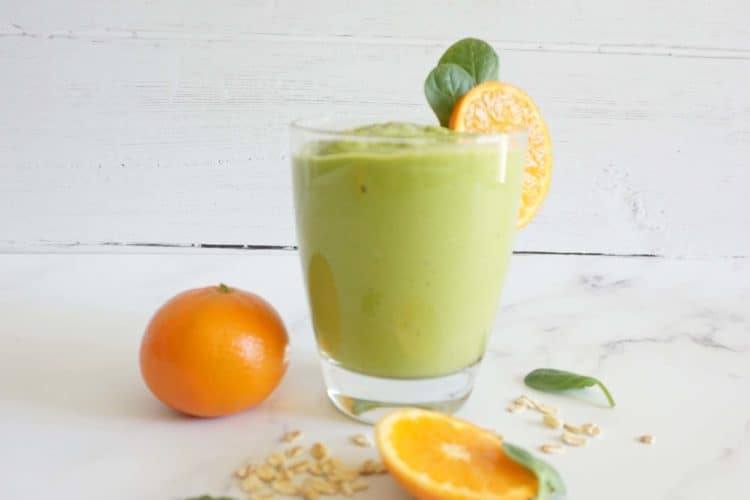 Blend up your oatmeal with an avocado in this healthy milkshake copycat. The bright tasting orange flavor profile pairs magically with the avocado!
Get the recipe at Simply Oatmeal.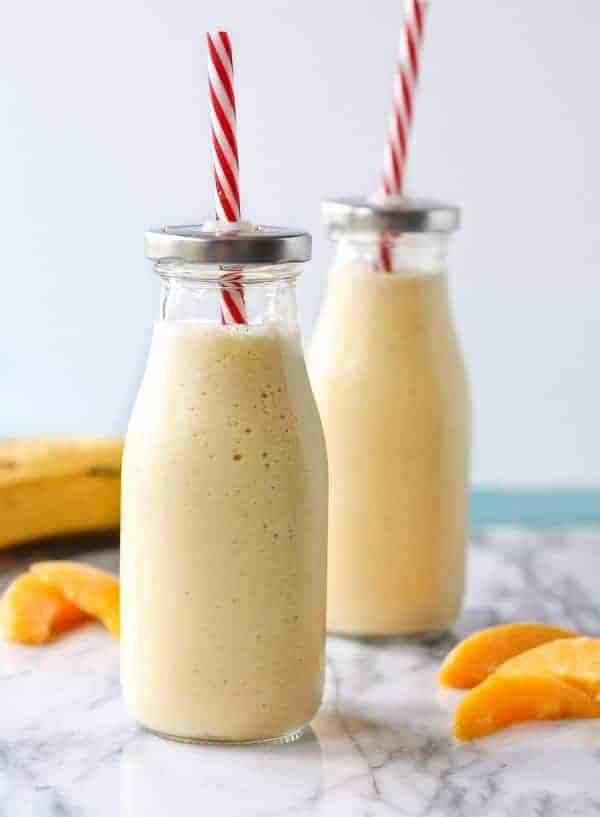 This peach, banana, honey and cottage cheese smoothie is a perfect snack or breakfast for kids and adults. Cottage cheese gives an extra boost of protein.
Get the recipe at Rachel Cooks.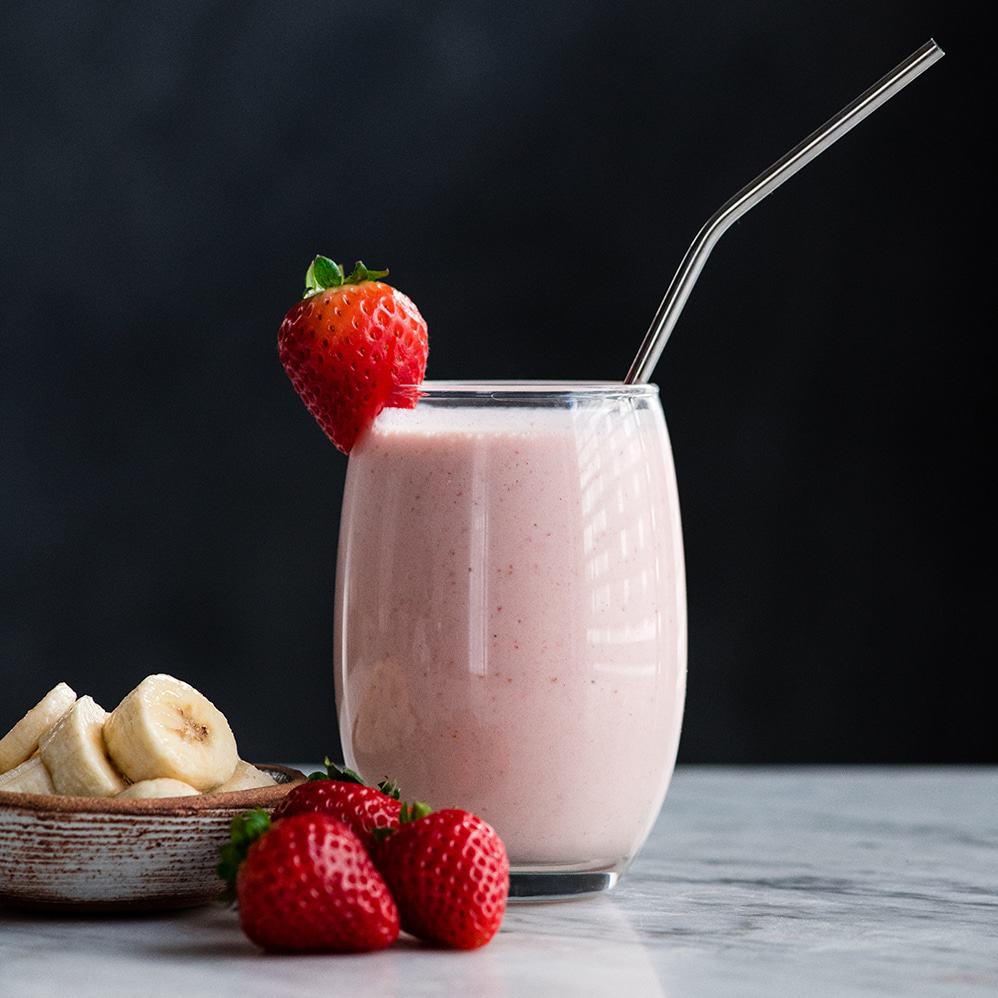 The BEST strawberry banana smoothie recipe ever! It's easy (ready in less than 5 minutes), healthy, and made with yogurt so it's full of protein! It's the perfect snack or breakfast!
Get the recipe at Joy Food Sunshine.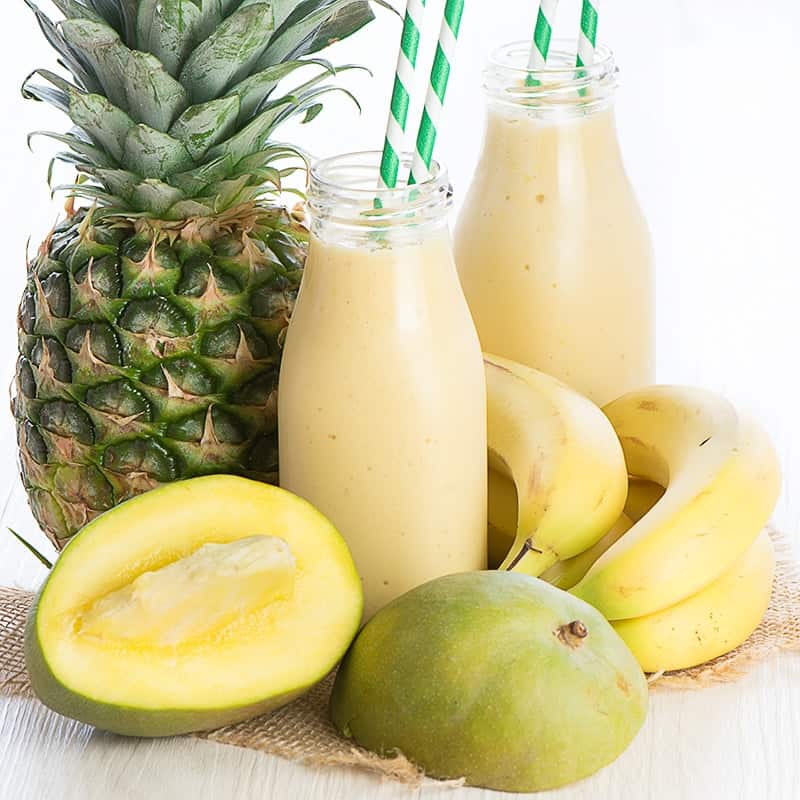 A deliciously refreshing smoothie with coconut milk, banana, mango, and pineapple.
Get the recipe at Charlottes Lively Kitchen.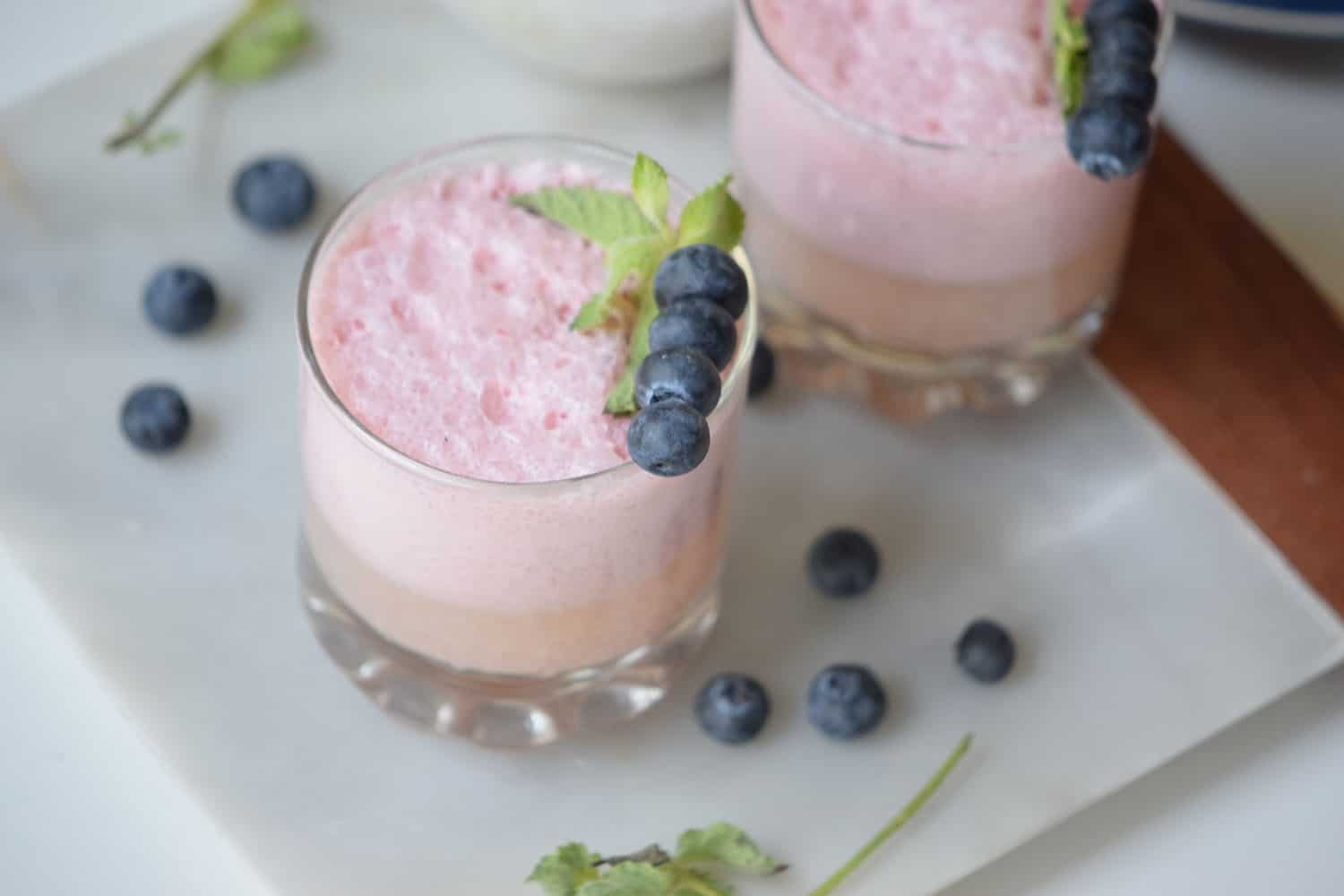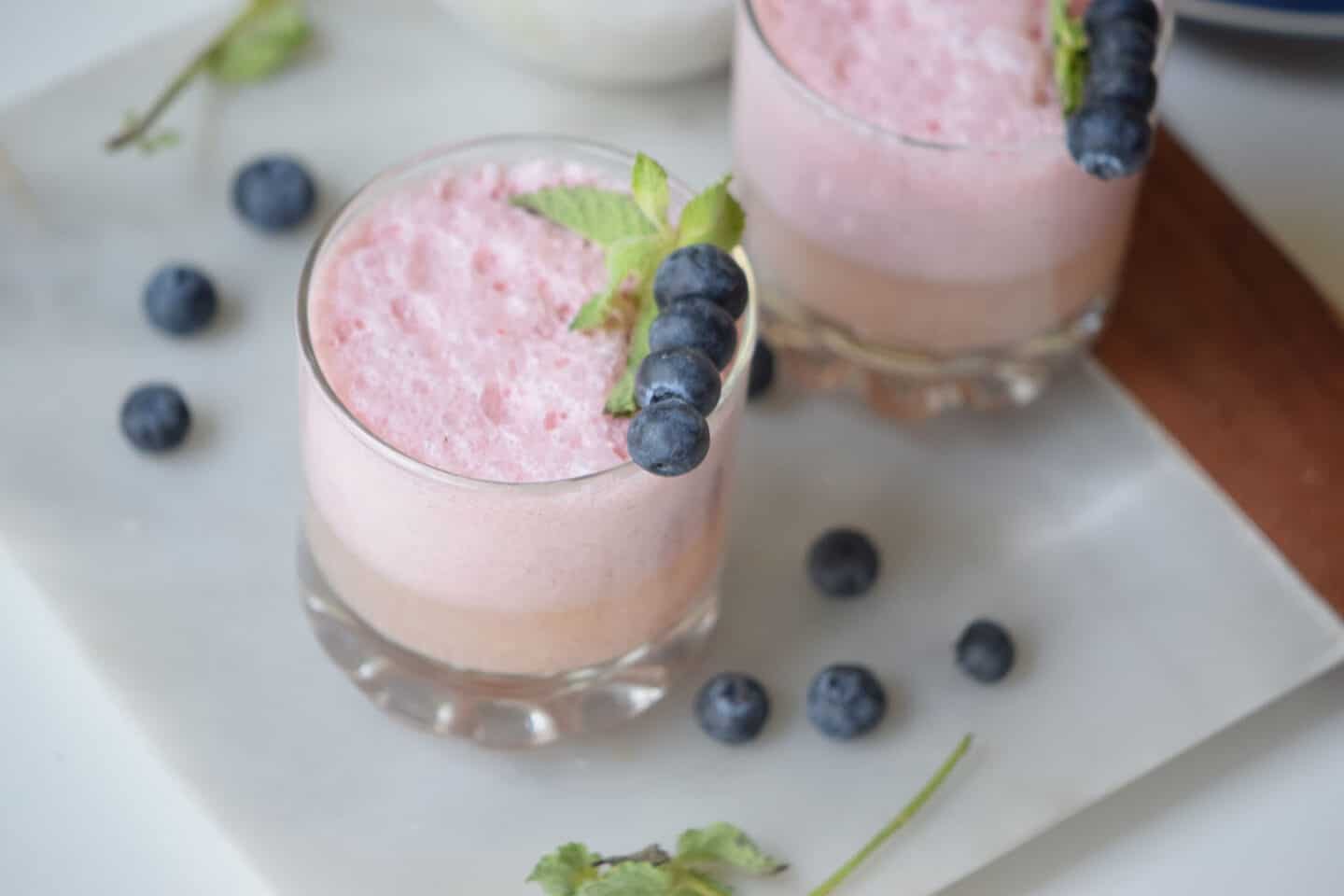 Berries and mint are the perfect smoothie pairing and this one is so delicious!
Get the recipe at Kelly Stillwell.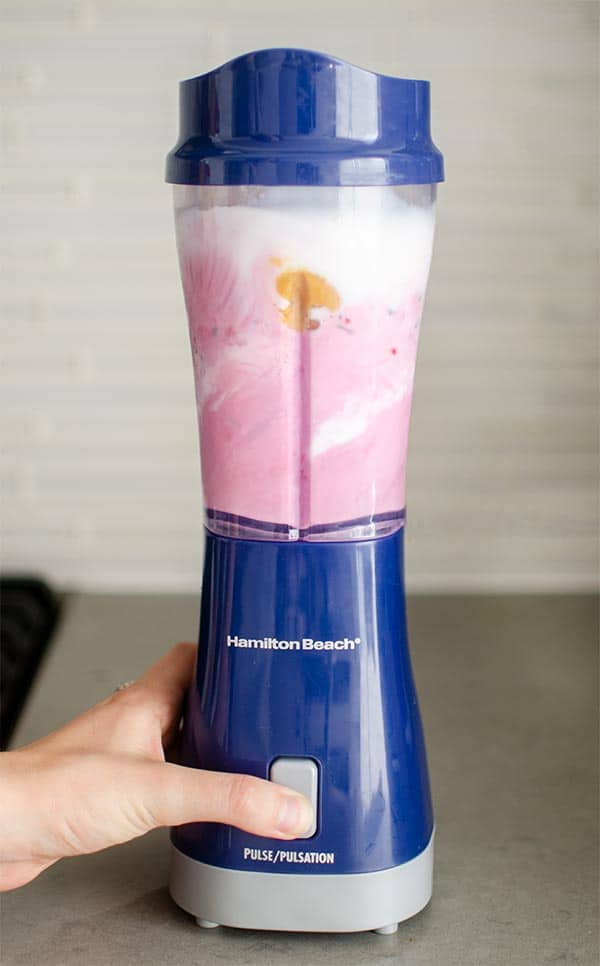 This triple berry smoothie made with yogurt, frozen berries, peanut butter, and frozen kale for the perfect breakfast to kickstart your day.
Get the recipe at Living Lou.
As you can see, there are so many different flavor combinations and recipes for weight loss smoothies. What is your favorite smoothie recipe?
Related Weight Loss Articles
Protein Without the Belly Bloat
Best Smoothies for Weight Loss