High Protein Breakfast Casserole Recipes
This post may contain affiliate links. As an Amazon Associate I earn from qualifying purchases.
Looking for high protein breakfast casserole recipes? You have come to the right place! I have created a list of the best breakfast casserole recipes that have 10+ grams of protein per serving. From sausage, to hash browns, to vegetarian options: you'll find 16 delicious and high protein breakfast casseroles right here!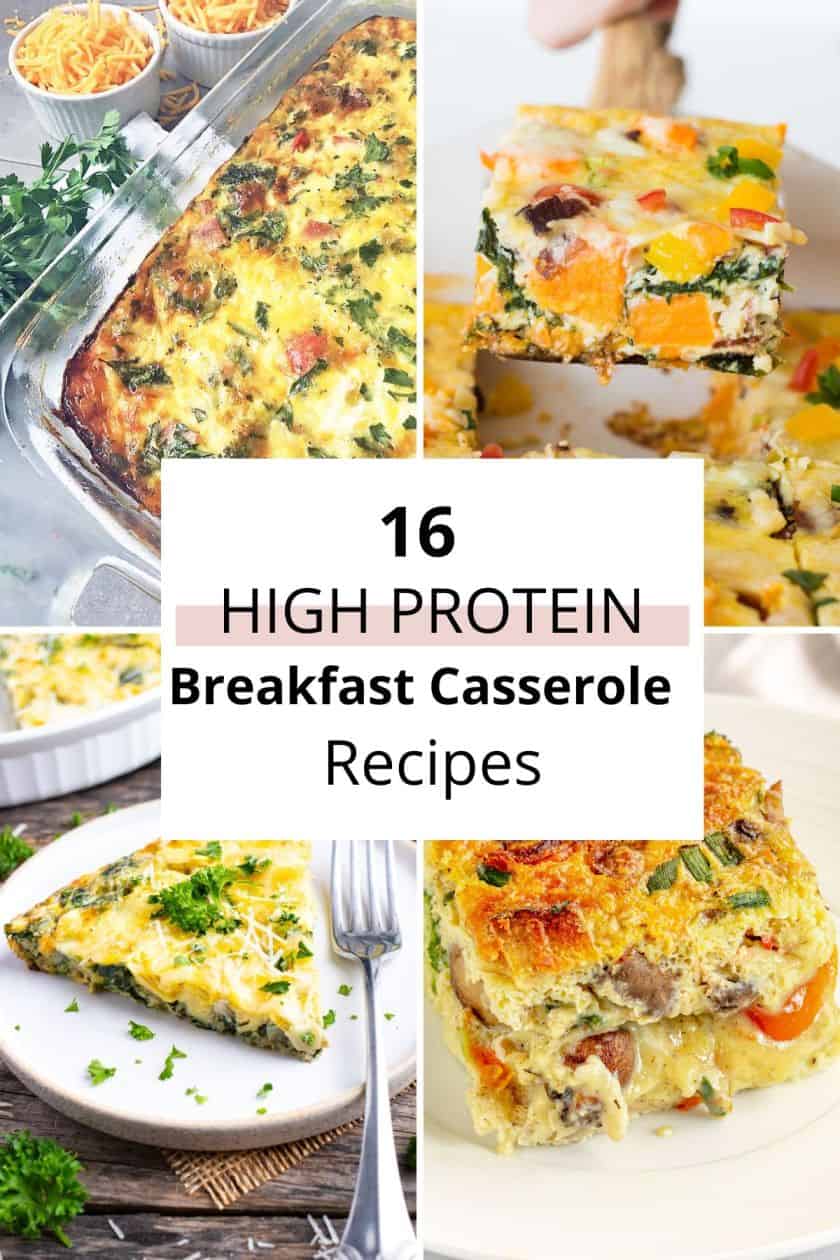 We all know that breakfast is our chance to set the energy tone for the entire day. After all, it's not called 'the most important meal of the day' for nothing, right? But here's the thing – loading up on carbs and sugars first thing in the morning might lead us down a path of energy crashes and hunger pangs before lunch even rolls around.
Looking for more high-protein recipes? Check out these high protein dinner recipes and high protein meal preps.
Why I Love Breakfast Casseroles
Don't worry, I'm not suggesting you ditch your morning meal. Instead, I'm here to guide you towards a protein-packed breakfast that'll keep you fueled and satisfied. High-protein breakfasts are our ticket to a morning of steady energy and sharp focus. They help us feel fuller for longer, keeping those mid-morning snack cravings at bay, and they're also crucial for muscle building and repair.
Customizing Your Breakfast Casserole to Meet Your Macro Needs
Navigating your macro needs can sometimes feel like a puzzle, especially when it comes to maintaining the balance between protein, fats, and carbs. But that's where the beauty of breakfast casseroles truly shines – they're incredibly flexible and can be tailored to fit your macro needs!
High Protein Breakfast Casserole Recipes
1. Egg Bake With Veggies & Turkey Bacon
2. Healthy Egg & Sausage Casserole
3. Instant Pot Breakfast Casserole
4. Protein Packed Hash Brown Cheese Breakfast Bake
5. Vegetarian Breakfast Casserole
6. Macro-Friendly Breakfast Casserole
7. Breakfast Egg Casserole
8. Breakfast Casserole
9. Ham, Spinach, and Egg Casserole
10. Sweet Potato Breakfast Casserole
11. Veggie Loaded Potato Breakfast Bake
12. Turkey Sausage Paleo Breakfast Casserole Recipe
13. Easy Mexican Breakfast Casserole Recipe
14. Easy Crustless Spinach Quiche with Artichoke
15. Loaded Veggie and Cheese Overnight Egg Bake
16. Protein French Toast Recipe
Frequently Asked Questions