Healthy Summer Snack Ideas
Looking for healthy summer snacks? You have come to the right place! I have created a list of the best summer snacks that are great for on the go. From muffins, to energy bites, to fruit, you'll find 34+ delicious and EASY summer snack ideas right here!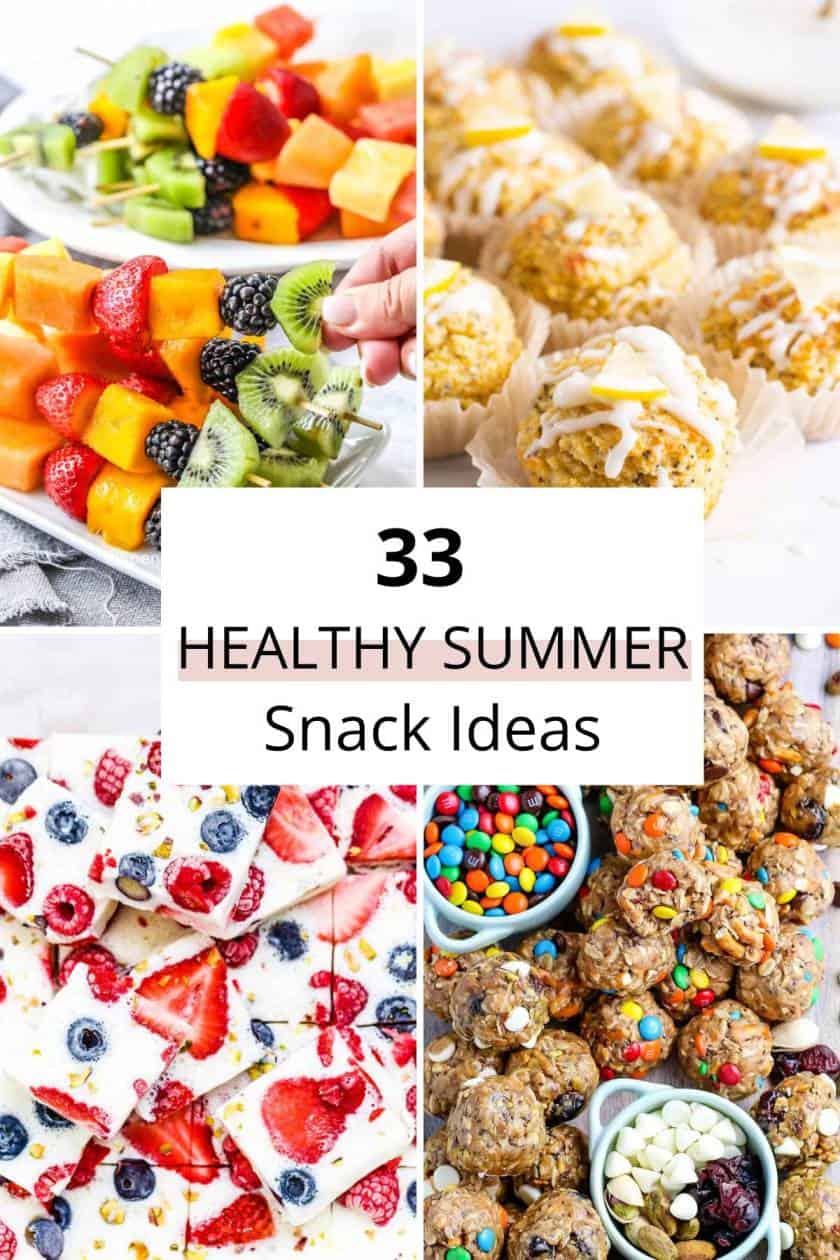 As an Amazon Associate I earn from qualifying purchases. You can read my full disclosure HERE. 
Summertime is all about living it up and soaking in those rays of sunshine, but let's be real – when you are having so much fun it can sometimes be hard to stay on track with your nutrition goals.

As a certified nutrition coach, I find that having a variety of delicious, nutritious, and easy-to-prepare snacks in my arsenal is essential. So, whether you're hitting up the park with your kids, lounging by the beach, or embarking on a road trip, you can keep your energy levels high and your cravings satisfied without sacrificing your health or your nutrition goals.
1. Fresh Fruit
Fruits like apples, bananas, and oranges, are nature's very own fast food. They are individually packaged, rich in vitamins and fiber, and even come with their own biodegradable wrapping!

Grab an apple or banana for on the on the go or get fancy and make a fruit salad for your next picnic. I like pairing my fruit with some cheese for protein/fat.
2. Muffins
When it comes to convenience and portability, muffins are where it's at! They are individually portioned, easy to carry, and can be eaten without utensils, making them an ideal snack for busy summer activities. The variety of muffin flavors available also means there's likely a muffin to satisfy every taste, whether you want something fruity, chocolatey, or spiced.
Just keep in mind, not all muffins are created equal. While many store-bought or bakery muffins can be high in fat and sugar, making muffins at home allows you to control the ingredients for a healthier result. You can experiment with different flours, sweeteners, and mix-ins to tailor the nutrition to your needs. Adding fruits or nuts can also increase the nutritional value, making your muffin a more balanced snack.
Make it balanced: Pair your muffins with a protein source, like some string cheese or a protein shake, to make it more filling and balanced.
3. Vegetable Sticks with Greek Yogurt Dip
Bell peppers, cucumbers, carrots, and other raw veggies make the perfect snack when paired with some greek yogurt dip. Not only does this duo provide a nice crunch and ample hydration, but the protein and healthy fats in the dip also make it surprisingly satiating.

I love making a quick and easy greek yogurt dip by mixing together a container of greek yogurt with a packet of ranch dressing – doesn't get much easier!

You can add your dip to a travel container for on the go or even store it in mason jar with the cut up veggies.
4. Greek Yogurt
Greek yogurt is packed with protein, which makes it an ideal snack for those lazy summer afternoons. Add a handful of fresh berries for some added sweetness and antioxidant power, and consider a sprinkle of chia seeds for extra fiber and omega-3s.
My favorite brands of Greek yogurt are: Oikos, Two Good, and Siggi's.
5. Trail Mix
Trail mix is a fantastic on-the-go snack, especially for those summer days filled with hiking or beach adventures. Plus it is super easy to make and completely customizable. Mix your favorite nuts, seeds, and dried fruits for a balanced combination of protein, healthy fats, and carbs. Just be sure to watch the portion sizes, as trail mix can be high in calories, and choose unsweetened dried fruit to keep sugar content in check.
6. DIY Protein Snack Packs
For a nutritious and portable snack, you have to try making your own protein-packed snack packs. My kids love these and we make them for an on the go snack (or even lunch) all the time.

Start with a source of protein such as hard-boiled eggs, cubes of cheese, or slices of turkey or chicken. Add a serving of whole grain crackers for a satisfying crunch and a source of complex carbs. Then, round out your snack pack with some fresh veggies like cherry tomatoes, cucumber slices, or baby carrots for added fiber and nutrients. You can also include a small serving of nuts or seeds for healthy fats.
The beauty of these DIY protein snack packs is that they can be customized to your taste and dietary needs. They are essentially a balanced mini meal, providing a good mix of protein, carbs, and fats to keep you energized and satisfied. Plus, they can be prepared ahead of time, making them a convenient option for those busy summer days when you're on the go. To keep things exciting, try mixing up the ingredients each week. For instance, you might choose different types of cheese or meats, or try various whole grain crackers or vegetables.
7. Homemade Energy Bites
You're going to love this one! Energy bites are sweet, satisfying, and can give you that quick energy boost you need during a long summer day. You know what the best part is? They're as easy as pie to make. No baking required, just mix, roll, refrigerate, and voila!
Here's the lowdown: start with a base of oats, your favorite nut butter (almond butter, peanut butter, cashew butter – pick your champion!), and a sweet touch from honey or maple syrup. This trio right here is your ticket to a fiber-rich, protein-packed, sweet-but-not-too-sweet treat.
But hey, why stop there? Let's jazz it up! Throw in some flax or chia seeds for an omega-3 boost. Add a dash of vanilla extract or a sprinkle of cinnamon for an extra flavor kick. And don't forget the mix-ins! Dried fruit, dark chocolate chips, shredded coconut, chopped nuts – the world is your oyster.
Pack them up in a container and you're ready to roll (pun intended!). Whether you're hitting the beach or heading out for a hike, these homemade energy bites are your tasty, nutritious sidekicks. Let the good times roll!
8. Frozen Yogurt Bark
Frozen yogurt bark is a refreshing and versatile snack idea, especially perfect for hot summer days. Starting with Greek yogurt as your base, you not only get a creamy texture but also a good dose of protein. Sweeten it naturally with a bit of honey or maple syrup, and add vanilla extract or a hint of citrus zest for flavor.
Next, top your yogurt base with your favorite fruits, nuts, or seeds. Berries, sliced bananas, and chopped kiwis are all great options for a burst of color and additional nutrients. Chopped nuts or seeds can add a crunchy contrast and boost the healthy fat content. You might even sprinkle a few dark chocolate chips or a handful of granola for extra texture and taste.
Once your bark is assembled, freeze it until firm. Then break it into pieces and enjoy it straight from the freezer. This snack is not only tasty and nutritious, but it's also a fun way to cool down in the summer heat. It's like having dessert, but in a healthier, more snack-able form! Just make sure to consume it soon after removing it from the freezer as it melts relatively quickly.
9. Whole Wheat Tortilla with Nut Butter and Banana
A simple, satisfying snack that provides fiber, protein, and healthy fats. Spread your favorite nut butter on a whole wheat tortilla, add a peeled banana, roll it up, and you've got yourself a portable, energy-boosting treat.
This snack is not only super quick to assemble, but also incredibly versatile. Mix and match different nut butters and even sprinkle in some granola or chia seeds for an added crunch. Perfect for a quick breakfast on-the-go or a mid-afternoon pick-me-up, this wholesome snack is sure to keep you satiated through your summertime activities.
10. Celery and Almond Butter
For a fiber-rich, satisfying snack, try almond butter with celery sticks. The high fiber content of celery combined with the healthy fats and protein in almond butter makes for a balanced snack. Plus, this combination is crunchy, creamy, and just a little bit salty – hitting all the right notes for a satisfying treat.
10. Homemade Granola Bars
Making your own granola bars can be a satisfying and healthy option. You can start with a base of oats, which are a great source of fiber and can help keep you feeling full. Then, mix in a binding agent like honey or maple syrup, which also adds a touch of natural sweetness.
To add flavor and nutrition, you can include a variety of mix-ins. Nuts and seeds can provide protein and healthy fats, dried fruits can contribute fiber and sweetness, and spices like cinnamon or vanilla can add depth of flavor. For a bit of indulgence, consider adding a few dark chocolate chips.
Making your own granola bars gives you the freedom to control the ingredients and their quality. It also allows you to tailor the taste to your liking. Once prepared, these bars are portable and convenient, making them an ideal snack for busy summer days. Just remember to store them in a cool place to prevent them from getting too soft in the summer heat.
10. Healthy Homemade Cookies
These aren't your grandma's cookies! We're talking about lighter, wholesome, and absolutely crave-worthy treats that you can carry along on your summer outings.
For a summer-friendly twist, consider zesty Lemon Poppy Seed Oatmeal Cookies. With their refreshing citrus flavor and crunchy poppy seeds, they're a delightful summer treat. Or maybe Chocolate Chip Zucchini Cookies, where shredded zucchini adds moisture and nutrition. They're so delicious you'll forget you're eating a vegetable!
When it comes to on-the-go, we want cookies that hold up well. Try Trail Mix Cookies, loaded with a variety of nuts, seeds, dried fruits, and perhaps a sprinkle of dark chocolate chips. They're hearty, satisfying, and packed with energy-boosting ingredients, perfect for fueling your summer adventures.
The trick to keeping cookies on the healthier side is to use whole food ingredients like whole grain flours, oats, nuts, and natural sweeteners. Plus, by making them yourself, you can control the amount of sugar and avoid any preservatives or additives found in store-bought versions.
10. Whole Grain Crackers With Cheese
This classic combination is more than just a snack; it's a nostalgia-inducing childhood favorite that packs a nutritious punch. Select whole grain crackers for an extra dose of fiber and nutrients – my favorites are Complement these with a portion-controlled serving of your preferred cheese, be it sharp cheddar, creamy gouda, or a tangy goat cheese. The cheese brings in protein and calcium, making this snack an all-rounder.
To elevate this snack further and add a dose of freshness, consider adding a few slices of crisp apple or cucumber. This combination not only provides a delightful contrast in texture but also contributes valuable vitamins and hydration, making this snack perfect for those hot summer days.
My favorite brands of crackers are: Crunchmaster, Back to Nature, and Simple Mills.
11. Sautéed Chickpeas
: When you're craving something crunchy and savory, sautéed chickpeas are a fantastic choice. They're incredibly easy to prepare at home, allowing you to adjust the amount of salt and oil used, making them a healthier alternative to store-bought versions. All you need are canned chickpeas, your favorite spices, and an oven. Popular seasonings include smoked paprika, garlic powder, cumin, or a simple sprinkling of sea salt and black pepper.
Once sautéed, chickpeas transform into a crispy, tasty, fiber-rich snack that's also a good source of plant-based protein. Plus, the wide range of possible flavor combinations ensures you'll never get bored.
12. Cherry Tomatoes With Mozzarella
Picture a mini caprese salad in a to-go box – it's uncomplicated, refreshing, and satisfying. The natural sweetness and juiciness of ripe cherry tomatoes find a wonderful counterpart in the mild, creamy flavor of mozzarella cheese. Each bite-sized pairing is a burst of flavor that will keep you reaching for more.
Adding some fresh basil leaves introduces a hint of peppery freshness that perfectly complements the duo. A drizzle of balsamic glaze or reduction adds a sweet and tangy dimension, transforming this simple snack into a gourmet experience. Packed with antioxidants, calcium, and healthy fats, this snack will keep you nourished and energized throughout your summer activities.
13. Cottage Cheese With Fresh Pineapple
Cottage cheese has become increasingly popular as a high-protein snack – and for good reason! When paired with pineapple – I swear something magic happens. The cottage cheese brings a high dose of protein to the table and the refreshing sweetness and acidity of the pineapple work beautifully to cut through the creaminess of the cheese, resulting in a snack that is not only balanced in flavors but in nutrition too.
Pineapple also contributes a hefty dose of vitamin C, supporting your immune system. If you want to add a tropical twist..sprinkle some toasted coconut flakes on top. Yum!
14. Whole Grain Rice Cakes
If you're searching for a light and crispy snack for summer, look no further than whole grain rice cakes. With their satisfying crunch, they can easily replace bread or crackers if you prefer something less dense. And they aren't just about the crunch, they also provide a good source of whole grains and fiber, helping to keep you fuller for longer.
The topping possibilities for rice cakes are truly endless – from sweet to savory, simple to extravagant. For a protein-packed option, spread a layer of almond butter or cottage cheese. For a heart-healthy and creamy option, opt for mashed avocado, sprinkled with a pinch of sea salt and chili flakes. You could also try them with hummus and cucumber for a Mediterranean twist (personal favorite of mine).
If you have a sweet tooth, try topping them with Greek yogurt, a drizzle of honey, and some fresh berries. Rice cakes are all about versatility and simplicity, making them a great go-to for quick and nutritious summer snacks.
15. Healthy Cookie Dough Bites
These little bites are perfect for when you're craving something sweet but still want to keep things on the healthier side.
These cookie dough bites require no baking, making them a quick and easy snack to prepare. You can store them in the fridge for a cool, refreshing treat or carry them along on your summer outings. Their balanced nutrient profile and satisfying sweetness make them an ideal choice for a nourishing, on-the-go summer snack.
16. Smoothies
There's nothing quite like a chilled smoothie on a hot summer day. These nutritious beverages are fantastic because they are incredibly versatile and packed with vitamins and minerals. You can mix fruits, vegetables, yogurt or a milk alternative, protein powder, and even some oats or seeds to create a balanced, meal-like snack. The key is to include a good mix of carbohydrates, proteins, and healthy fats to keep you feeling satisfied.
How To Bring A Smoothie On The Go
Use a Portable Blender Bottle: Consider using a blender bottle with a tight-sealing lid, which can easily be carried in your bag or backpack without leakage. Some blender bottles even come with a separate compartment for storing the protein powder or other add-ins, allowing you to blend your smoothie fresh when you're ready to consume it.
Prep Smoothie Packs: If you like your smoothies fresh, you can prep individual smoothie packs at home. Simply portion out your fruits, veggies, and other add-ins (like flax or chia seeds) into freezer bags. When you're ready to have your smoothie, just dump the contents of the bag into a blender, add your liquid, blend, and go.
Insulate Your Smoothie: If you've already blended your smoothie and want to take it with you, consider using an insulated stainless steel bottle to keep it cold.
Pack a Reusable Straw: A reusable straw can make it easier to enjoy your smoothie on the go without worrying about spills.
17. Homemade Popsicles
These refreshing treats are a fantastic way to beat the heat and they can be much healthier than store-bought varieties. You can make them using fruits, yogurt, or even smoothies to control the ingredients and sugar content. Try blending strawberries, a banana, and some Greek yogurt, then freezing in popsicle molds for a refreshing, protein-packed treat.
18. Edamame
Don't be fooled by their humble appearance – these young soybeans are a powerhouse of nutrition. Packed with fiber, protein, and a range of vitamins and minerals, edamame can help keep hunger at bay and provide you with sustained energy.
Many grocery stores carry ready-to-eat packages of edamame, making them an easy, nutritious option for busy summer days. For a flavor boost, sprinkle them with a little sea salt or, if you like some heat, a dusting of chili flakes. Whether enjoyed as a mid-afternoon pick-me-up or a pre-dinner nibble, edamame is a snack that's as healthy as it is delicious.
19. Healthy Cake Pops
Who said you can't have your cake and eat it too? With these healthy cake pops, you can enjoy a delightful treat without veering off your healthy eating path. Winning! Typically, cake pops are made from crumbled cake mixed with frosting, but his healthier version uses almond flour and cashew butter.
These little treats are great for an on-the-go snack or dessert, and they're sure to be a hit at any summer gathering. Plus, they can easily be stored in the fridge or freezer for a convenient, ready-to-eat snack
20. Apples With Peanut Butter Yogurt Dip
This snack is a wonderful combination of crisp, sweet apples and creamy, protein-rich dip. This combo delivers a satisfying crunch, a good dose of protein, and the fiber from the apples will keep you feeling full longer. It's a perfectly portable and refreshing snack for those warm summer days.
21. Tuna & Crackers
Packed with lean protein and heart-healthy omega-3 fatty acids, single-serve tuna packets are a convenient and nutritious option for on-the-go snacking. These ready-to-eat packets eliminate the need for draining and can be easily tucked into your bag, picnic basket, or cooler.
Whole grain crackers serve as the perfect crunchy companion to the soft texture of the tuna. These crackers provide complex carbohydrates for sustained energy and additional fiber, aiding digestion and promoting a feeling of fullness.
Pro Tip: Elevate your tuna and crackers by adding a squeeze of fresh lemon and a sprinkle of pepper.
22. Hard Boiled Eggs
Eggs are pretty much the perfect snack food. They're packed with high-quality protein, vitamins, minerals, and essential fats, all enclosed in a neat, portable package. Having a batch of hard-boiled eggs on hand ensures you have a quick snack ready whenever hunger strikes.
The protein and healthy fats in eggs help keep you full and satisfied, making them a great option to prevent mindless nibbling. For a well-rounded snack, consider pairing your egg with some crunchy baby carrots or juicy cherry tomatoes. This combination will not only provide a more diverse flavor profile but also pack in additional vitamins and fiber.
23. Veggie Wraps
If you're seeking a satisfying snack that's both crunchy and refreshing, veggie wraps are a perfect choice. Use your favorite tortilla as your wrapper, spread with some hummus or avocado, then fill with a mix of colorful raw veggies like bell pepper strips, shredded carrot, cucumber, and sprouts. For some added protein, you can include a slice of turkey. Roll it up, and you've got a convenient, handheld snack that's low in calories but big on taste and nutrition.
24. Fruit Kabobs
There's just something about food on a stick that makes it more enjoyable, right? Fruit kabobs are an entertaining, colorful, and nutritious snack idea. Skewer pieces of your favorite fruits such as strawberries, melons, grapes, pineapples, or peaches. They're perfect for picnics or outdoor gatherings and are an easy way for everyone to get a serving of refreshing, hydrating fruits.
25. Cucumber Sandwiches
For a light and refreshing snack, try making mini sandwiches with cucumber slices instead of bread. Fill them with a spread like hummus or cream cheese, then add a slice of turkey or a piece of smoked salmon. They're low in calories, but full of flavor and nutrition.
26. Protein Bars
Protein bars can be a lifesaver when you're on-the-go and need a quick, protein-packed snack. They come in a variety of flavors and often contain a mix of protein, fiber, and healthy fats, making them a well-rounded snack choice.
However, it's important to read the labels as some can be high in added sugars or artificial ingredients. Opt for bars with a short ingredient list, low added sugars, and high in protein from quality sources. For a refreshing twist, you can even store them in the fridge during the hot summer months.
Some of my favorite protein bars are: Aloha Bars, Built Bars, Kind Protein Bars, and G2G Bars.
27. Frozen Grapes
One of the simplest and most refreshing summer snacks is frozen grapes. This snack is as straightforward as it sounds: wash, pat dry, and freeze a bunch of grapes, and you end up with bite-sized, sweet, and icy treats.
Grapes are high in antioxidants and nutrients. When frozen, they can help cool you down on hot days and their sweet, almost sorbet-like texture can serve as a healthy alternative to sugary popsicles or candies. They're easy to pack in a cooler for a day at the beach or a picnic in the park, providing a refreshing and hydrating snack.
28. Whole Grain Pita And Hummus
Whole grain pitas are a fantastic source of complex carbohydrates, while hummus, made from chickpeas, provides protein and fiber. Together, they make a well-rounded, nutritious snack. Simply spread your favorite hummus onto the pita, and you're good to go. For added freshness and crunch, you can add some cucumber or bell pepper slices.
29. Beef Jerky
Beef jerky is an excellent high-protein, on-the-go snack that can satisfy your cravings and help you stay full between meals. It's made by marinating lean cuts of beef in various seasonings, then slow-cooking them until they are dried out. The result is a flavorful, chewy snack that's portable and non-perishable, making it perfect for summer trips and adventures.
My favorite beef jerky brand is either Chomps or Country Archer.
30. Peanut Butter and Banana Sandwiches
Here's a delicious and healthy idea: peanut butter banana "sandwiches". Simply slice a banana into rounds, spread a bit of peanut butter between two slices, and you've got a snack that's both sweet and savory, plus packed with good-for-you nutrients.
Bananas are a great source of potassium, vitamin B6, and quick-release carbohydrates, providing you with instant energy. On the other hand, peanut butter brings in the protein and healthy fats, helping to keep you full for longer.
Another fun variation to try in the summertime: pop these "sandwiches" in the freezer for a couple of hours. They turn into a cool and refreshing treat that's especially satisfying when the temperatures rise. Just remember, while peanut butter is packed with healthy fats, it's also calorie-dense, so moderation is key!
31. Watermelon Fries With Yogurt Dip
Here's a fun twist on a classic summer fruit. Watermelon 'fries' are essentially just watermelon cut into long, thin slices, but the change in shape can make them extra fun to eat, especially for kids. They retain all the hydration benefits and natural sweetness of watermelon, and can be eaten alone or paired with a tangy, protein-rich Greek yogurt dip.
Pro tip: Use a crinkle cutter to make your "fries" even more fun.
For the dip, simply mix some Greek yogurt with a little honey or maple syrup for sweetness, and add a touch of vanilla or a sprinkle of cinnamon for extra flavor. You could also make a strawberry yogurt dip or switch things with a honey lime dip.

This snack is refreshing, nutritious, and wonderfully "summery". The combination of the hydrating watermelon with the creamy yogurt provides a satisfying contrast of textures and flavors, while also offering a nice balance of carbs and protein. Plus, it's easy to pack and bring along to your summer outings.
32. Fruit Salsa With Cinnamon Crisps
This is a fun, festive, and vibrant snack option that brings together a variety of flavors and textures. The fruit salsa is a medley of finely chopped fresh fruits such as strawberries, raspberries, and apple. This colorful mix not only provides a range of vitamins and antioxidants but also delivers a delightful combination of sweet and tangy flavors that are perfect for summer.
The cinnamon crisps serve as a crunchy and sweet complement to the fruity salsa. They're made by sprinkling tortilla wedges with cinnamon and a touch of sugar, then baking them until they're golden and crispy.

Serving the salsa with these crisps turns this snack into a fun, interactive eating experience that's perfect for a summer picnic or beach outing. This dish is not only satisfying and healthy but it also feels like a treat, making it a sure hit among both adults and kids.
33. Pina Colada Fruit Dip
This easy-to-make dip combines the flavors of pineapple, coconut, and creamy Greek yogurt. How delicious does that sound?
This Pina Colada fruit dip is ideal for dipping fresh fruits like strawberries, apple slices, or banana chunks, turning them into a fun and exciting snack. It's incredibly easy to prepare and is perfect for packing in a cooler for a beach day, picnic, or road trip.
34. Avocado
Avocados are rich in healthy fats and fiber, making them a satisfying snack that helps keep blood sugar levels stable. They can be mashed onto whole grain toast, transformed into a quick guacamole paired with veggie sticks, or made into a yummy pudding recipe.